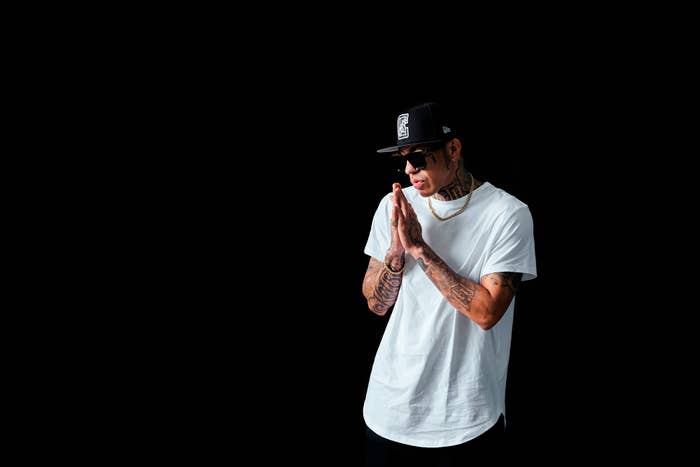 Mexican rapper Juan Carlos Sauceda, best known as Left SM, was shot and killed in Zapopan, Jalisco, at the age of 31.
The news of his death was confirmed by his record label, Alzada Records, who expressed their condolences to his family.
According to the Jalisco State Prosecutor's Office's preliminary investigation, Lefty SM was attacked near his home at approximately 10:50 p.m. on Saturday (Sept. 2) when three armed subjects tried to remove him from the home. When they were unable to do so, they opened fire and fled the scene. Lefty SM, who was accompanied by his wife Eza Mary at the time of the shooting, was shot twice and taken to the hospital before succumbing to his injuries at a local hospital at approximately 1:15 a.m.
Lefty SM's final performance was just the night prior to his death at the Teatro Metropólitan in Mexico City on Sept. 1.
According to Mexican publication El Siglo de Torreón, Lefty SM was born on April 12, 1992 in San Luis Colorado, Sonora and grew up listening to rap music while working at his father's auto repair shop. He gained his nickname "Lefty" from his close friends because he was left-handed. Lefty SM began to pursue music at the age of 16 while keeping his day job as a mechanic. Before his death, he expressed a desire to become an entrepreneur and venture into real estate.
Lefty SM was a prominent figure in Mexico's urban rap scene. He gained notoriety when he opened his YouTube channel in 2017 where he ammassed 2.5 million followers. He released his first album Avión De Papel in 2019 and released the patriotic single "Por Mi México" with Santa Fe Klan the following year. A remix of "Por Mi México" with Dharius, C-Kan, MC Davo and Neto Peña was released in August and marks his final release.
Lefty also worked with other rap heavyweights such as Neto Peña, GeraMX, Mc Davo, Toser One, Dharius, and Jamby El Favo.
Another one of Lefty's collaborators was Bay City, Texas rapper That Mexican OT who took to his Instagram to respond to the news of the rapper's untimely passing. That Mexican OT and Lefty collaborated on "Barrio" together.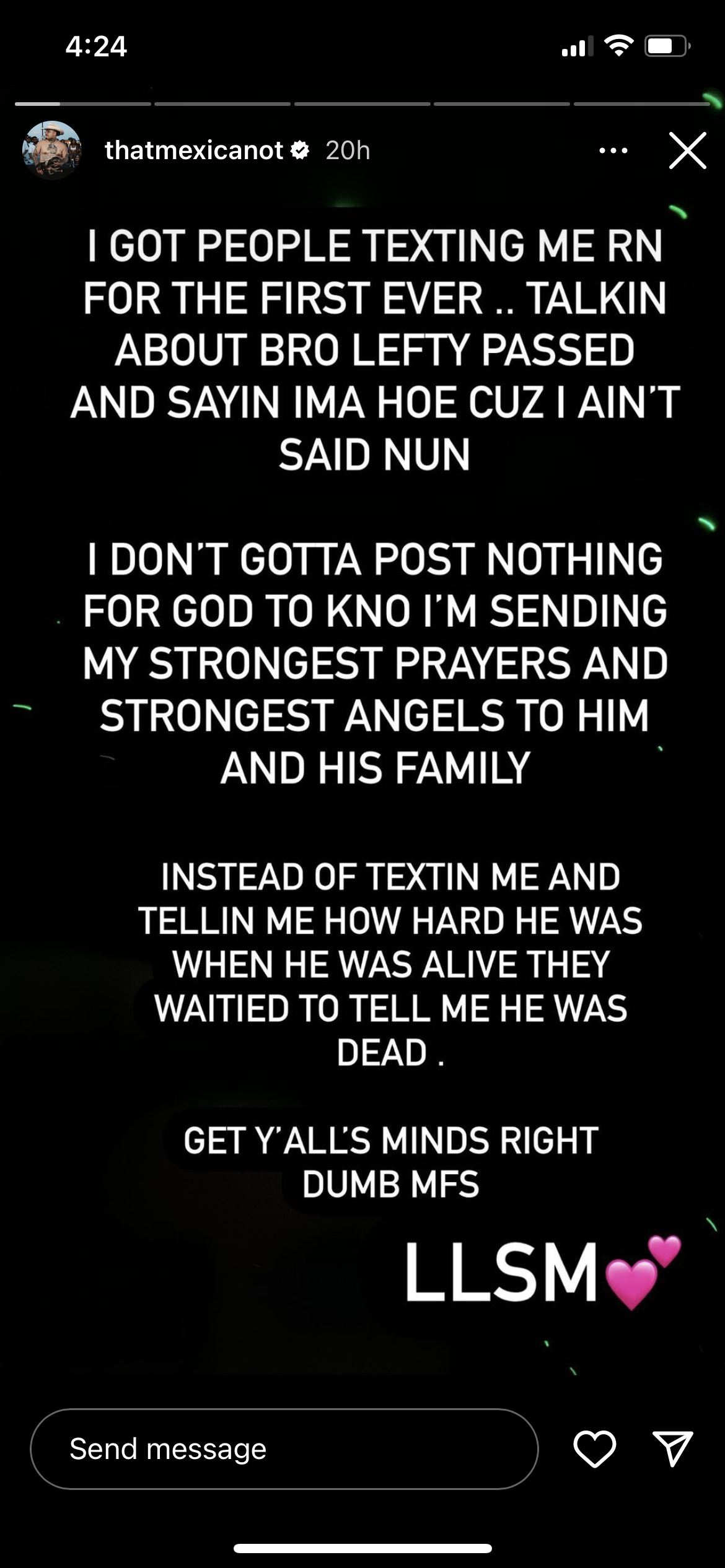 "I got people texting me rn for the first time ever .. talking about bro Lefty passed and sayin ima hoe cuz I ain't said nun," he wrote. "I don't gotta post nothing for God to kno I'm sending my strongest prayers and strongest angels to him and his family."
He continued, "Instead of textin me and tellin me how hard he was when he was alive they waitied [sic] to tell me he was dead . Get y'all's minds right dumb mfs. LLSM."
Lefty SM is survived by his wife Eza Mary and their two daughters Kasey, 8, and Ciara, 2.