Fender Marks Release Of 'Player Plus' Range With Launch Of 'Fender Sessions Plus' Featuring Nova Twins
When it comes to guitars, you don't get much more iconic than Fender. For over 75 years, the instrument manufacturers have been at the forefront of musical...
Publicist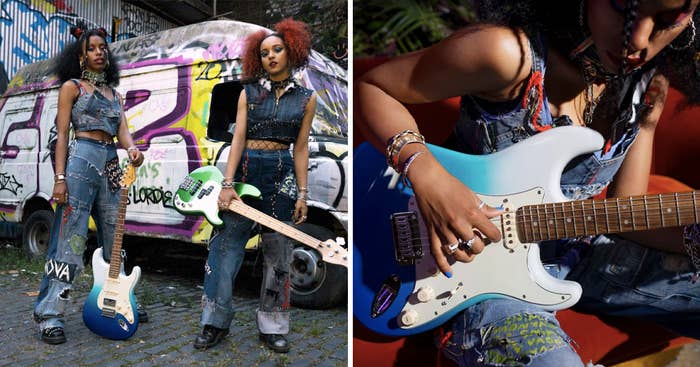 When it comes to guitars, you don't get much more iconic than Fender.
For over 75 years, the legendary manufacturer of guitars, bass, amps and more has been at the forefront of musical revolution and innovation—from beginners to icons, the brand has a history of bringing musicians together through a shared love of the art.
Fender's Player series was first launched in 2018 as a foundational offering for those wanting to learn the guitar, and has since proven to be a hugely popular addition to the brand's catalogue. More recently, the enforced pause on normal life as a result of the pandemic has led millions of people to pick up their first guitar and learn how to play, so it feels like a natural step that the brand cater to them through a natural extension of the series with their newest range, Player Plus.
"When we first launched the Player series, we set a new standard for what an entry-point Fender could be," says Justin Norvell, EVP of Fender Products. "Now, the Player Plus series offers a next-level playing experience to help a new generation share their passion and distinct perspective."
Consisting of seven guitars and basses, the Player Plus series is engineered with one foot in the past and one firmly in the future, with nods to Fender's history and culture. The finishes are a modern take on the gradient finishes seen on '80s-era, high-performance Fender models and differentiate Player Plus from any other series in the company's portfolio, and include a plethora of evocative-sounding colourways: Belair Blue, Silver Smoke, Tequila Sunrise, Aged Olympic Pearl, Aged Candy Apple Red, Cosmic Jade and Opal Spark.
To mark this release, Fender are launching a new content series—Fender Sessions Plus—which builds on the spirit and success of ongoing fan favourite series Fender Sessions, but with an emphasis firmly on showcasing a new generational wave of exciting emerging talent. Debuting alongside the launch of Fender's TikTok channel (@fender), Player Plus Sessions shows that the brand not only has its finger on the pulse when it comes to what inspires and motivates the new generation of artists—be that online or live music—but also wants to help them push the boundaries and reach the full potential of their creativity. Teaming up with a range of artists—including Blu DeTiger, Hannah Dasher, Gabriel Garzón-Montano and The Destroy Boys—Fender's presence on TikTok is set to include super exclusive content, product demos and educational pieces, starting with Nova Twins.
With influences ranging from Kanye West, Eminem and Dr. Dre, to the gnarly tones of Betty Davis and Kate Bush, London's Nova Twins are like a musical sponge. The likes of electronic beatsmith Skrillex and rock bands like MC5 and the New York Dolls are also considerable influences on their sound, which they've soaked up and made into something of their own. "There are no rules," says Amy Love, one half of Nova Twins. "It's not like you have to be this way, because it's just a big mashup of amazing things and that's what music is to us."
But in spite of that, one thing that links all these artists together is their love of instrumentation. "Your instrument chooses you, I feel, because it just comes to you," says Nova Twins' Georgia South. "I started on the piano but then, one day, I played bass and I wouldn't put it down. I was just like, 'This feels right.' It feels like your calling—your superpower."
Aiming to bridge creation, energy and style with expression, connection and collaboration, Fender is "inspired by the continued emergence of new artists who are taking guitar into new spaces and putting their own stamp on musical traditions of the past," says Fender CMO, Evan Jones.
He adds that the Player Plus series is "built for artists who want to transmit a bold aesthetic and are unapologetic in their approach to their craft. Our hope is that working artists and emerging players will be attracted to the undeniable style, feel, energy and, of course, Fender tone that has and will continue to inspire generations of creators."
To learn more about the Fender Player Plus series click here.