This story is part of an editorial series created in collaboration with ASOS Supports Talent.
Ahead of the launch party for his new track "Reload That," Elf Kid, one member of the grime collective the Square, appears remarkably composed. "2016 was definitely sick, man. I've managed to travel the world and meet some amazing people. I can't lie, I feel comfortable. But I'm going to hit 2017 with a bang." Consistently animated in conversation, Elf Kid traverses Deptford, South East London as though he runs the area.
The Square released their debut The Formula in 2014, and dropped "Defeat Us" in the summer of 2016. Elf Kid also remixed Jamie xx's "Gosh" this year and garnered international acclaim with his track "Golden Boy," which became a go-to for both Zane Lowe and Ebro Darden on Beats 1. Built upon a devastating flip of Amerie's "1 Thing," the track lovingly presents the local borough of Lewisham, London, and its vibrant community that provides Elf Kid with inspiration.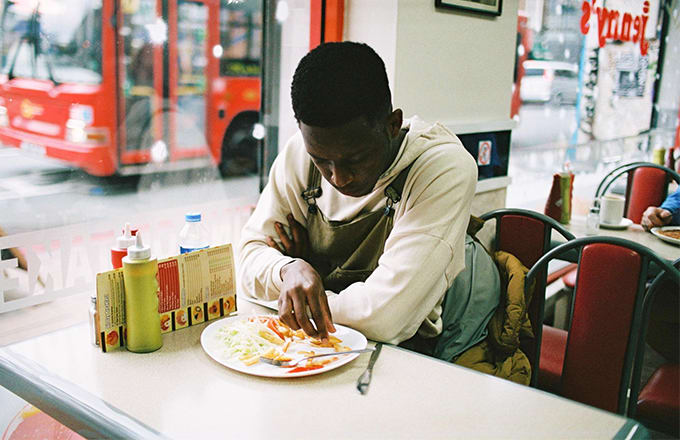 "Lewisham has influenced my whole being," he says. "Deptford is one of the poorest places in the borough, but I've seen so much richness here in terms of culture. They say there's no place like home, but when I come back to Lewisham it gives me that distinct sense of humbleness. I've been given the opportunity to come from where I've come from and to make it work worldwide. It's a wonderful thing."
Elf Kid's dedication to his surroundings, combined with this bold global outlook, attracted online fashion destination ASOS to his work. The ASOS Supports Talent initiative works closely with up and coming artists to fund creative projects and provide mentoring, guidance and promotional support along the way. Other beneficiaries include Chicago-based photographer Elizabeth De La Piedra and UK rapper Loyle Carner, who set up a charity to teach children with ADHD how to cook.
Elf Kid's involvement with ASOS Supports Talent saw him fly further afield to Ethiopia to film a music video for "Reload That," a track based on a sample from "Irganda," by Malian outfit Songhoy Blues. While in Ethiopia, he also collaborated with local musicians on new material. Elf Kid had previously expressed a desire to "take grime back to the motherland" for the re-envisioning of the single, and Ethiopia's fervent electronic scene offered the perfect chance to engage with grassroots musicianship on the continent.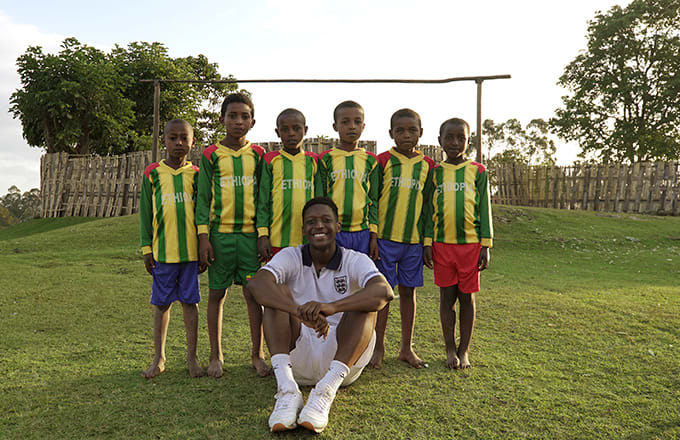 "I've always seen my career as stepping out of the box to find whoever's sick in their thing," he explains. "When you're linking up with people and going to their studios, it's great to see a different perspective. If I want to be the best, my career will involve doing mental stuff and working with the best people in the world, because I have no limits—literally."
When asked to relive his arrival to the bustling city of Addis Ababa and his first impressions of the musicians' process, he sounds pleasantly surprised. "It was like us, just vibes to be honest," he says. "They had their PC, a microphone and even Fruity Loops there." This DIY-vibe is characteristic of grime production and the shared aesthetic helped foster an exciting creative partnership.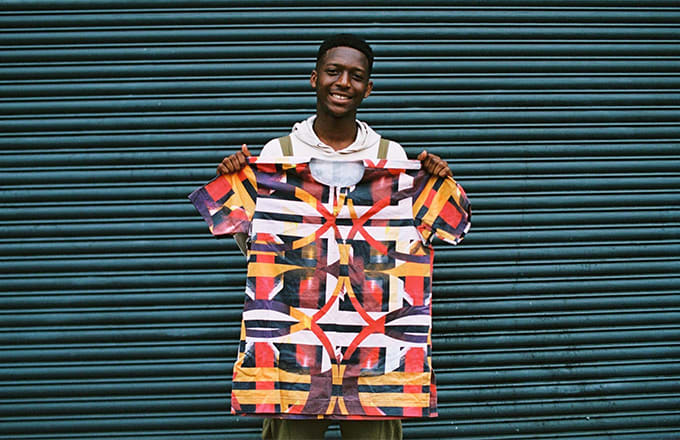 The humility he learned growing up in Deptford was important for this trip, too. Most high-profile artists arriving to work on a project expect fanfare, but Elf Kid was eager to strip it down to the basics and create on a level playing field. "I didn't want it to be a gas ting. It's very important that it wasn't like 'yo mans from London,' with bare cameras and that. Nah, mans coming to vibe, just straight energy."
Two tracks emerged from the session: "Reload That" and a new piece that he said had just arrived via e-mail. The video for "Reload That," which premiered at an ASOS-organised event in Central London on Dec. 14th, also emerged from the sessions. It's beautifully shot, and shows Elf Kid and Blakie performing and dancing with people of all ages. This camaraderie conveyed in the video just as evident upon listening to the musical output. The connection was real. 
Elf Kid sees the trip to Ethiopia as the first of many new musical relationships, and he shares the ambition espoused by fellow MC AJ Tracey who recently spoke out against criticism of his experimentation with styles on the Lil Tracey EP. Rather than regressive re-workings of so-called "classic era" grime tracks, Elf Kid is similarly intent on pushing forward: "Look, I set this kind of tone," he continues. "I want to go here when I want, do this tune when I want. I think it's far more important that an artist is able to link up with whoever. Good music is good music."
There's a burning passion within him, and Elf attributes this in part to the world looking towards the UK for inspiration. Alongside a string of prominent festival appearances this summer—including Wireless in the UK and a trip to Brazil with Logan Sama – he headed out to Applesap Fresh in Amsterdam to perform alongside D.R.A.M, Jazz Cartier and Section Boyz. This experience seems to have had an enduring effect upon the 20-year-old MC, leading him to a realization of the scope for his output and what he can achieve as a young artist:
"Fam, everyone wants to be like us. I went to Amsterdam with AJ Tracey and everybody in the festival looks like they're from Shoreditch. On my life, AJ can vouch for me. It's a massive time for England. Manna wearing Reebok and dem tings dere looking like trendy wendys and that. It's sick. It's an England ting right now."
Upon mentioning this distinctive UK style, we got into talking about trends in general and how an awareness of fashion comes hand in hand with being an advocate for the experience of young people. Even though he's spent most of 2016 abroad, it is still pivotally important to represent, especially considering the influence UK street style has had on the places he's visited. "Wherever I go, man's going to see me in Slewisham T-Shirts, and the tracksuits you saw from Deptford Market. Because I'm from the block. I grew up on an estate bruv. I've been given a once in a lifetime opportunity to go around the world but still be in my tracksuit or my dungarees. I'm still Elf Kid wherever I go."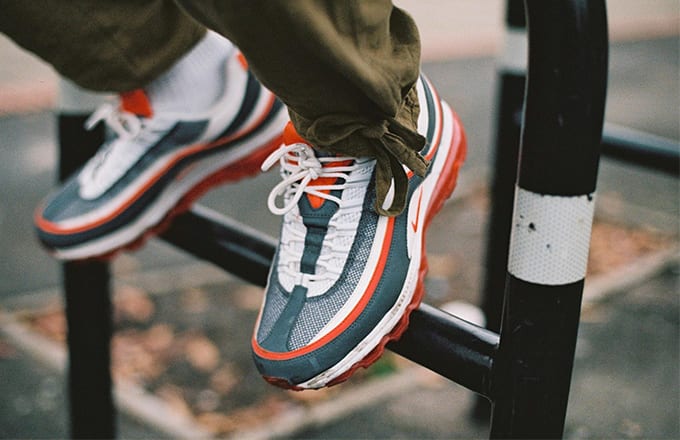 For our entire discussion the sense of community was omnipresent, and he's not alone in expressing pride for South London. It's been a particularly fertile ground for new artists having birthed the likes of Krept & Konan and Stormzy. Lewisham itself has significant pedigree, with iconic grime crew Essentials—who released "Jenny" and "State Your Name" in the early 2000s—and P Money's OGz also from the blue borough.
It's a highly diverse area and it's this cosmopolitan mix of styles that makes Elf Kid's transition to the global stage appear so seamless. "I've got so much to talk about," he continues. "It's a community thing man, it's all about the culture. From Deptford market to Lewisham Mc Deez, there's just everything here."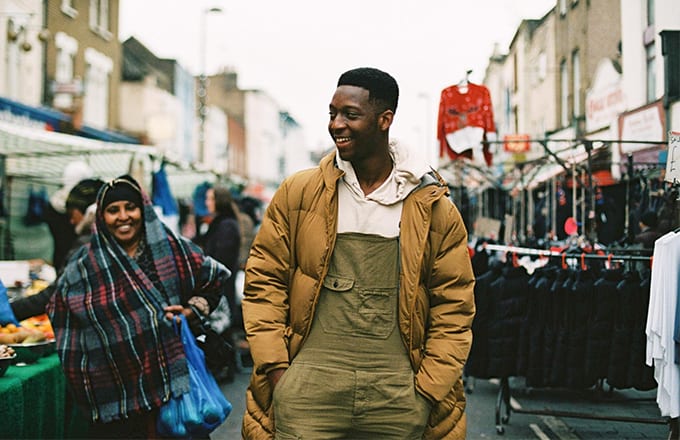 There's also a more serious incentive, though, with Elf Kid acutely aware of the poverty that pervades the area. We spoke at length about the struggles that people face, but he's determined to turn this into a positive and uplift his neighbourhood through music: "I need to make sure that I'm plugging into the community. Man can't be doing massive festivals without supporting the local thing."
Through succeeding in music, Elf Kid has already begun to foster a more positive dialogue surrounding his locality, and he's resolute in unlocking its artistic potential: through both his collaborations and solo projects. "I'm about doing what I want, but also being able to give creative people [from the area] the confidence to try things."
As we closed up our conversation, he recalled his visit to Ethiopia and remarked upon it as a testament to what you can achieve coming from the ends. A trip that started out as a pipedream to record a video in an amazing location was fully realised with theatrical content, musical output and—most importantly—an enduring relationship with the talented MCs and singers he met during the visit. If the vision is there then it's possible, and that positive mantra in the face of adversity has seen Elf Kid continue to cultivate and achieve new things: "My whole thing is just to go 'Yo, wake up! Let's do this man.' Just do it and don't let anyone chat to you about nothing. Trust me." With multiple singles already prepped and an album mooted for the new year, Elf Kid is set to take 2017 by storm.
ASOS Supports Talent is a global initiative from online fashion destination ASOS, providing up and coming creative talent with funding, mentoring and support to realize personal passion projects. Find out more here.