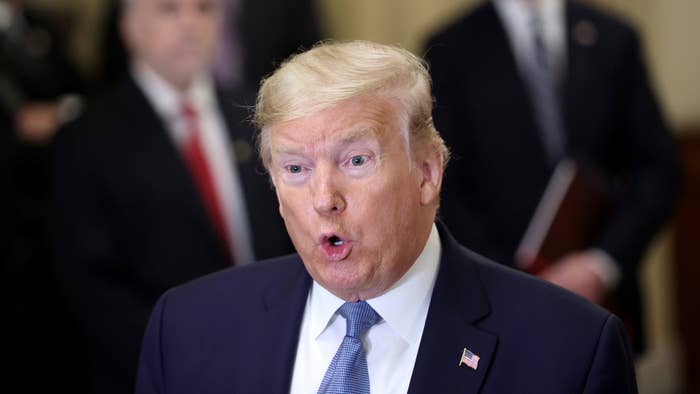 As expected, Trump—whose previous comments on Barack Obama include birther bullshit—has tossed some coronavirus blame at both the former POTUS and the Centers for Disease Control and Prevention (CDC).
In a series of tweets vomited onto the American public early Friday morning, Trump claimed that the CDC "looked at and studied" its "testing system" for years "but did nothing about it." Trump also said that Obama made changes that "only complicated things further," with the former Apprentice host and steak peddler then getting specific by bringing up the H1N1 era. Trump said there has been "nothing meaningful done to fix the testing problem" until now, an assertion that is at odds with the widespread criticism his administration has received regarding their handling of the coronavirus fuckery.
The night before these tweeted bouts of finger-pointing, Trump appeared to quote Lou Dobbs on the topic of swine flu. He also compared his administration's coronavirus response to Obama and Biden's swine flu response, declaring his "one of the best."
Rightfully, Trump's blame-tossing toward Obama and the CDC was quickly condemned, not to mention the fact that—as NBC News pointed out—Dr. Anthony Fauci himself has said that the current system for testing represents a national "failing" that should be admitted and rectified:
For the CDC's rundown of how to navigate human existence amid all this coronavirus shit, including tips on how to keep the health of senior citizens and other higher-risk groups in mind, click here.