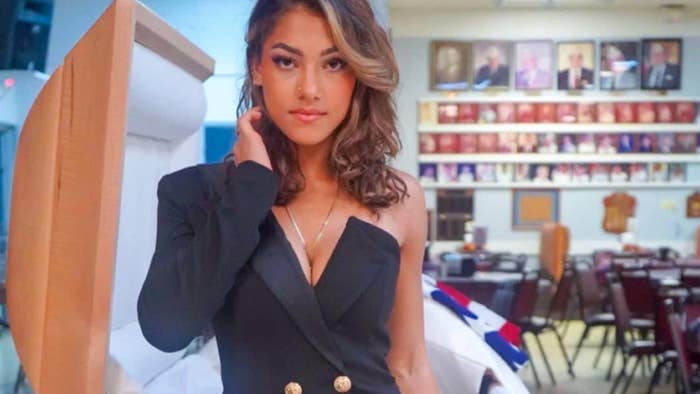 A popular Instagram and TikTok influencer is defending her decision to share photos of herself posing in front of her father's casket.
The photos in question see Jayne Rivera, whose Instagram page was not active at the time of this writing, posing in front of her father's open casket. The casket is draped with an American flag. In the caption, Rivera—based in Florida—celebrated her father's "well-lived" life.
"Butterfly fly away," she wrote. "Rip Papi you were my best friend. A life we lived." 
While everyone does indeed grieve in various ways, and we should all probably just respect that and mind our own, the tweeted and IG-commented reactions to the photos came swiftly. Still, Rivera—who originally shared the photos on Sunday and spoke with NBC News about the pushback on Wednesday—says she understands the "negative reception" the photos have received.
Rivera, 20, told the news outlet that she took the photos "with the best intentions" and in a manner that her father "would have approved" were he still here with her. She added that each person handles such a loss in their own way, with some going the "more traditional" route while others may take a route that some consider to be—in her words—"taboo."
The influencer's father, Jose Antonio Rivera, is reported to have died earlier this month at the age of 56. Rivera further defended her photos by noting that her father had previously appeared in her content, noting that she's worked "extremely hard" to build her audience. Notably, among the largely negative reactions, there were a number of people who also defended the photos and/or joked that they would like someone to do the exact same thing at their own funeral.
"There is nothing wrong with what I posted, and I stand by that," Rivera said. 
According to Rivera, her Instagram account has since been "disabled" without a reason being provided to her. A Facebook company spokesperson confirmed to Complex on Thursday that the account had been disabled, though not because of the viral funeral photos. Prior to the IG account going down, per the New York Post, Rivera had more than 84,000 followers. Her TikTok, meanwhile, is still live and currently has more than 307,000 followers.