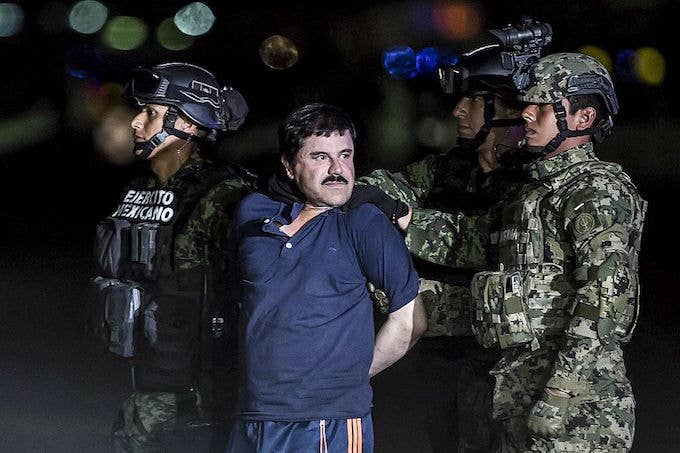 Notorious drug lord Joaquín "El Chapo" Guzmán has been sentenced to life in prison, plus 30 years.
The news comes from a spokesperson for U.S. Attorney Richard P. Donoghue for the Eastern District of New York, who added that El Chapo has also been ordered to pay $12.6 billion in forfeiture. The sentence, handed down by U.S. District Judge Brian Cogan Wednesday, is mandatory by law and will run consecutive to the life sentence for being a principal leader of a continuing criminal enterprise.
El Chapo, who famously met with actor Sean Penn for a wildly 2016 controversial Rolling Stone piece, told the Brooklyn Federal Courthouse Wednesday prior to sentencing that "no justice" had been served through the 11-week trial.
"It has been psychological, emotional, and mental torture 24 hours a day," he said via translator Wednesday, per the New York Daily News.
As previously reported, El Chapo and his legal team have continually argued that trial proceedings have been "unfair." 
Back in February, a conviction was handed down in which El Chapo was found guilty of 10 counts including engaging in a continuing criminal enterprise, cocaine distribution conspiracy, conspiracy to launder narcotics proceeds, and more.
"Guzman had the capital to absorb huge losses and run his enterprise with impunity; the enormous power to corrupt; and the capability to employ violence on a massive scale," then-Acting Attorney General Matthew G. Whitaker said at the time. "This case, and more importantly, this conviction serves as an irrefutable message to the kingpins that remain in Mexico, and those that aspire to be the next Chapo Guzman, that eventually you will be apprehended and prosecuted."
Donoghue made similar comments in a Department of Justice statement Wednesday.
"Never again will [El Chapo] pour poison into our country, or make millions as innocent lives are lost," Donoghue said. "We cannot undo the violence, misery and devastation inflicted on countless individuals and communities as result of his organization's sale of tons of illegal drugs for more than two decades, but we can ensure that he spends every minute of every day in prison."
Trial evidence included testimony from 14 witnesses, including Sinaloa Cartel members.
El Chapo is expected to serve his sentence at a Florence, Colorado "supermax" prison. Quite famously, he has twice escaped from max-security facilities in Mexico.