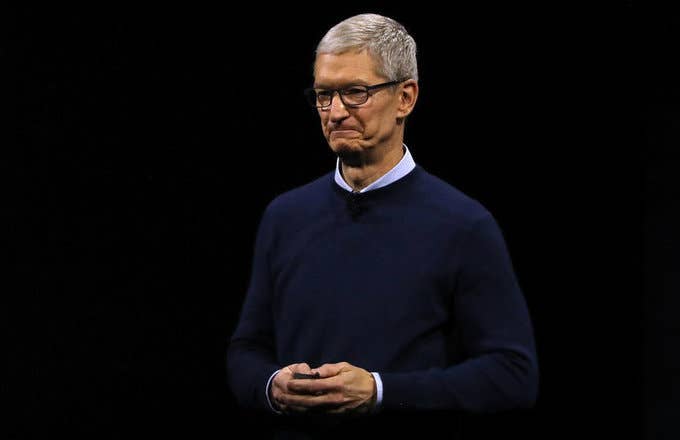 For the latest example of other people speaking far more eloquently about the Charlottesville terror attack than the alleged president of the United States, we have Apple CEO Tim Cook. In an internal message to Apple employees, Cook called on everyone—regardless of political leanings—to unite in opposition of the "cancer" of hate.
"We must not witness or permit such hate and bigotry in our country, and we must be unequivocal about it," Cook told employees in a note obtained by Recode Wednesday night. "This is not about the left or the right, conservative or liberal. It is about human decency and morality. I disagree with the president and others who believe that there is a moral equivalence between white supremacists and Nazis, and those who oppose them by standing up for human rights. Equating the two runs counter to our ideals as Americans."
Noting that Apple will continue to lead by example, Cook announced that the company would be donating $1 million to both the Southern Poverty Law Center (SPLC) and the Anti-Defamation League. Additionally, Apple will match employees' donations to human rights groups two-for-one until Sept. 30. iTunes will also be rolling out a feature shortly that will allow customers to easily make their own contributions to the SPLC.
Just for the sake of comparison, let's look back on what the David Duke-adored POTUS said about Charlottesville Tuesday. "There are two sides to a story," Trump said during a rambling spew from Dump Tower. "I thought what took place was a horrible moment to our country, but there are two sides to a story."
You can read Tim Cook's full statement below.