 Stanford's graduation on Sunday brought students and families together to celebrate, but they were also gathered to highlight a darker event: the rape committed by former student Brock Turner and his laughable sentence of only six months in Santa Clara County Jail—which was reportedly reduced to three months. Students used the occasion to protest the decision, which also came up several times during the ceremony and keynote. 
What they were protesting
Many have argued that Turner's trial reveals the disproportionate compassion members of our society feel toward perpetrators of sexual assault rather than victims. When judge Aaron Persky announced the six-month sentence, he said that a longer sentence would have a "severe impact" on Turner, who was on the school's swim team. To further lessen this "impact," Turner will reportedly be kept separate from the majority of inmates, and in "protective custody," a type of imprisonment meant to protect criminals from dangers posed by other prisoners. He will also reportedly have someone escort him around the jail.
Contributing to Turner's light sentencing were reference letters written to the judge by people who knew the defendant. Leslie Rasmussen, a childhood friend of Turner's, argued that said he was not a rapist but rather a typical college student under the influence of alcohol and party culture. Turner's former high school guidance counselor Kelly Owens wrote in her reference letter that Turner was "absolutely undeserving of the outcome" and would make "positive contributions" to his community if he were spared jail time. A letter by Turner's father called the rape "20 minutes of action."
The way the case was spoken about also raised concerns among people following it. The Santa Clara County's Sheriff's Office did not release Turner's mug shot, which was taken in January 2015, until Monday. And as a statement read in court by the victim pointed out, some media coverage has emphasized his swimming abilities:
The victim's letter describes the trauma of the assault and its aftermath in horrific detail, calling out cultural values that allowed the judge and the public to defend and protect Turner while overlooking the "impact" the incident had on her. 
After news of the decision came out, many pointed out the role that rape culture, white privilege, and class privilege played in the handling of Turner's case. The light sentence, reference letters, and sympathetic media coverage came to symbolize the permissive attitude that our society holds toward rapists—especially white, well-off, well-educated ones. A change.org petition requesting Persky's removal due to his decision in Turner's case has amassed more than a million signatures.  
The protest
Before Stanford's commencement ceremony, during a tradition known as "Wacky Walk," students paraded through campus in colorful costumes ranging from dinosaurs to astronauts, carrying signs with fun slogans like "never growing up" and "my parents are my superpower." But some carried signs of a more serious nature.
Students protested Persky's decision with phrases like "Stanford protects rapists" and "solid steel pines"—which references the victim's vivid description of pine needles all over and inside her after the rape—to remind audience members of the atrocity that took place on the campus where they were walking. An anonymous source who attended the graduation told Complex the "Stanford protects rapists" sign was held up throughout the ceremony.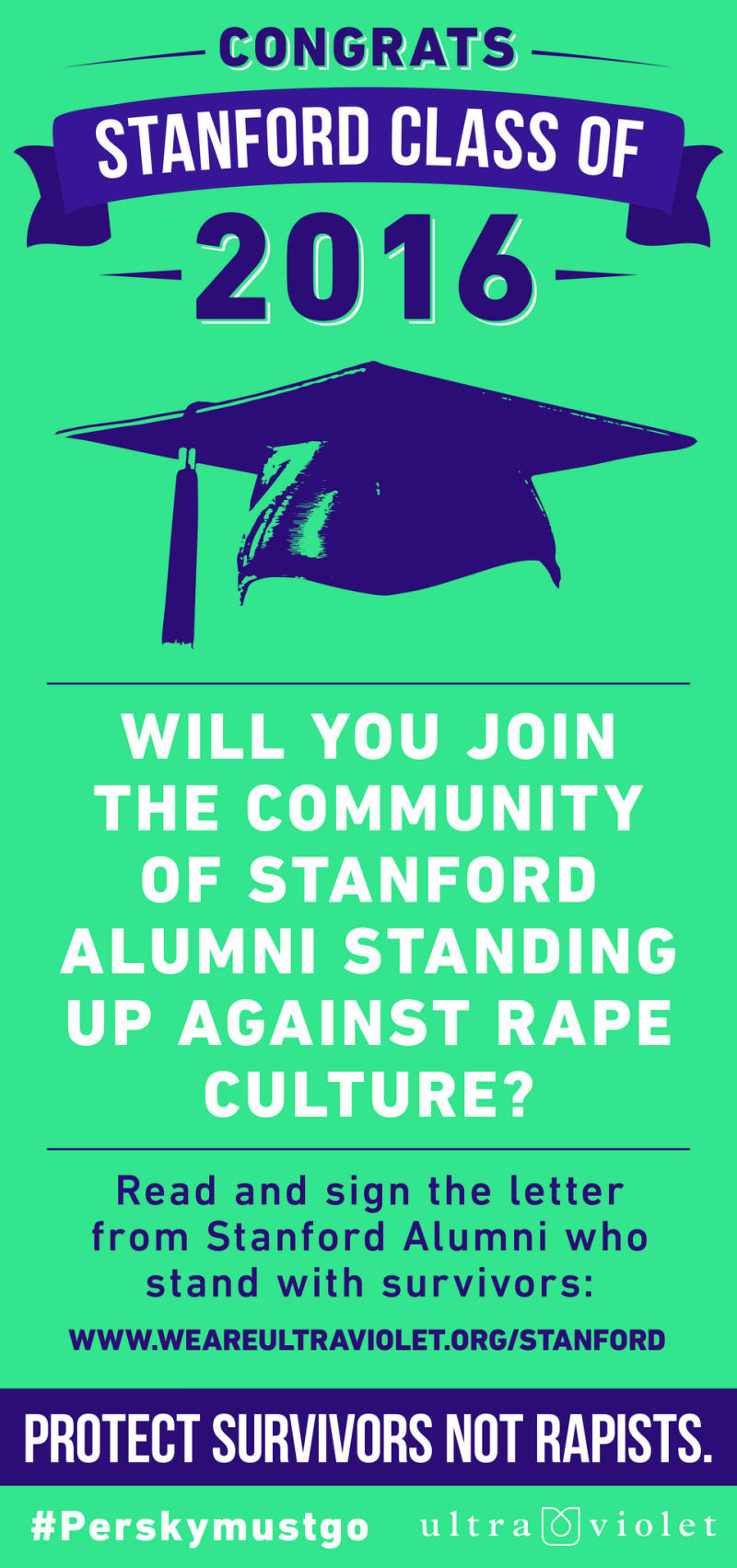 Ahead of the ceremony, a plane with a banner reading "Protect Survivors. Not Rapists. #PerskyMustGo" flew overhead. The women's advocacy organization UltraViolet confirmed to Complex that they ordered the plane. 
"We commissioned the plane to fly over Stanford in an effort to support student-led protesters taking a stand against rape culture," Karin Roland, chief campaigns officer at UltraViolet, told Complex. "The student-led protests against Judge Persky's decision are critical in helping to raise awareness of the epidemic of rape culture on college campuses and the challenges that survivors of sexual assault face in winning justice."
The #PerskyMustGo hashtag refers to the campaign for Persky's resignation. 
UltraViolet also took out a page-long ad in school newspaper The Stanford Daily's graduation issue, asking community members to sign a letter calling for Persky's removal from the bench. It has already been signed by 1,000 alumni, Roland said. UltraViolet also delivered more than a million signatures, which were collected through a separate online petition, by hand to the California Commission on Judicial Performance on Friday.
The ceremony
The rape was also referenced during the ceremony, which started with a moment of silence for sexual assault victims.
Stanford president John L. Hennessy thanked the graduate students who stopped the rape and chased down Turner during his speech, according to the attendee. 
During the keynote speech, documentary filmmaker Ken Burns addressed Persky's controversial decision.
"If someone tells you they have been sexually assaulted, take it effing seriously and listen to them," he said. "Maybe someday, we'll make the survivor's eloquent statement as important as Dr. [Martin Luther] King's letter from the Birmingham jail."