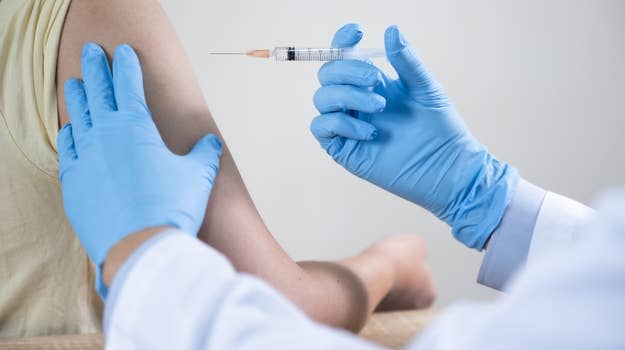 The NHS is scaling up its monkeypox vaccination programme in London as the number of confirmed cases has reached more than 2,000 across the UK.
Based on the latest figures released on July 18, a total of 2,137 cases have been confirmed in the UK, with 2,050 in England, mainly in London. While anyone can contract monkeypox, the majority of cases continue to be in gay, bisexual and other men who have sex with men. 
According to a criteria set by the Joint Committee on Vaccination and Immunisation, at-risk individuals from this group who are eligible for vaccination include individuals with a recent history of multiple partners and those who participate in group sex. 
As a result, an additional 100,000 vaccine doses have been ordered by the government, and thousands of people will be contacted in the coming days and weeks with information about receiving the vaccine, the NHS said. Currently there have been no deaths from monkeypox and "nearly every case we [the NHS] have seen so far" had recovered quickly. 
Steve Russell, NHS director of vaccinations, said officials "will leave no stone unturned in ensuring everyone who is eligible can get protected." He added, "We will be inviting anyone who we believe is a priority for vaccination and local teams will be working to make sure that anyone who meets the criteria set by UKHSA knows how they can get their jab. We are asking people to wait to be contacted and to come forward at the earliest opportunity possible when invited to get vaccinated."
The number of clinics offering a pre-exposure vaccination would increase rapidly in the coming weeks, the NHS reports. There are currently more than 18 clinics offering vaccinations across London, including Dean Street sexual health clinic in Soho, Chelsea and Westminster Hospital, Guy's Hospital in Southwark, Mortimer Market Centre in Camden and Barking Hospital Outpatient Centre East.
Dr. Mary Ramsay, head of immunisation at UKHSA, said: "Vaccination will further strengthen our response, so we urge all those who are eligible for the vaccine to take it up when offered."
The mayor of London, Sadiq Khan, added: "It's encouraging that the monkeypox vaccine is being rapidly expanded across our capital. With London seeing the highest rate of infection in the country, it is important that NHS London is able to prioritise the vaccination of those most at risk."
Monkeypox is a zoonotic viral disease which can be spread through touching clothing, bedding or towels used by someone with the monkeypox rash, touching monkeypox skin blisters or scabs, or through the coughs or sneezes of a person with the monkeypox rash, including during sex.
Fever, headache, muscle aches, exhaustion and swollen lymph nodes are all common signs of infection along with the development of the rash.