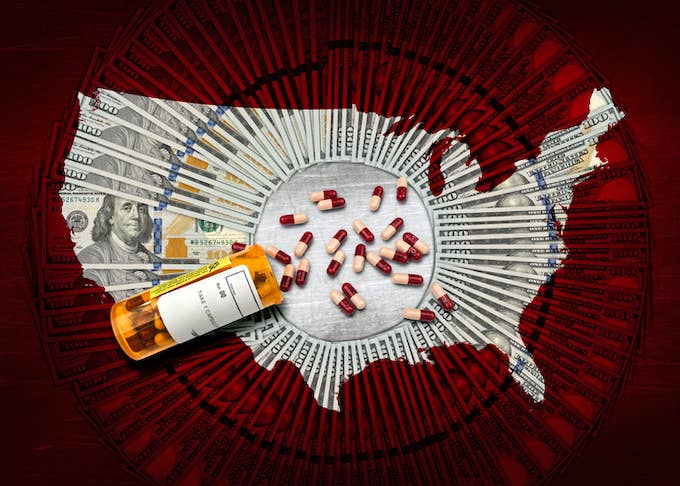 Six pharmaceutical companies are currently under the microscope of federal prosecutors who want to know if they "intentionally allowed opioid painkillers to flood communities," according to The Wall Street Journal. The probe could reportedly lead to potential criminal charges.
The companies that the feds are honing in on are: Teva Pharmaceutical Industries Ltd, Mallinckrodt Plc, Johnson & Johnson and Amneal Pharmaceuticals Inc, and distributor McKesson Corp, Reuters reports. The drug companies are believed to have played a significant role in creating the opioid epidemic, which resulted in more than 42,000 deaths in 2016 alone.
Federal prosecutors haven't gotten very far with the probe yet, but other drug companies will be subpoenaed soon, the WSJ reports. They want to find out if these particular companies violated the federal Controlled Substances Act, a statute that mandates companies to report when they get orders of drugs that are larger than normal or are receiving more often than usual.
Janssen Pharmaceutica, Johnson & Johnson's pharmaceutical unit told Bloomberg that no foul play occurred. "Janssen believes that at all times its anti-diversion policies and procedures for distribution of its opioid medications complied with the law," a spokesperson said in a statement. "In fact, monitoring data shows that the company's opioids were rarely diverted or abused."
Melania Trump traveled to Baltimore on Tuesday, where she delivered a speech on the dangers of opioid abuse and was promptly booed during her talk. "I hope that the knowledge you gain here will help you tackle the tough decisions you may be faced with so that you can lead a healthy and drug-free life," the First Lady told the jeering crowd. "Get involved and be a part of the solution."