Trump Faces Off With 6 U.S. Presidents in Pop Culture
See how Trump measures up to U.S. Presidents from 'House of Cards' to '24.'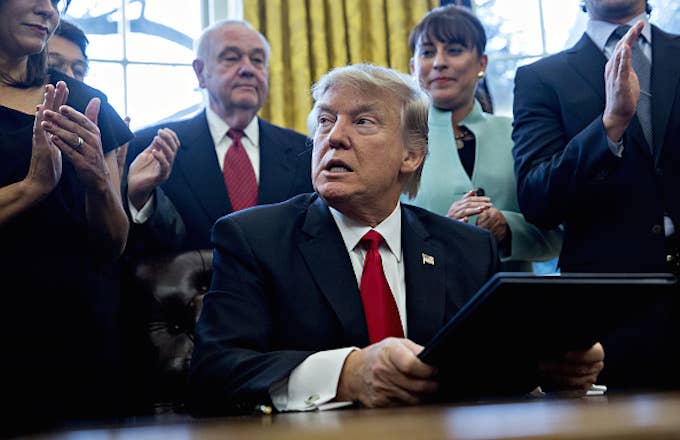 Getty
Donald Trump pauses after signing an executive order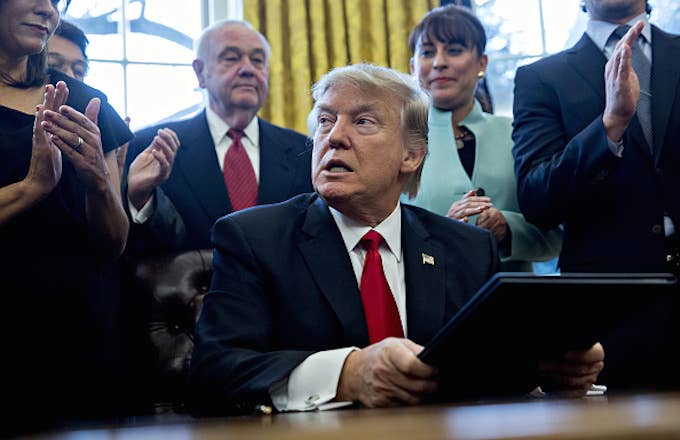 George Washington's birthday was declared a national holiday the year after his death in 1799. Today, that holiday is called President's Day, expanded to commemorate all the past presidents of the United States. Although George Washington's birthday is on February 22nd, President's day is now celebrated on the third Monday in February to give workers more three day weekends in the year. On top of drinking or sleeping your three-day weekend away, take the time to reflect on all the great achievements of our past presidents—or consider the monumental chaos that has occurred within one month of Trump's presidency.
The perception of the U.S. presidency has shifted drastically under the Trump administration: Far gone are the days when presidents used decorum and sophistication when addressing the public. Now you're more likely to get a quote from the White House on Twitter than in a well-scripted public address. The pace of the drama in Trump's Oval Office is something even Scandal show writers would think is overwhelming (We are literally only one month in).
You know things are getting pretty bad if you start dreaming of having Frank Underwood as president. At least he had the courtesy to kill people before letting the public stress about his scandals.
While most TV shows and movies that depict the US Presidency try to push the boundaries of what can occur within the Oval Office, Trump has not only pushed the boundaries, but ripped them apart and grilled them for the latest lunch special at his Mar-a-Lago club. How close did the most (and least) popular fictional U.S. presidents come to characterizing Trump's mannerisms or scandals? We investigate their likeness (or unlikeness) to Trump: