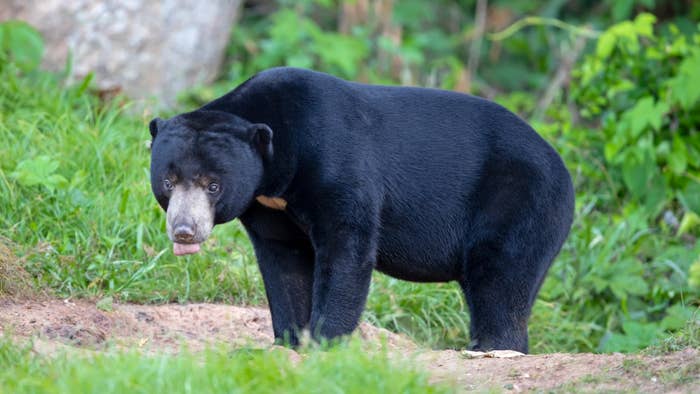 A Chinese zoo has been forced to clarify that the Malaysian sun bears that inhabit their zoo are in fact real, despite rumors spreading that they're merely "humans in disguise."
Per AP, the rumors began on Monday after a photo posted by the Hangzhou Zoo in Eastern China showed a Malaysian sun bear standing on its thin hind legs.
"Some people think I stand like a person," said the posting, written from the bear's point of view. "It seems you don't understand me very well."
Viewers flocked to the comments to raise concerns that the bears weren't real, and the zoo responded by arranging visits for reporters to prove the bears were, in fact, bears.
"Because of the way they stand, some people online question whether they are 'humans in disguise,'" the newspaper Hangzhou Daily said.
Sun bears are smaller than most bears, and are similar to the size of large dogs, standing at 50 inches tall on their hind legs, compared with nine feet for grizzlies and other species. Other Chinese zoos have been previously accused of trying to pass off dogs with dyed fur to make them look like wolves or African cats.
The reports also emerged days after a Japanese man dropped over $14,000 on a realistic Corgi costume so he could fulfill his dream of becoming a dog. In an interview with the Mirror, The man, who goes by Toco, expressed his fear of telling his friends about his desire to become a dog.
"I rarely tell my friends because I am afraid they will think I am weird,' Toco told the outlet. "My friends and family seemed very surprised to learn I became an animal."
Toco added, "I don't want my hobbies to be known, especially by the people I work with."