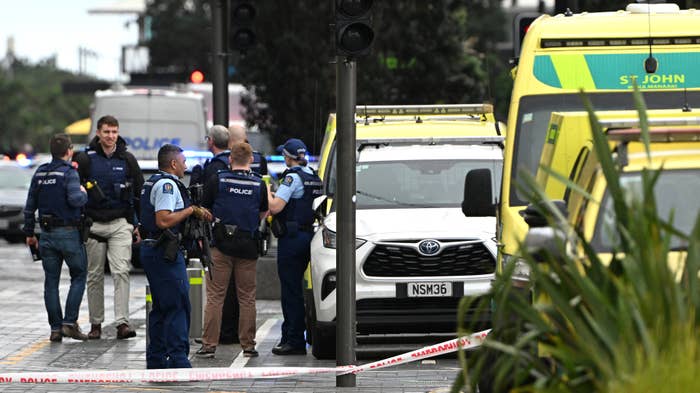 Two people were killed when a male shooter opened fire inside a building under construction in Auckland, about three miles away from Eden Park Stadium where New Zealand was hours away from hosting Norway in the opening match of the 2023 FIFA Women's World Cup.
According to the New York Times, New Zealand Police spokesperson Anna Thompson said authorities were alerted of a shooting in what is described as a "busy downtown area" which is "very close" to the Norway team's hotel. A fan festival is also in the vicinity.
The gunman, who has not been identified, was killed. The Associated Press writes that "six other people, including at least one police officer, were injured."
"Upon reaching the upper levels of the building, the male has contained himself within the elevator shaft and our staff have attempted to engage with him," the police said. "Further shots were fired from the male and he was located deceased a short time later."
New Zealand Prime Minister Chris Hipkins said in a news conference that the shooter appeared to be acting alone.
The location of the shooting was close to Auckland's central business district where several World Cup teams are staying for the duration of the tournament, including the United States Women's National Team.
"Regarding the incident in downtown Auckland, all of our USWNT players and staff are accounted for and safe," USWNT said in a statement. "Our security team is in communication with local authorities and we are proceeding with our daily schedule."
The USWNT is scheduled to play their first match against Vietnam on Friday night.
The @ussoccer social accounts added, "U.S. Soccer extends its deepest condolences to the families of the victims who were killed in the shooting in downtown Auckland today. We are saddened by the inexcusable loss of life to gun violence, and our thoughts are with the people of Auckland/Tämaki Makaurau and Aotearoa New Zealand."