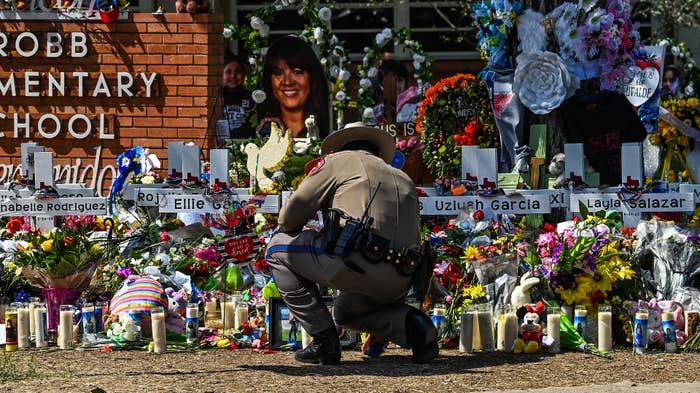 The U.S. Department of Justice announced Sunday that a review will be launched into the law enforcement response to the shooting at Robb Elementary School in Uvalde, Texas last week. 
Days after the tragic event that claimed the lives of 19 children and two teachers, Texas Department of Public Safety director Steven McCraw publicly acknowledged it was the "wrong decision" for officers to stay nearly an hour in the hallway of the school as they waited for tactical equipment and the keys from a janitor to open a door to the classroom that 18-year-old gunman Salvador Ramos had barricaded himself. 
McCraw said there was a belief that they had time to organize because they believed Ramos didn't pose a threat to the children. Two months prior to the shooting, law enforcement officials attended an all-day training session hosted by the Uvalde school district which was specifically focused on "active shooter response." The course repeatedly stressed the importance of time and advised those who arrive first "will usually be required to place themselves in harm's way."
"The best hope that innocent victims have is that officers immediately move into action to isolate, distract or neutralize the threat, even if that means one officer acting alone," the course description reads. The resource officer at Robb Elementary, who had not been on campus at the time, reportedly rushed to the school upon hearing of a 911 call about the gunman and drove past Ramos only to confront someone he believed to be the suspect, but turned out to be a teacher. 
Texas Gov. Greg Abbott told reporters Friday he was "livid" after discovering that the information provided during his briefing two days earlier was inaccurate and vowed to "get to the bottom of every fact with absolute certainty."  
"The goal of the review is to provide an independent account of law enforcement actions and responses that day, and to identify lessons learned and best practices to help first responders prepare for and respond to active shooter events," Justice Department spokesperson Anthony Coley said. 
"As with prior Justice Department after-action reviews of mass shootings and other critical incidents, this assessment will be fair, transparent, and independent," Coley continued. "The Justice Department will publish a report with its findings at the conclusion of its review."