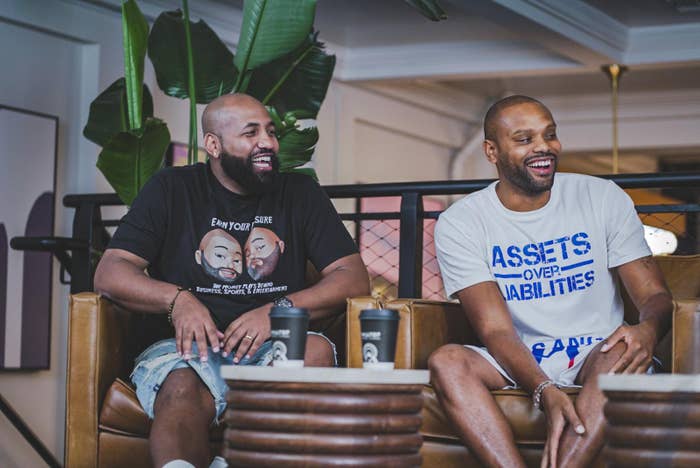 Prior to the pandemic, American Progress reported the average Black household had about $142,330 compared to $980,549 from that of a white household—giving Black households 14.5 percent of the wealth of white households.

That number has changed today according to NPR. "For every dollar the average white American has, the average Black American has only about 17 cents."

Viral platform Earn Your Leisure plans to change that, one lesson, seminar, and workshop at a time—including this Sunday at MSG with special guest, sports entrepreneur, and boxing champion Floyd Mayweather.

Jadakiss will be performing.

EYL Co-Founder Troy Millings said, "What we are embarking on is a financial revolution. The mission is to provide tangible and digestible financial information to the overlooked, underserved, and underrepresented on a global scale."

The top 100 podcast created and hosted by financial advisor Rashad Bilal and educator Troy Millings has over 1 million subscribers on YouTube, and breaks down sophisticated financial principles and personal finance in a relatable way.

Their hook has become their guests who have made those principles work for them—most of whom we have covered at length, including Dame Dash, DJ Envy, Master P, Jalen Rose, and Steve Harvey.

"Overall, 33 percent of U.S. adults have a will, according to Caring.com's 2021 wills and estate planning survey. Meanwhile, 27.5 percent of Black Americans have one, up from 25.9 percent in 2020"—per NBC News.

Generational wealth within the Black community is chief among the topics discussed on Earn your Leisure. When Black Panther Star Chadwick Boseman died, he didn't have a will. The EYL 11-minute short on wills and trusts has over 80k views.

Earn Your Leisure is the financial literacy cheat code for the Black community.

"The key is to keep your spending flatline while your income increase. Now that difference, you can invest, you got more money to invest. That's the name of the game is have your money work for you." Millings said in an interview with REVOLT. "We encourage a 9-5, that's key, but it's what you do from 6 to 12 that will determine how long you work that 9-5."

In October, Bilal and Millings together with Matthew Garland, and Michael MacDonald partnered with Steve Harvey for Invest Fest—a touring seminar and workshop that accommodated over 14,000 people in Atlanta and closed out Black History Month in London.

The event at MSG is part of their popular Market Monday series.