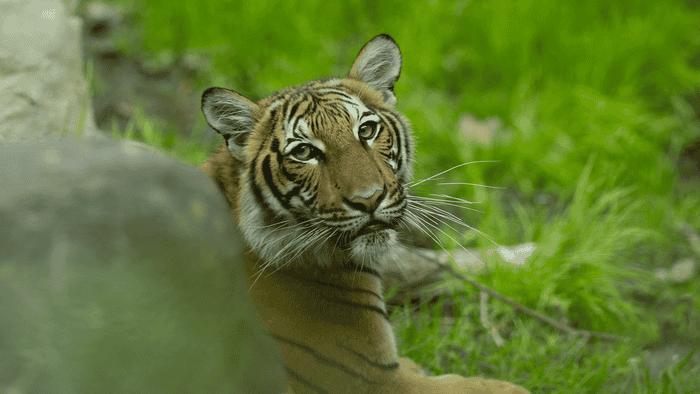 A Bronx Zoo tiger has tested positive for the coronavirus, according to an official statement from the United States Department of Agriculture. This is significant because, as relayed by federal officials, the infection is the first known one to be contracted by an animal in the U.S. or a tiger anywhere on the planet.  
The big cat in question is a four-year-old named Nadia. Her condition came to the attention of her handlers after she developed a "dry cough," according to the New York Post. After she fell ill, six other tigers and lions also developed that same "dry cough." If you're wondering how they got infected, the USDA believes it was passed on to them by a zoo employee. This is supported by evidence that the two species reside in different parts of the zoo, but that they all had contact with the employee. 
All the animals affected are expected to recover. 
"Though they have experienced some decrease in appetite, the cats at the Bronx Zoo are otherwise doing well under veterinary care and are bright, alert, and interactive with their keepers," said a Wildlife Conservation Society statement. "It is not known how this disease will develop in big cats since different species can react differently to novel infections, but we will continue to monitor them closely and anticipate full recoveries." 
The zoo was shuttered to the public on March 16, while the first animal began displaying symptoms on March 27.
The second part of this story you may be wondering about is how exactly the tiger got a test before 'X amount of people' still wait out shortages. Well, you can rest at ease (or at least chill out a bit) as the animal didn't get a human test. That was revealed by the zoo's head veterinarian, Dr. Paul Calle, in some Monday tweets that quoted him. 
"The COVID-19 testing that was performed on our Malayan tiger Nadia was performed in a veterinary school laboratory and is not the same test as is used for people," Calle said. "You cannot send human samples to the veterinary laboratory, and you cannot send animal tests to the human laboratories, so there is no competition for testing between these very different situations."
Also Nadia was the only one of the seven sick cats to be tested because she'd already been sedated for an exam.
For those not just blindly outraged, this positive test still brings up new questions/concerns about how the virus spreads amongst animals. Up until this moment, the USDA says they weren't aware of any cases of pets or livestock catching the virus in America. Dr. Jane Rooney, a vet/USDA official quoted by the AP News, says that "It's important to assure pet owners and animal owners that at this time there isn't any evidence that they can spread the virus."
A few reports have circulated of pets getting the virus from their contagious owners. One of these reports included a dog in Hong Kong who had acquired a low level of the pathogen around the end of February. The dog, who was 17, eventually died. Agriculture authorities in that region came to the conclusion that dogs and cats could test positive if their owners gave it to them, but that they couldn't pass the virus to humans.