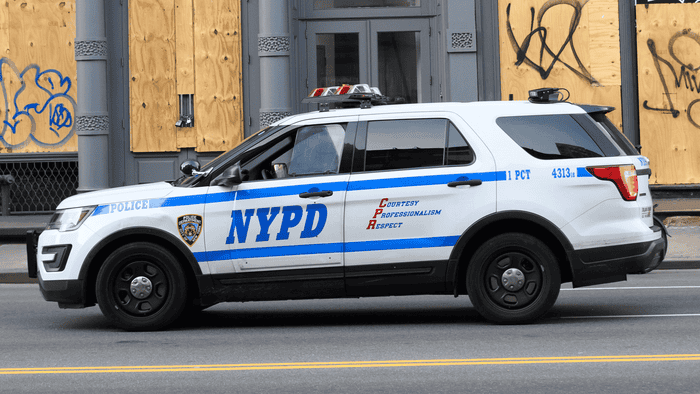 An NYPD cop is under fire after engaging in a violent confrontation in which he struck a bystander and dragged him to the ground in the East Village. Officials say the officer's response came about following a refusal to social distance. The scene, which was definitely chaotic, was captured by a witness who posted footage to social media: 
The New York Post, citing Police Commissioner Dermot Shea, says the run-in started with cops breaking up a gathering that was violating social distancing guidelines. 
The video shows three or four plainclothes policeman already in the process of arresting two people. The department states that the man being arrested at the beginning of the clip was being "aggressive," while a woman comes in to intervene. 
Shortly after that, one of the officers turns his attention to a crowd behind them and, while brandishing a taser, tells them to "get back." 
After shouting "get the fuck back right now" a few times, the officer asks someone what he's "flexing for," prior to telling him "don't flex." That person is tackled after appearing to approach the officer. The cop then slaps and punches him several times, then drags him onto the sidewalk where another cop runs over to help him arrest the person. 
At this same time bystanders repeatedly yell that the man being punched didn't do anything. The cop who threw the blows sits on top of the person appearing to wait on handcuffs. Footage continues to be recorded for about another minute as a different cop puts restraints on the man. More general chaos goes on in the background as this happens. 
Three people in total were arrested as a result of this incident. One of those arrests was for Shakiem Brunson, who has been charged with resisting arrest, disorderly conduct, and pot possession. Similarly, Ashley Serrano was arrested for resisting arrest, obstruction, and criminal possession of a weapon since she was reportedly carrying a stun gun.
As for the man who was tackled and struck, his name is Donni Wright. He ended up catching several charges, including assault of a police office, menacing, and resisting arrest. Cops have reportedly justified the menacing charge by stating that Wright refused orders to move while putting up a closed fist "fighting stance" against the officer at the center of the video.  
On the same day, the NYPD gave out 51 summonses for other residents deemed to be violating social distancing instructions. 
As for the scene captured on the cell phone, Shea says the incident is being looked into by Internal Affairs. The officer involved is now on modified duty. 
Mayor Bill de Blasio also tweeted out that he was "really disturbed" by the footage. He added that "the behavior I saw in that video is simply not acceptable."