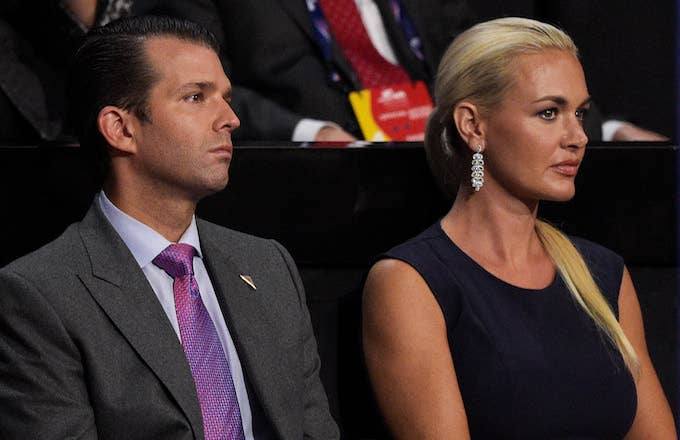 UPDATED 3/15/18 5:22 p.m. ET: Reports that Donald Trump Jr. and his wife Vanessa were headed for divorce turned out to be true. According to Page Six, Vanessa filed for divorce on Thursday in Manhattan Supreme Court. The two had reportedly been living separate lives before Vanessa filed for an uncontested proceeding. The president's daughter-in-law is not planning to face a battle over the custody of her and Trump Jr.'s five kids. They were married in 2005. 
See original story below.
According to a Page Six exclusive, who themselves were citing friends of the couple, Donald Trump Jr. and Vanessa Trump are having serious marital problems and are on their way to a divorce.
The couple married back in 2005, and have five children together, but have been "living separate lives" though they're not officially separated. Page Six adds that divorce proceedings have not yet begun, but that friends expect them to file soon.
A source reportedly told the publication, "The problems have been there for a long time, the couple had hoped to stay together during the president's time in office, but it is getting harder to resolve their issues. He's never there."
A second source added that Don Jr.'s extended travel running the Trump Organization while his father is in office has contributed to the couple's woes. "Don Jr. has been busy traveling, which has contributed to their problems," that source said. "Vanessa is a devoted mother, but she is increasingly lonely and alone in the house with the children."
Page Six reports that multiple sources have indicated that Trump Jr.'s recently changed behavior has also sparked tension. As they wrote:
An issue, two of the sources say, is that Don Jr. "appears to have changed recently, and friends are concerned about him." Their concerns were increased by Don Jr.'s tweeting, including when he liked a tweet linking antidepressants to mass murder, and another liking a tweet attacking a teen survivor of the Stoneman Douglas High School shooting. The Daily Beast also reported that following the school shooting, Don Jr. urged his dad to stay strong on gun rights and hold firm against any assault weapons ban.
Previously at Halloween, Don tweeted that he would take away half of his 3-year-old daughter's Halloween candy because he wrote, "it's never to [sic] early to teach her about socialism." Then after his recent trip to India, he was heavily criticized for his tone-deaf remark praising the country's poor because "There's still a smile on a face." 
These sources further add that Vanessa isn't comfortable with the constant focus on the Trump family. Last month she was taken to the hospital for precautionary reasons after opening a letter intended for Don Jr. that had a threat coupled with an unknown white powder that turned out to be non-hazardous.
It should be noted (and is, in Page Six's article) that yet another source confirmed that the couple was having problems, but denied it had gotten to the point of impending divorce. "Donald Jr. and Vanessa have been dealing with some issues, but they are not yet at the stage of filing for divorce. They are trying to deal with this privately," the source said. "Don is still living at home, is a good dad and is super involved in his kids' lives. He has always traveled for work, so his current schedule is not something out of the ordinary. He has a busy travel schedule now as he always does."
This source also dismissed the notion that Don Jr.'s social media behavior had changed, stating that "[he] will say what he thinks and fight back, that's his personality on Twitter."
However that source did not contradict everything listed above, as they did say: "While they are not legally separated, I cannot deny there are issues, there are a lot of intricate things that go on in a marriage. Don and Vanessa are focused on their family, they are trying to do this quietly and privately, and when they have something to say on the record, they will do so. This has nothing to do with politics, this is a personal matter between two people."
Pre-24 hour media that last sentence would have probably been true.