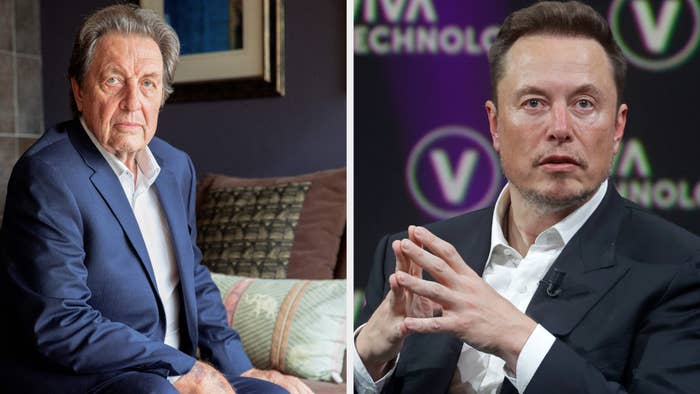 Walter Isaacson's new biography about Elon Musk, which was published this week, contains intimate details about his relationship with his estranged father.
The biography, titled Elon Musk, paints a colorful picture of his life through a series of anecdotes. According to Musk, on Father's Day 2022, he learned his father Errol Musk had a second child with his former stepdaughter Jana Bezuidenhout. Errol was married to her mother Heidi for 18 years and had two children before their divorce.
Musk said he learned of the news through email. "The only thing we are on Earth for is to reproduce," said Errol, who has seven children, per the book. "If I could have another child I would. I can't see any reason not to."
The Guardian revealed Musk's relationship with his father, an engineer, was difficult and fraught. Isaacson writes that Errol "bedevils Elon."
Musk describes Errol as a "volatile fabulist." When interviewed by Isaacson, Errol says he encouraged a "physical and emotional toughness" in his sons.
Musk added, "Adversity shaped me. My pain threshold became very high."
In 2018, Errol spoke about how he reconnected with Bezuidenhout while helping her get over a breakup to The Sunday Times of London. Errol didn't consider Bezuidenhout to be his stepdaugher because he felt she spent most of her time growing up detached from her family.
"We were lonely, lost people," he told The Sunday Times. "One thing led to another — you can call it God's plan or nature's plan."
In an interview with Rolling Stone in 2017, Musk called his father a "terrible human being." He further explained he experienced a rift with his father as a child after his parents divorced.
Elon Musk by Walter Isaacson is available now.