 Porn enthusiasts in the United States sure love gay porn, though some states decidedly more than others. Pornhub Insights, the division of the popular porn site that collects and shares data about everyone's wanking-it habits, released a report Wednesday detailing which states love gay porn the most. Hint: many Southern states are at the top of the list. Mmmhmm.
In partnership with the Daily Dot, Pornhub Insights revealed the number of gay viewers on Pornhub differs greatly across states, but overall, gay porn—​that is, male-on-male—viewership is up an amazing 45 percent since 2012. The data also showed porn-viewers in the South are hot hot hot for gay porn, more so than their Northern counterparts.
Topping the chart for most gay porn visitors was Washington D.C., where 3.37 percent of Pornhub videos head straight for guy-on-guy videos. Runner-up was New York with 3.3 percent, and after that point, the big numbers head South and stay there. Florida, Mississippi, and Louisiana have 3.27, 3.26, and 3.22 percent of viewers watching gay porn, respectively. The demand is much lower in some other Northern states, chiefly North Dakota, which had the lowest percentage in the states at 2.26 percent.
The type of gay porn was also split geographically. In Western and Midwestern states, searches for "straight men" in gay porn were the most popular, and across the South and Eastern states, "black" gay porn topped the charts for gay searches. Further, the report says "black" is the top gay porn search term overall in the U.S., followed by "straight guys" and "bareback."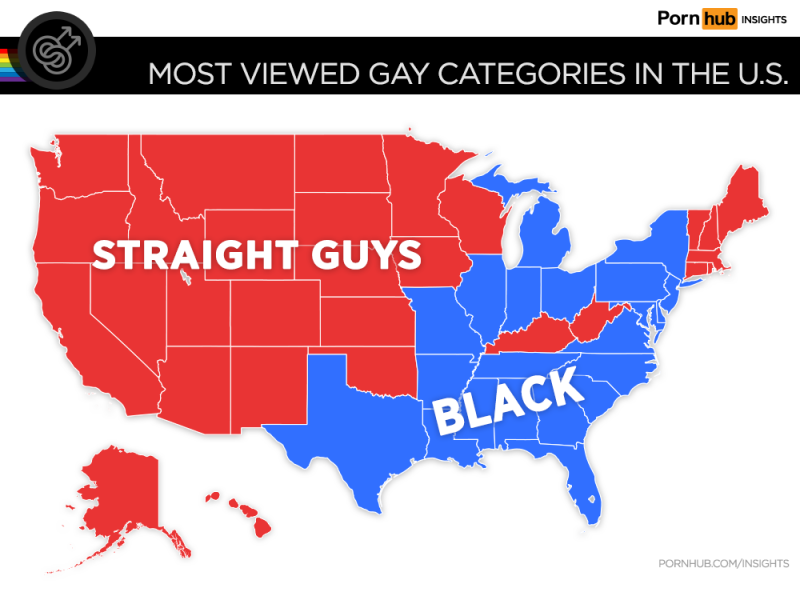 There are many women who enjoy gay porn as well, and among this group, the most popular terms associated with gay porn were "black," "straight guys," and "daddy."
This was just Pornhub Insights' first deep dive into gay porn, and more is hopefully to come.