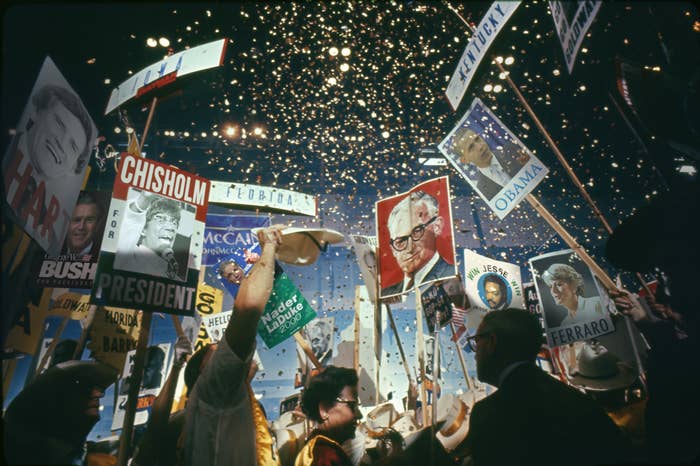 The Contenders, a new show on PBS, is taking a look back on some of the most influential presidential campaigns of the last half-century to find out exactly what it takes to win the most powerful position in the world.
In an eight-part series that premieres Tuesday, the show's host Carlos Watson sits down with experts, political insiders, and even former candidates themselves to get the real story behind the most monumental presidential runs of the past 50 years. The goal of the series, according to Watson, is to learn from some of the forgotten campaigns of yesteryear.
"We wanted to focus on the past in order to shine a light on today," he says. "You can look, for example, at the runs of Ross Perot and Pat Buchanan and maybe get some insight into why Donald Trump has such wide appeal. Or people can look at Shirley Chisholm and Geraldine Ferraro and get a sense for why Hillary Clinton isn't getting young women to support her in ways people thought she would."
Watson spoke with Complex Life over the phone for a conversation about The Contenders that touched on the importance of the youth vote, hope versus fear in politics, and what Hillary Clinton and Donald Trump have in common.
COMPLEX: Where did you get the idea for The Contenders?
WATSON: I'm a lifelong political junkie who has always loved the ins and outs of all this. A year ago, one of the guys on my team came to me and suggested, because the campaign trail was shaping up to be so crazy, why not remind viewers of the greatest moments in presidential campaign history. That was the motivation and how we approached it.
You've now looked at a lot of presidential campaigns. Have you learned anything interesting about the kind of person who runs for president?
We studied 16 of the most interesting campaigns over the last half century and what has stood out to me most is that there really are a wide the range of people who've made very daring runs. And while very few people ultimately win, it's a reminder that everyone should compete, because you never know the impact a run can have and how far you might go. You might be a young black senator, a one-term Georgia governor, a POW, a teacher with a lisp. Anyone can compete.
And what about campaigns themselves?
I also was reminded of the fact that everything can shift and change in the last months of a campaign. Michael Dukakis can be way ahead of George H.W. Bush and give the lead away. Reagan can be behind Carter but then catch up and end up winning by 10 points. For Barack Obama, it was the financial crisis that really separated from him and John McCain. They were tied with 60 days to go but Obama had a really good fourth quarter. The fourth quarter matters, whether that means debates or handling an October surprise or whether that means making sure you turn out voters come Election Day.

Do presidential campaigns teach us anything about America?
Americans not only vote with their heads but with their hearts. Frankly, most voters will vote for who they like more, or trust more. There were people who did not agree with candidate Obama generally or ideologically but who thought, "He seems like he has integrity. I like his wife and his kids. I like what he represents," and they cast their votes for him.  When all's said and done, that matters a lot in elections.
When it comes to the youth vote, did making The Contenders reveal anything to you about how presidential campaigns interact with young voters?

Yes. The strongest and most groundbreaking campaigns— Obama to Reagan to Kennedy—have had meaningful support from young people. The reality today is that neither Clinton nor Trump has huge Millennial enthusiasm. It doesn't mean one or the other won't win, but it means the degree to which the winner can be a groundbreaking president might be limited.
A while back, Politico published an interview with President Obama where they asked him for his projections for the 2016 race. He said that voters will go for the candidate that makes them feel most hopeful. Was that just a plug for his campaign, or is he right?
I think hope has been really important in lots of campaigns, but fear and strength have been as well. In a post-9/11 world, many voters are looking at candidates and wondering if they'll be safe with them in charge. Then there's strength. There are times when we as a country move toward a candidate, not because of their specific positions, but because we feel that person has the kind of strength we want and respect.
I'm curious: With everything you've seen in making The Contenders, can you tell Complex readers what you think Donald Trump and Hillary Clinton have in common?
Well, they're both New York liberals originally— they used to attend each other's social events. I also think they're both doers, fundamentally. Say what you will about Trump, but whether he's building buildings or on TV, he really likes to do stuff. I think Hillary is also not content to just be removed from things. She's also a doer.
(This interview has been edited and condensed for clarity.)