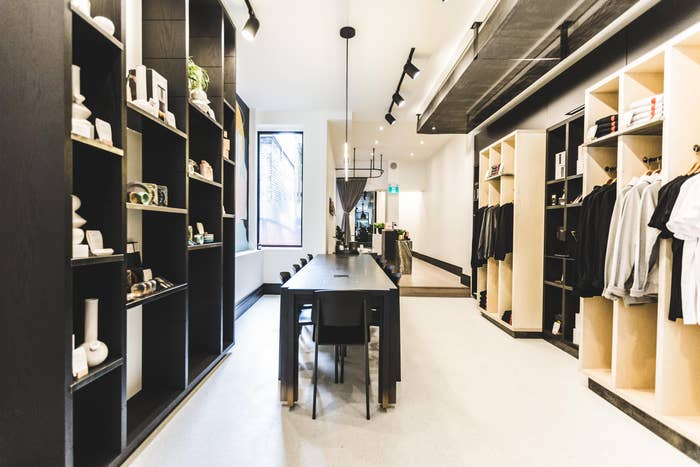 There's something about the subtlety of Canadian's that make their version of cool so understated and laid back. Where else could you wander into a hipster coffee shop and discover that it's also a great 'weed' shop? Toronto, of course.
Sitting amongst local fashion boutiques on Toronto's trendy Queen Street West, named one of the world's coolest 'hoods by Vogue, is now a coffee shop-cannabis-lifestyle shop. It is a sublimely designed boutique with an array of gorgeously designed products and superb coffee. This is the new home to the flagship location for Tokyo Smoke.
Tokyo Smoke is a brand that has built its reputation on the idea that cannabis users deserve well-designed devices. This is not the place to pick up a retro feeling glass bong reminiscent of your college days. Rather, this is the place that takes the same approach to design as major fashion houses or interior design agencies. With immersive experiences and design-led retail spaces selling coffee, clothing and designer products, Tokyo Smoke is like no other kid on the cannabis block. This is the type of shop even my Jackie-O-esque mother would stop in for coffee and pick up a stylish ceramic bong. One that would sit right at home next to her Tom Ford coffee table book or Jonathan Adler 'barbiturates' vessel. The shop is stocked full of locally designed products that would look at home in just about any home. This is the new era of cannabis culture, where enjoying designer marijuana strains requires designer devices and bongs.
We sat down with one of the Co-Founders and CEO, Alan Gertner, and Creative Director, Berkeley Poole.
Why do you think it is the right time to launch a brand like Tokyo Smoke? Besides the impending legalization of marijuana in Canada - are there other factors?
Alan Gertner: With the legalization of cannabis in 2018, Canada will usher the global society into a new era. As Canada leads the beginning of the end of the drug war, we have the opportunity to set the standard for how legal, safe cannabis can succeed nationwide. As Canadians, we have a once-in-a-lifetime chance to change the world and put our mark on a more positive, mature, and thoughtful collective. Canada can be the benchmark.
It's already happening, countries around the world (Germany, Australia to name a few) are looking to Canada as the model and build their medical and ultimately adult-use cannabis programs.
With Tokyo Smoke, we dreamed of the opportunity to contribute to this movement. To build a design-driven, consumer-focused brand that could place cannabis alongside other products that people know, love and trust. If Tokyo Smoke can help to educate consumers through thoughtful experiences, if we can delight consumers through breaking cannabis stereotypes, we will have accomplished our goal. 
How intrinsic is design to the brand? What is the brand's guiding principle?
Berkeley Poole: Design, style, taste, aesthetics - whatever you want to call it, is at the core of everything we do. We feel inspired to live in a time when people really care and are passionate about how things look and function. From the vibe of someone's Insta feed to where they "brunch" – we're living in a hyper-curated society and Tokyo Smoke is aware of that. The aesthetics of "stoner" culture have been fairly specific for so long, and we're setting out to show people that there is a lot to explore and unearth with the evocative + experiential aspects of cannabis. As such, the brand really works to redefine the visual language and present it in new and varied ways.
How do you think 'weed culture' has shifted or is shifting?
Alan Gertner: It is starting to become clear that cannabis use is more widespread than we might have historically thought. When you reflect on the fact that close to 1/4 of Canadians use cannabis, the idea starts to take root that the culture of cannabis is being actively shaped by the diverse lives of millions. 
There is not one monoculture that applies to the more than half of Americans adults who have tried cannabis. I believe coffee drinkers, and beer drinkers, and water drinkers, cannot all be painted with the same brush, and I believe strongly the same applies to cannabis consumers.
The brand seems to be on point with their assessment that cannabis users want well-designed products in beautifully designed spaces. They are growing and growing quickly. Three new locations are slated to open in Ontario (near Queen and Broadview in Toronto's East End, in downtown Hamilton, and in Toronto's downtown core). Further, they are expanding into the Prairies with six new retail locations slated to open over the next two years. Starting with downtown Calgary in fall 2017, Tokyo Smoke's retail and coffee shops will also see additional locations in Alberta, Saskatchewan and Manitoba.