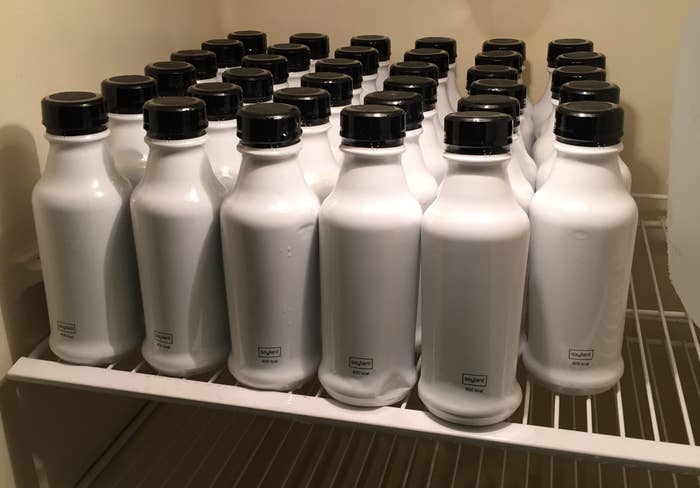 Sometimes figuring out what to eat can be a pain—especially if you're too busy to spend too much time cooking, but you're also trying to eat a healthy diet. That's the driving force behind Rosa Food Inc., the company that created Soylent, a popular meal replacement drink.
The co-founders are a group of four guys who worked together at tech start-ups in Sunnyvale, California. They realized their diets of frozen corn dogs and ramen were neither nutritious nor enjoyable and started to think if would be nice to have a meal replacement option that at least met their daily nutritional needs. The original Soylent drink, which came in pre-mixed or powder form, was engineered to provide 400 kcal per serving along with 20% of daily nutritional requirements.
Soylent products have been available in Canada since 2015 and gaining in popularity—until now. The Canadian Food Inspection Agency (CFIA) just announced Soylent has been banned after a routine inspection found that certain products were not in compliance with the Food and Drug Regulations with regard to meal replacements. They said that while no further imports of the products will be allowed into the country, remaining products could still be sold since there is no immediate health risk.
Co-founder and CEO of Rosa Foods Inc., Rob Rhinehart posted a letter on the website saying CFIA informed them that their products failed to meet "a select few" requirements for a "meal replacement." He went on to suggest that Canada's standards are probably outdated and "the requirements do no reflect the current understanding of human nutritional needs." It's true that Canada hasn't done a full review of the regulations since the 1990's, so it's possible they might need to be updated.
The CFIA defines a meal replacement as "a formulated food that, by itself, can replace one or more daily meals." It has to provide a minimum of 225 kcal per serving and, unless it's a weight-loss product, no less than 15% and no more than 40% of the total calorie count must come from protein. The fat content can make up no more than 35% of the total energy it provides. There is also a long list of minimum and maximum amounts of vitamins and minerals.
Clearly, Soylent has a very specific list of requirements to adhere to, but Rhinehart assures Canadian customers that they intend to comply and get their products back to Canada as soon as possible. When exactly that might be, he didn't say.
This isn't the first time Soylent has had to rethink one of their products. Since launching in 2013, Soylent has expanded to include a cacao flavour, three different caffeine-enhanced options and the now discontinued meal replacement bars that made some people seriously ill. After customers complained of severe gastrointestinal issues caused by the bars, the company decided to take them off the market late last year. They've been working on figuring out what went wrong ever since.
Meal replacement drinks might be convenient, but finding one that will actually keep you full and provide the nutrition you need is harder than it seems. Soylent has been the best option available, but it's back to eating real food for Canadians. For now at least.