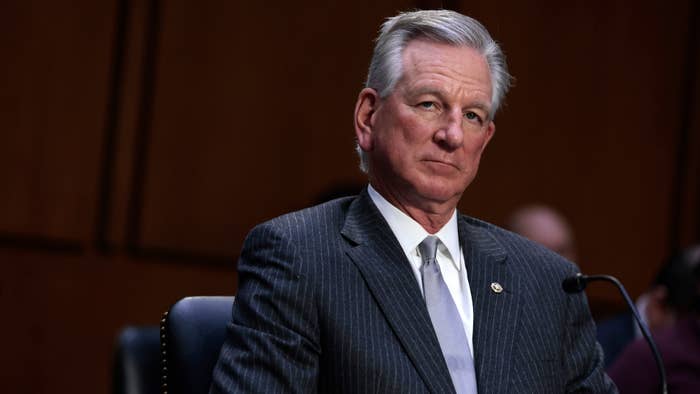 Sen. Tommy Tuberville found himself in hot water after he rejected the notion that white nationalists are inherently racist.
The Republican senator initially made the comments on CNN Monday night, then acquiesced a day later on Capitol Hill after major backlash, The Washington Post reports. "White nationalists are racists," Tuberville finally said.
On Monday, the senator from Alabama appeared on CNN's The Source with Kaitlan Collins, where he was asked to explain comments he made about pushing for white nationalists to be in the U.S. military, and that it was an "opinion" that white nationalists are racist.
The former Auburn University football coach continued to defend his comments, as Collins pushed, telling him that white nationalists are racist by definition—because they believe the white race is superior to other races.
"Well, that's some people's opinion," Tuberville said. When Collins asked him to elaborate, he said, "My opinion of a white nationalist, if someone wants to call them white nationalist, to me is an American." He also described white nationalists are people who have "a few probably different beliefs."
On Tuesday, when he told reporters on Capitol Hill that white nationalists are indeed racist, he had a hard time defining his viewpoint. "Listen, I'm totally against racism," he said. "And if the Democrats want to say white nationalists are racist, I'm totally against that too. … My definition is, racism bad."
Tuberville also tried to use his past career as a coach as proof that he's not racist.
"I am totally against any form of racism," he said, per NBC News. "I always have been. I was a football coach. I've dealt with more minorities than everybody in this building."
The first-term Alabama senator also made headlines recently for delaying senior military nominations in response to a Defense Department guidance that safeguards access to abortions for service members and their families.