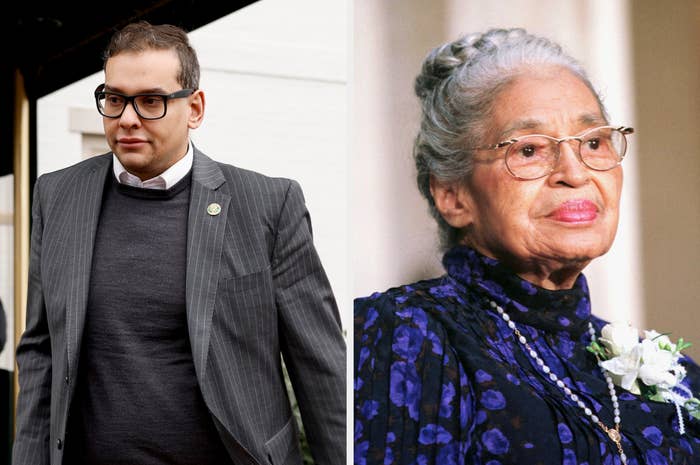 Rep. George Santos compared himself to Rosa Parks, which upset her niece.
Parks' niece, Rhea McCauley told TMZ that it was, "totally inappropriate for Santos to compare himself to her aunt, saying it's apples to oranges when it comes to the situation." More of Parks' family members are upset by Santos as well.
In a recent episode of the Mike Crispi Unafraid, a rightwing podcast, Santos told the host, "Rosa Parks didn't sit in the back, and neither am I gonna sit in the back," per The Guardian.
His remark was in response to Sen. Mitt Romney, who said that Santos should sit at the back during Joe Biden's State of the Union back in February, soon after Santos confessed to lying about his background and finances.
McCauley told TMZ that she and her family are "ticked off" that Santos mentioned Parks because the correlation isn't "historically accurate." She continued, "Parks was fighting against segregation," while Santos, "seems to be airing out a petty feud between himself and another politician."
McCauley said that her aunt probably wouldn't have liked Santos since he's a "fabricator," and wants him to apologize to the Parks family.
Back in February, Romney didn't mince his words when speaking to reporters about Santos. "Given the fact that [Santos is] under ethics investigation, he should be sitting in the back row and staying quiet instead of parading in front of the president and people coming into the room," Romney said, per The Washington Post, after commenting on Santos shaking"every" senator's hand, as well as Biden's.
In May, Santos was charged with seven counts of wire fraud, three counts of money laundering, one count of theft of public funds, and two counts of making materially false statements to the House of Representatives.