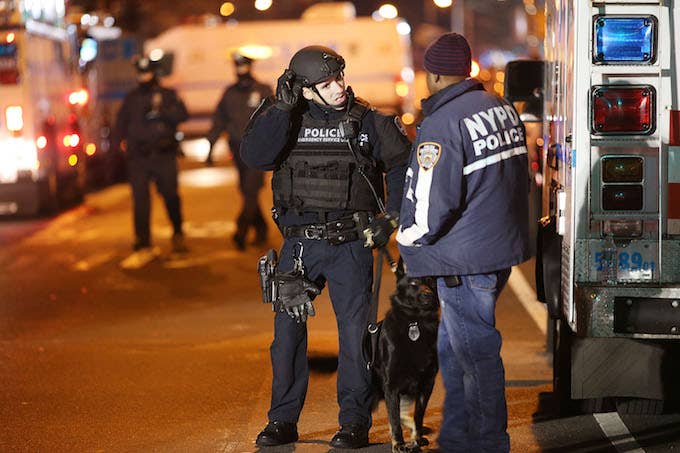 The Justice Department won't prosecute the NYPD officer who choked Eric Garner to death, the Daily News reports.
Federal officials will disclose the news to Garner's family and Rev. Al Sharpton during a private meeting in Brooklyn, per the New York Times. The judgment came almost five years to the day after Garner was confronted by police over selling loose cigarettes in Staten Island. Officer Daniel Pantaleo's chokehold killed Garner.
Garner cried out "I can't breathe" while Pantaleo took him to the ground in what authorities characterized as a banned chokehold. The appalling incident set off extensive protests and helped prompt the ascent of the Black Lives Matter movement.
Federal officials had until the fifth anniversary of the incident on Wednesday to make a choice, though they had told NYPD last year that they had finished their investigation surrounding the events on July 17, 2014.
The NYPD is still figuring out if it will fire Pantaleo. Since the incident, the officer has been working on modified assignment and has been without a gun and badge. According to the Daily News, his attorney Stuart London said Pantaleo wants to stay with the NYPD.
Garner was approached by Pantaleo and other officers for allegedly selling loose, untaxed cigarettes. While Garner had a history of similar offenses and had cigarettes on him that day, he said he was breaking up a fight and would no longer condone harassment by the police. While pinned to the ground, Garner endured a fatal asthmatic attack brought on by Pantaleo's chokehold and the compression on Garner's chest.
London has claimed Pantaleo used an approved "seat-belt" move and not a chokehold—and that Garner died due to poor health, per Daily News.
In an interview with the outlet on Monday night, Sharpton said that choosing to not press federal charges against Pantaleo would be a "loss for the city." If Pantaleo won't face charges, then Garner's family will concentrate on getting him fired.
"We will continue to pursue the department and demand that they take his job," Sharpton said. "We can't have a cop working in this city who puts a man in a chokehold on tape, and the man says 'I can't breathe' 11 times."