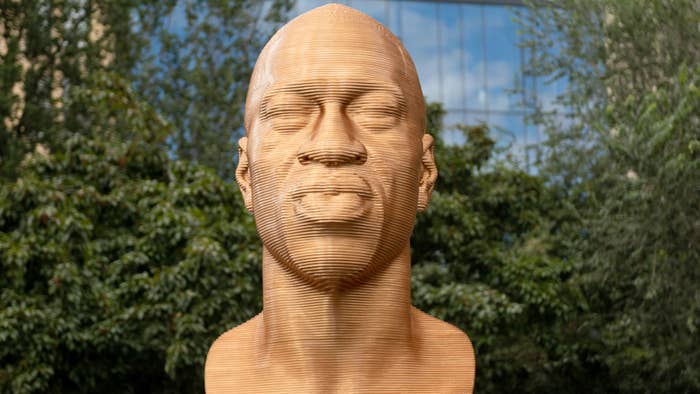 A man was arrested and charged for defacing a statue of George Floyd in New York City's Union Square, CNN reports.
37-year-old Mica Beals was charged with criminal mischief, after he vandalized the bronze bust of Floyd, an incident that was caught on video. In it, a white man is seen tossing silver paint onto the statue while riding a skateboard. 
The incident took place on the morning of Oct 3, with New York Gov. Kathy Hochu tweeting a day later, "This act of cowardice and hate is reprehensible."
The 37-year-old was released without bail and is due back in court on Nov. 1. According to The Hill, Beal is a struggling actor who's had some very small roles in shows like Parks and Recreation, CSI: NY, Pop Star, Don't Think Twice, Lip Service, and That's So Raven.
The Floyd statue is one of three in Union Square Park that debuted at the beginning of the month. There are also busts commemorating John Lewis and Breonna Taylor. According to a criminal complaint, it will cost $2,000 to temporarily restore the bust and about $20,000 to fully restore it. Volunteers began cleaning the paint from the Floyd bust after it happened. The statues are included in Confront Art's SEEINJUSTICE exhibition. 
Beals was also arrested under his stage name, Micha Femia for breaking curfew during the Jan. 6 Capitol insurrection in Washington D.C.