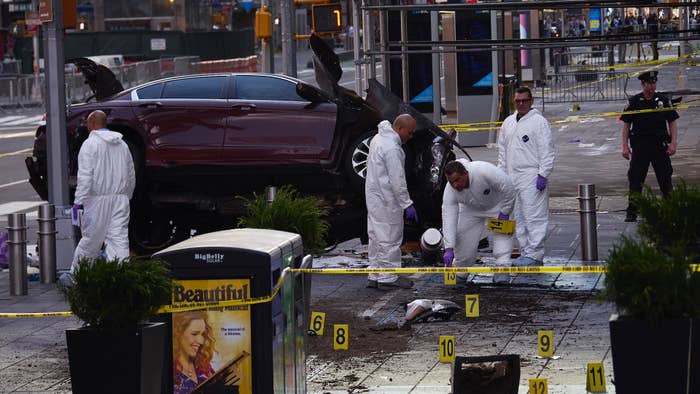 The Navy veteran who drove his vehicle into a crowded sidewalk in Times Square has seemingly dodged prison time.
On Wednesday, a New York jury accepted the insanity defense for Richard Rojas, the 31-year-old man who plowed his Honda Accord into a crowd of pedestrians at the world-famous destination. The incident took place in May 2017, leaving 18-year-old tourist Alyssa Elsman dead and nearly two dozens injured.
Rojas, who suffers with schizophrenia, previously pleaded not guilty to 18 counts of attempted murder, 38 counts of assault, and one count of second-degree murder. His legal team argued he had "lost his mind" during the attack, and pointed to video that showed Rojas exiting his car after the incident and shouting, "What happened?" Rojas' lawyers claimed the footage proved their client "lacked a substantial capacity to know what he was doing was wrong," and was, therefore, not responsible.
"This is, I think, the right, humane verdict," attorney Enrique DeMarco said, as reported by CBS News.
Prosecutor Alfred Peterson told the court he was convinced Rojas was having a psychotic episode and was "hearing voices" during the deadly attack; however, he challenged the argument and argued that the defendant "had substantial capacity" to know what he was doing. 
"The defendant made a decision that day," Peterson said, adding Rojas was in complete control of the vehicle while driving several blocks before the incident. "He went to the 'Crossroads of the World,' a high profile place where everyone knows there's lots and lots of people."
Rojas will remain in custody until his Thursday court hearing, when the judge will issue an order for a mental health examination. Once the report is presented, the judge will determine whether Rojas will be committed to a psychiatric hospital.
"He's not getting out, but we don't get to do a victim impact statement, and he doesn't go to jail," Alyssa Elsman's father, Thomas Elsman told CBS News. "He doesn't get to spend his last days on Rikers, which wouldn't have bothered me one bit. So, yeah, it's bad."