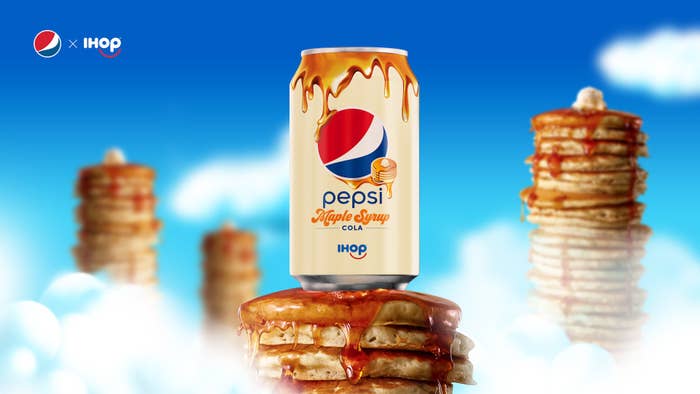 It's like breakfast in a can.
After delivering unique flavors like Salty Watermelon, Ice Cucumber, and Mojito, beverage giant Pepsi announced it had joined forces with IHOP on a Maple Syrup Cola. The companies said the drink "combines the indulgent flavor profile of maple syrup with the crisp, refreshing caramel notes of a Pepsi," which will no doubt please soda- and pancake-lovers alike.
"At IHOP we celebrate our history of bringing folks together and providing a sense of togetherness, belonging and joy when they dine with us," said Kieran Donahue, IHOP's chief marketing officer, said in a press release. "We are thrilled to partner with Pepsi to have some fun and create a moment for our guests to bring home an additional source of happiness with this limited-edition Pepsi Maple Syrup Cola."
Unfortunately for customers, the drink will not be available in stores. Instead, Pepsi and IHOP will give away a 12 oz. can of Pepsi Maple Syrup Cola to 2,000 winners of an online sweepstakes. The contest calls on social media users to post photos or videos of their pancake stacks on social media, tagging @IHOP and using the hashtags #ShowUsYourStacks and #PepsiSweepstakes. Participants must follow @Pepsi to be eligible. One lucky winner will also receive a custom Pepsi Spout, inspired by IHOP's syrup pitchers.
The contest is going down now and will continue through March 29. No purchase is necessary.