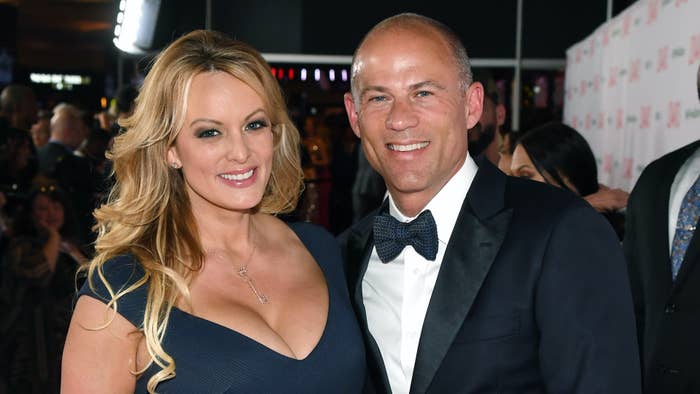 Disgraced attorney Michael Avenatti has been convicted of swindling hundreds of thousands of dollars from his former client Stormy Daniels.
Associated Press reports Avenatti was found guilty of both wire fraud and aggravated identity theft in a Manhattan federal court on Friday. The charges stem from allegations that the 50-year-old attorney stole nearly $300,000 that Daniels was supposed to receive for Full Disclosure—a 2018 memoir that detailed her alleged tryst with former president Donald Trump.
Daniels, an adult film star whose legal name is Stephanie Clifford, secured the book deal in 2018, shortly after it was revealed that Trump's former personal lawyer Michael Cohen had paid Daniels $130,000 in hush money. The memoir's publisher reportedly agreed to pay Daniels a total of $800,000 in four installments. However, prosecutors allege that after Daniels received the first payment, Avenatti forged a letter to her literary agent asking for all future payments be sent to a bank account he controlled.
Avenatti, who represented himself during the trial, denied any wrongdoing and insisted he was entitled to a "reasonable percentage" of the book-deal proceeds.
"Ms. Daniels was about to embark on a fight against the president of the United States, the most powerful person on the planet," Avenatti said during summations, as reported by the Daily Beast. "I agreed to take on that fight … but I didn't agree to do it for free."
Daniels said she and her former attorney agreed he would receive a percentage of any money she made from books or other media projects, but they never discussed what that "reasonable percentage" would be.
Prosecutors presented the jury with text messages, emails, and bank statements that indicated Avenatti was misleading and lying to his client about the book-deal money. After Daniels didn't receive her second and third payments, she allegedly asked Avenatti to help her get the money from her publisher. Prosecutors allege Avenatti failed to inform Daniels that the money had already been paid; he reportedly told Daniels he would threaten the publisher with legal action, and claimed the company didn't want to cough up the funds because they believed Daniels didn't do enough promotion.
Avenatti allegedly spent the stolen money on his ex-wife, his girlfriend, and employees, as well as to pay the note on his Ferrari.  
"The text communications between Stormy and Mr Avenatti in real time was overwhelming proof of his deceit and embezzlement," Daniels' lawyer, Clark Brewster, told Fox News. "The forgery of her name and his concealed directive to wire the money to him was irrefutable. Still, Mr Avenatti possessed the uncanny ability to steadfastly deny the crimes and persuade others he was entitled to the embezzled funds. Stormy is pleased that the justice system worked."
Avenatti's sentencing date is set for May 24. He now faces up to 22 years in prison.
In 2020, Avenatti was slapped with a 30-month prison sentence for allegedly trying to extort millions of dollars from Nike. He is currently appealing the conviction, and has yet to start serving the sentence for that case.