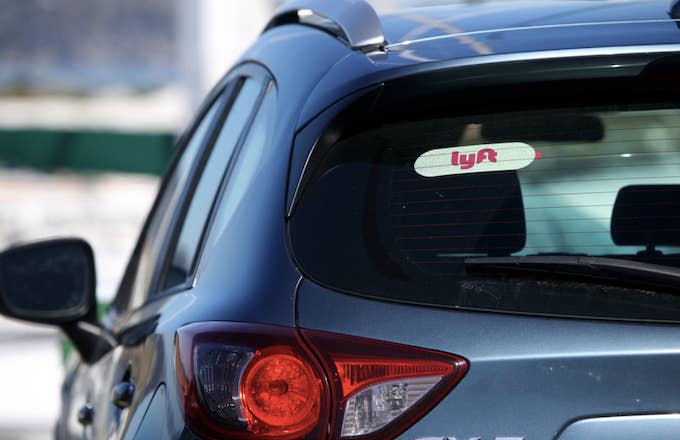 WARNING: This story contains explicit descriptions of rape and sexual assault; the information may be triggering for survivors of sexual violence.
Lyft is facing another sexual assault case.
According to legal documents obtained by The Verge, Alison Turkos is suing the ride-hailing service for mishandling her sexual assault claims and allowing the alleged perpetrator to remain with the company. Turkos shared her story in a recent Medium post, in which she recalled the events leading up to and following the 2017 attack. 
"... I got into a Lyft after a night out with friends. All I wanted to do was get home safely and go to bed. This was supposed to be the safer option than walking home or taking the subway late at night alone," she wrote. "What should have been a 15-minute drive, turned into an 80-minute living nightmare. My Lyft driver kidnapped me at gunpoint, drove me across state lines (from New York to New Jersey), and, along with at least two other men, gang raped me."
Turkos said she reported the alleged kidnapping to Lyft within 24 hours. She claimed she received an apology from the company and was assured she would be "unpaired" with the driver in question. Turkos said that even after she reported the incident, she was still required to pay the estimated cost of the ride.
"Lyft tells its customers that safety is their number one priority and one of the key values the company was founded on, but my trauma proves otherwise," she wrote. "Lyft callously forced me to pay $12.81 for my kidnapping and rape and has allowed a predator to continue driving for not months, but years — proving once again they value profits over customer safety."
A Lyft spokesperson told The Verge that Turkos initially reported the incident as an indirect route, rather than an assault. The representative said the company was not aware of the rape allegation until it was reported in a 2018 Wall Street Journalarticle. Lyft told the publication it received a subpoena on May 14, 2018, approximately six months after the incident took place.
Turkos said she reported the assault to police a couple of days after it had occurred. A rape kit found evidence of semen from at least two men on the clothing she was wearing on the night of the Lyft ride. The NYPD has since transferred the case to the FBI, which is investigating the incident as a human trafficking case. According to Turkos' lawsuit, "Lyft has been wholly uncooperative" during the probe.
"What this rider describes is awful, and something no one should have to endure," a Lyft spokesperson told The Verge. "The unfortunate fact remains that one in six women will face some form of sexual violence in their lives — behavior that's unacceptable for our society and on our platform. In this case, the driver passed the New York City TLC's background check and was permitted to drive."
Turkos is suing Lyft for general negligence, vicarious liability for assault with a deadly weapon, sexual assault, sexual battery, and breach of contract. The plaintiff is seeking monetary and punitive damages, a trial jury, and is demanding the company to improve its safety protocols.
News of the lawsuit arrives just weeks after it was reported 14 women were suing Lyft for the way the company handled their sexual assault complaints.