The FDA Finds High Levels of Toxic Compound in Commons Foods
A newly leaked report reveals PFAS were found in everything from meat and dairy to leafy greens and store-bought chocolate cake.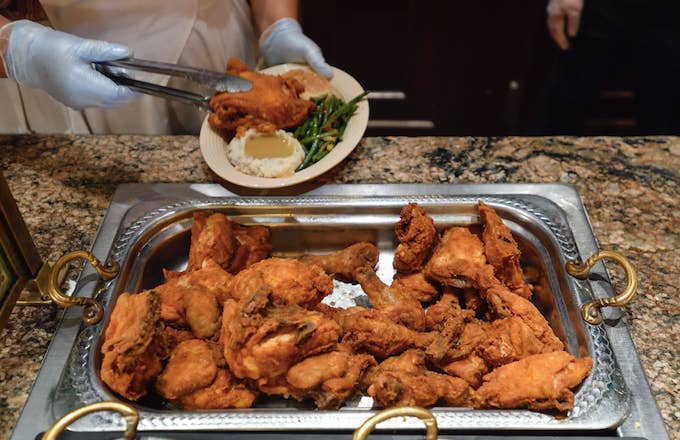 Getty
Image via Getty/Jeff Gritchen/Orange County Register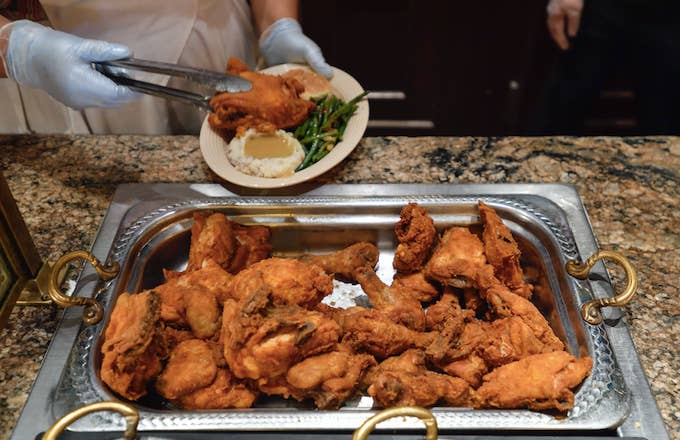 A federal investigation reveals unsettling details about the country's food supply.
On Monday, the U.S. Food and Drug Administration confirmed they have found alarming levels of toxic compounds in everything from meat and dairy to greens and boxed chocolate cake. The chemicals in question are known as per- and polyfluoroalykyl substances, or PFAS. They are also found in nonstick cookware, pizza boxes, fast food packaging, cleaning products, and other household items that repel oil and water.
The FDA shared their findings last month at the annual 29th annual Society of Environmental Toxicology and Chemistry conference in Helsinki. The agency tested food samples across various states, and found some of the food contained PFAS levels 250 times higher than the federal guidelines for PFAS drinking water. But FDA spokeswoman Tara Rabin told the Associated Press the contamination is "not likely to be a human health concern."
Exposure to PFAS chemicals has been linked to a slew of health risks, such as hormone disruption, liver and kidney damage, reproductive issues, as well as cancer. The manmade compounds have also been dubbed "forever chemicals" because they can accumulate in people's bodies and can be extremely hard to break down. 
Last Wednesday, the state of New Hampshire filed a lawsuit against eight companies that make PFAS for their products. The defendants, which include 3M and the DuPont Co., are accused of contaminating the state's drinking water with the toxic chemicals.
"The actions we are taking today is intended to ensure that those responsible for PFAS contamination to our state's drinking water supplies and other natural resources are held accountable," New Hampshire Attorney General Gordon MacDonald said, according to the AP. "As alleged in the lawsuits, the defendants possessed unique knowledge of the dangers of PFAS chemicals but continued to make or sell them without warning the public of their health risks."
New Hampshire wants the companies to cover the cost of water treatment, remediation, and disposal of PFAS in affected areas. The suits does not list a specific dollar amount for the costs.