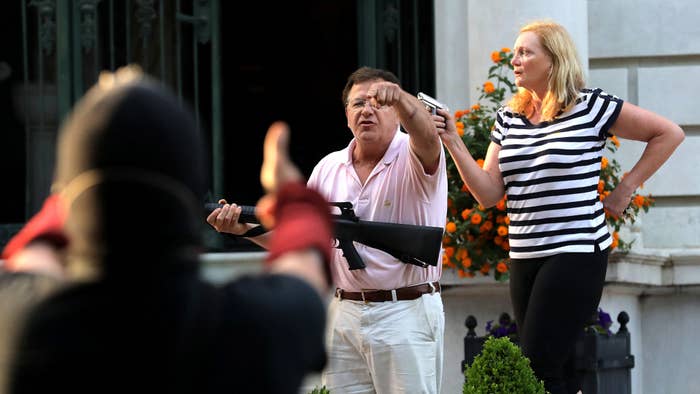 In a moment that has since gone viral, a St. Louis couple stood outside their home on Sunday and pointed their guns at peaceful protesters passing by.
Identified by the St. Louis Post-Dispatch as Mark T. and Patricia N. McCloskey, the couple aimed their firearms at protesters who were on their way to Mayor Lyda Krewson's home. The internet has since dubbed the pair as "Ken and Karen," a reference to the recent increase of videos showing entitled white women acting out in public. "Private property! Mark McCloskey shouted at the crowd walking past, brandishing a rifle. "Get out! Private property, get out!" His wife, Partricia, pointed a handgun at the crowd, as protesters shouted back at the two.
The group of protesters, of which there were estimated to be around 500, were demanding the resignation of Mayor Krewson. The calls for her resignation came after she read the names and addresses of people who had wrote letters asking her to defund the police department. While the video has since been removed from Facebook and Krewson apologized, she was met with plenty of criticism for the move.
Protesters mostly appeared to remain calm during the incident, with one person telling the couple to "calm down" while another told them to "call the fucking cops." St. Louis police have indicated that the McCloskeys told them that the protesters broke an iron pedestrian gate to get onto the street. In a statement, police called the couple aiming guns at protesters "victims," and claimed that the McCloskeys saw "multiple subjects who were armed."
Despite the commotion, the crowd moved on to Krewson's home just a block away. An investigation into the incident is ongoing.
A petition that calls for her resignation has accumulated over 46,000 signatures as of Monday.
At the protest on Sunday, Rep. Rasheen Aldrigde said of Krewson's Facebook video, "As a leader you don't do stuff like that… It's only right that we visit her at her home."
See the reactions to the moment below.