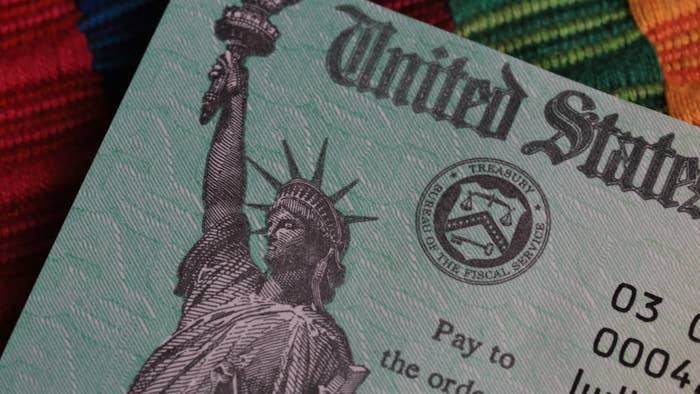 Millions across the country received their coronavirus stimulus payment from the government this week, but many Americans are at risk of losing it already. Those who owe credit card, medical, or private student loan debt might not get the money, according to the National Consumer Law Center. Announced as part of the $2.2 trillion COVID-19 relief plan, the stimulus payments are not protected against certain debt collectors.
"Creditors may view stimulus payments as an opportunity to seize money for amounts owed on outstanding court judgments. Millions of Americans have court judgments against them," explained National Consumer Law Center associate director Lauren Saunders, per Market Watch. "Banks that are presented with a garnishment order are likely to freeze amounts in the account and give the consumer a short time to prove in court that account funds are exempt from seizure—a daunting prospect at any time, and a near impossibility today when many courts are at least physically closed, people are ordered to stay at home, and attorneys are inaccessible." 
Anyone with outstanding court judgments could be impacted, and as Saunders pointed out, that includes millions of Americans. The IRS started to send out payments this week, with those who had their bank account information on file receiving the money via direct deposit. It has been recommended that anyone who receives the payment directly should take out the money from their account as quick as possible, as otherwise it could be seized by a debt collector with little to no warning.
Many have also claimed their stimulus payment has been deposited into their tax preparer's account rather than their own. As one woman told ABC 7, the status of their payment on the IRS website said they had received the money even though it was deposited into a different bank account.
"I didn't know what was going on because I had never had an account that ended in 2772," the woman said. She added that her tax preparer told her the money was deposited into their account instead, something which happened to around 300 clients. 
Numerous people on Twitter reported having the same issue.
In related news, a report from the Washington Post detailed how millions of checks were delayed due to a glitch that has impacted people who either filed taxes online through a tax preparer or those who received an advance on their tax refund from H&R Block, Jackson Hewitt, and TurboTax. People who used the option to get their tax refunds in advance were given debit cards where the money was then transferred to, meaning their direct deposit information was not put on file. Head to the IRS' website to enter that information if it wasn't included on your previous tax return.