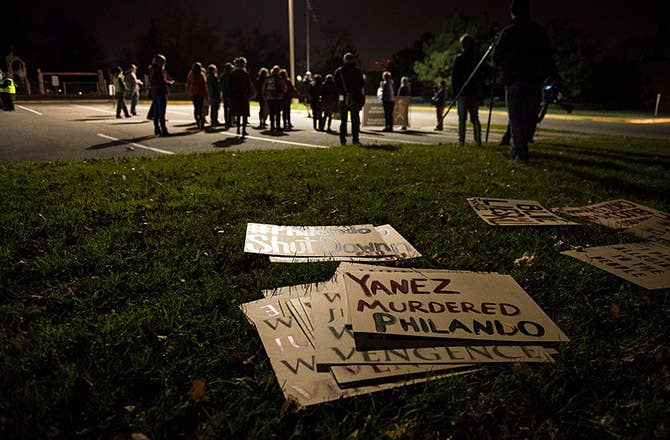 The National Rifle Association (NRA) is still conspicuously silent about the murder of registered gun owner Philando Castile by police, laying bare the organization's deep and racially motivated hypocrisy. 
32-year-old Philando Castile was murdered by police officer Jeronimo Yanez in a suburb of St. Paul, Minnesota last July. It was captured on video. Castile was pulled over while driving his car, a white 1997 Oldsmobile. Earlier in the day Castile got a haircut and went out to dinner with his sister. While in the vehicle with his partner, Diamond Reynolds and her four year-old daughter, Castile was pulled over by police. Moments earlier the officer, upon seeing Castile, radioed, "The two occupants just look like people that were involved in a robbery. The driver looks more like one of our suspects, just because of the wide-set nose. I couldn't get a good look at the passenger." 
Officer Yanez pulled Castile over. License, registration. Castile complied, informing the officer that he was in possession of a legal firearm. Yanez then shot Castile several times, murdering him. Reynolds bravely filmed the frightening aftermath. Alton Sterling, a black man in Baton Rogue, Louisiana was murdered the previous day. It was also captured on video. Protests erupted. The man who murdered Castile, Jeronimo Yanez, was eventually charged with second-degree manslaughter and two counts of dangerous discharge of a firearm. He was acquitted of the charges this past Friday. Again, protests ensue.
Soon after, the murder of Castile prompts calls for the NRA, a massively powerful and influential organization, to come out in support of a fellow gun owner who was unjustly murdered for carrying a firearm began to ring. The group has previously and vociferously done so on multiple occasions. Following the mass shooting in Orlando, the organization wrote: "Destroy radical Islam, not the right of law-abiding Americans to protect themselves." Reluctant, the NRA released a short statement saying that they would abstain from commenting. Castile's name was notably absent from the statement. His death was instead referred to as "reports from Minnesota." They wrote:
As the nation's largest and oldest civil rights organization, the NRA proudly supports the right of law-abiding Americans to carry firearms for defense of themselves and others regardless of race, religion or sexual orientation
The facts are known and have been known but the NRA has still yet to provide a follow-up. As many have pointed out, in a slewofarticles and comments from users on social media, the case of Castile shines a harsh light on Black gun ownership and America's violently racist obsession of keeping Blacks unarmed. 
The American people in general and the black people in particular take careful note of the racist California legislature aimed at keeping the black people disarmed and powerless Black people have begged, prayed, petitioned, demonstrated, and everything else to get the racist power structure of America to right the wrongs which have historically been perpetuated against black people The time has come for black people to arm themselves against this terror before it is too late.
On May 2, 1967, members of the recently established Black Panther Party marched on the California State Capitol in Sacramento. Armed with guns, they entered the California State Assembly to protest the passage of a bill that would take away the rights of Californians to openly carry loaded firearms. The bill, presented by Republican assemblyman Don Mulford, was a direct response to the Panther's legally sound armed patrols of police in Oakland—a direct threat to the power dynamics that allowed police to brutalize Oakland's Black community. Soon after marching into the Capitol, building Black Panther Party co-founder Bobby Seale issued a message:
NRA members are known to be largely pro-police—many NRA members are themselves police officers. The murder of Castile highlights the glaring double standard around gun ownership rights in America. As with most problems in this country, the issue boils down to race and a long history of fearfulness of an armed Black citizenry.
The acquittal of Jeronimo Yanez in the murder of Castile vocalizes what many have felt all along—the second amendment doesn't truly apply to Black people.