Trump Says He'll Watch the First 2020 Democratic Debates, But Expects It to Be 'Very Boring'
"It's a very unexciting group of people."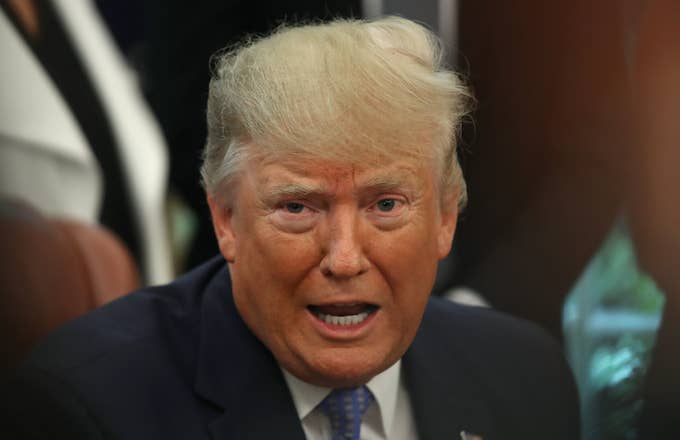 Getty
Image via Getty/Mark Wilson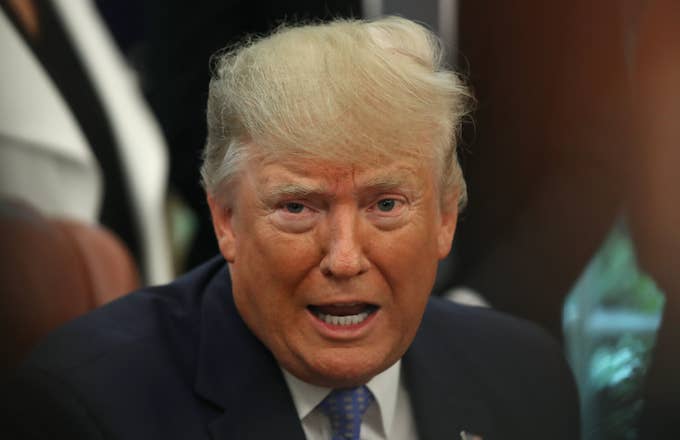 Donald Trump is tuning into the first 2020 Democratic presidential debates tonight. But he's not exactly happy about it.
Hours before the debate's live broadcast, POTUS told Fox Business' Maria Bartiromo he intends to watch the event on Air Force One, as he makes his way to the G-20 summit in Japan. Though you'd expect him to be interested in the candidates vying to take his seat, Trump told Bartiromo he would watch the "very boring" debate simply out of obligation. 
"Everyone said I'll be tweeting. I'll actually be on a plane and it just seems very boring, but I'm going to watch it because I have to. That's part of my life," he said during the phone interview. "Do I want to watch it? Do I want to watch these people? It's a very unexciting group of people."
Trump didn't specifically name drop any of the Democratic presidential hopefuls, except for the party's front-runner Joe Biden.
"Biden is a lost soul," Trump said. "He doesn't know where he is. He's changing his views rapidly."
Trump asked his followers to keep an eye on various accounts that will provide "fact checking" throughout the night.
Due to the large pool of democratic presidential candidates, the party's first 2020 debate will be split up in two nights. Wednesday's event included Hawaii Rep. Tulsi Gabbard, Massachusetts Sen. Elizabeth Warren, NYC Mayor Bill de Blasio, Ohio Rep. Tim Ryan, former U.S. Secretary of Housing and Urban Development Julián Castro, New Jersey Sen. Cory Booker, Former Texas Rep. Beto O'Rourke, Minnesota Sen. Amy Klobuchar, Washington Gov. Jay Inslee, and former Maryland Rep. John Delaney.
A while after the first of the debates began, Trump took some time from "sav[ing] the Free World" to tweet about it all. He once again labeled the event "boring" and called NBC and MSNBC out "for having such a horrible technical breakdown in the middle of the debate." 
Thursday night will feature Biden, Vermont Sen. Bernie Sanders, entrepreneur/philanthropist Andrew Yang, author Marianne Williamson, Colorado Gov. John Hickenlooper, California Sen. Kamala Harris, New York Sen. Kirsten Gillibrand, Colorado Sen. Michael Bennet, California Rep. Eric Swalwell, as well as South Bend, Indiana Mayor Pete Buttigieg.