Pornhub Study Says Millennials Don't Care for Boobs That Much
Millennials also search for "fake breasts" more than other age groups.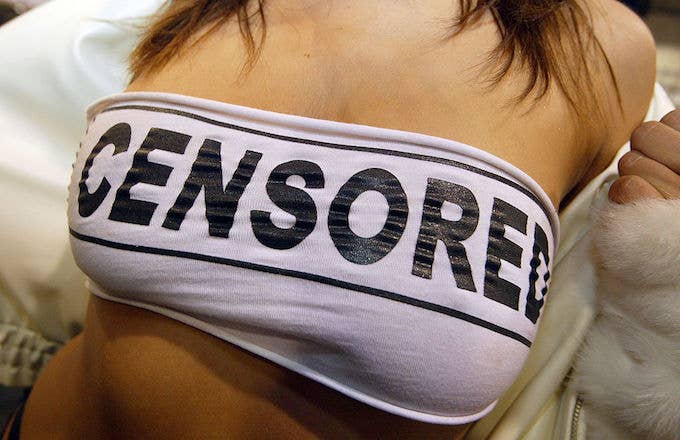 Getty
A woman's shirt that says 'censored' is seen at the AVN Adult Entertainment Expo January 10, 2004 in Las Vegas. Thousands attended the three-day conference featuring adult film stars and adult sex toys.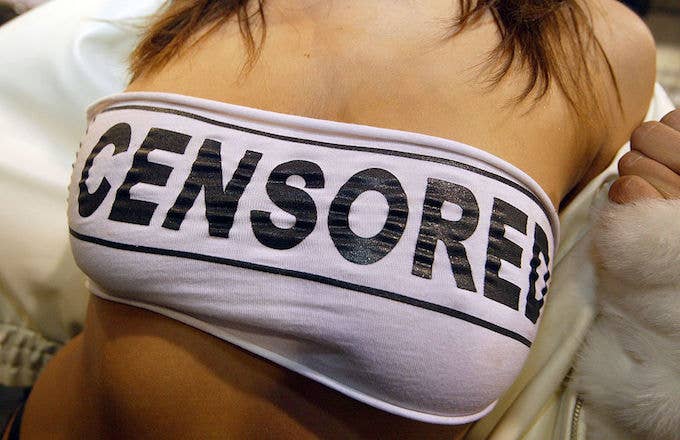 Earlier this month the New York Postproclaimed "Boobs are back in a big way," and while this may be true for some, it isn't for many others. A new study released from popular porn site Pornhub in collaboration with Mashable shows that millennials, that much-hated, avocado-obsessed generation, isn't that into breasts when compared to other age groups. If the results from Pornhub's study are any indication, millennials are making fewer breast-related searches in comparison to other age groups when viewing porn—and when they do decide to search, they tend to look up fake breasts. 
The study contains a myriad of other fascinating tidbits about breast-related pornography and how it's consumed. 
Overall, breast-related searches on Pornhub amount to 1.5% of inquires the site receives. Authenticity and size in regards to breasts seem to be important to porn consumers. "Large breast searches are ten times the size of small, and natural is around five times more popular than fake," explains the study, though searches for small breasts has increased in the past twelve months. To narrow their searches to pinpoint their particular fetishes, many porn viewers enter the words "massive," "redhead," "asian," "teacher" and "pov" while searching "large breasts"; and the words "puffy nipples," "mature," "saggy," and "tiny" along with "small breasts." 
The state that searches for breasts most often is Wisconsin. Mississippi makes fewest breast-related searches.
The country most interested in "fake breasts" is Denmark, while the country least interested is Bangladesh. The country that searches the most for "large breasts" is Nigeria, while the country least into them is Egypt. Finland takes the top spot for searches for "small breasts." 
The most-searched term on Pornhub related to breasts is "big tits," while "big boobs" and "huge tits" take the number two and three spots, respectively.  
Speaking to Mel Magazine, PornHub VP Corey Price joked, "Could it be that millennials aren't into breasts because, simply, they like big butts and cannot lie?" Price continued, "It's not our job to speculate but rather provide compelling data for our fans to digest and draw their own inferences from. What I can say for certain is that people have an eclectic taste when it comes to their porn consumption. Everyone has their own preference. What might be a turnoff for someone, might be a turn-on for someone else. That, in an essence, is the beauty of porn."