In case you missed the memo, everything is Snapchat now. Facebook announced Monday that its own take on Stories would be hitting the main app alongside a new in-app camera stacked with interactive filters, masks, and frames. The Snapchat influence is undeniable at this point, especially when you randomly remember that Facebook owns Instagram, which launched its own Stories last year.
As much as we all want to commend these apps for taking a serious interest in the art of short-form storytelling, this whole Stories omnipresence thing is starting to feel a little ridiculous. I mean, shit, do I put my navel-gazing faux candidness on all three apps at once? Should I adopt three different online Stories personalities for each? That's the leading plan right now, but maybe we should take a closer look at all three Stories providers to find out who has really mastered the form.
Snapchat Stories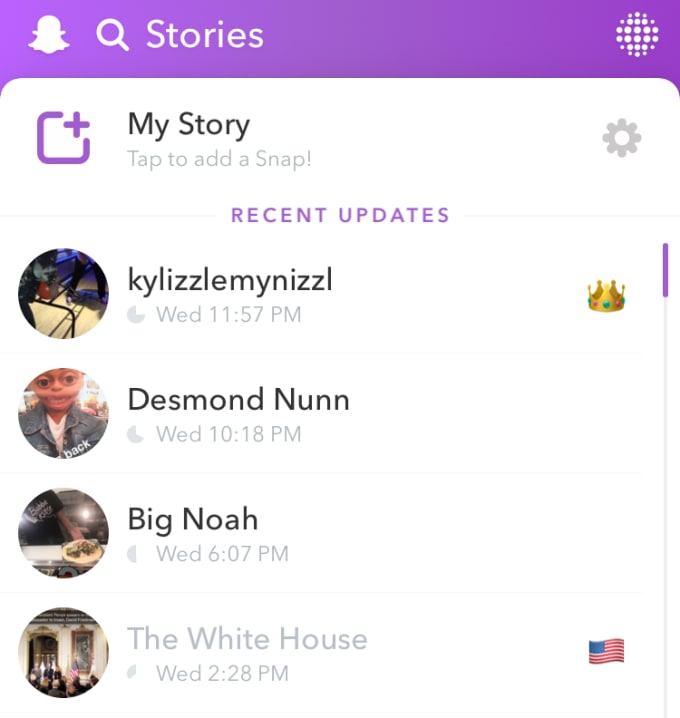 Launched: October 2013
Trash:
The landing screen doesn't make stories the star of the show.
Not a ton of options for less ephemeral photo-sharing
Treasure:
Snapchat invented this shit.
Stories appear in chronological order.
Snapchat is the originator of Stories. It's ephemeral Coke, a legend, battling it out in a war zone full of Sam's Cola. Facebook clearly agrees with this assessment, which is why it's spent the past few years openly adopting some of Snapchat's most unique features. By the summer of 2014, Stories engagement on Snapchat had far surpassed person-to-person snaps. As a testament to its strength, the original Stories formula remains essentially the same to this day, even on competing apps. Bonus: Snap's Story Playlist feature is super underrated.
Instagram Stories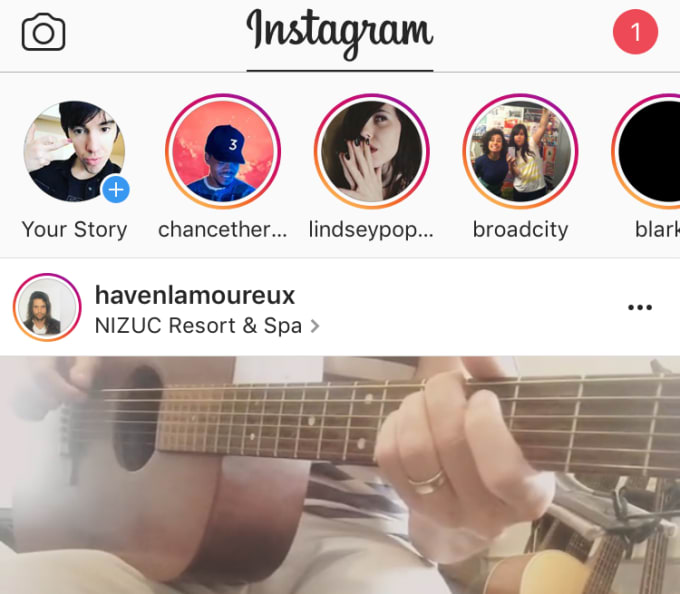 Launched: August 2016
Trash:
Instagram is owned by Facebook.
You can only share camera roll pics from the last 24 hours.
Stories order is determined by an annoying algorithm.
Treasure:
Personally, I use Instagram roughly 50 trillion times more often than Snapchat or Facebook. Instagram not only seems to cast a wider net demographically, it also literally boasts more daily active users. As of February, Instagram had an estimated 400 million daily active users against Snapchat's 158 million. Though Facebook easily beats both with an estimated 1.23 billion daily active users (as of December), Instagram manages to pull big numbers without feeling like an unsettling cross between a nightmarish high school reunion and a geriatric singles bar. You're just as likely to see an Instagram Story from a hyped underground artist as you are from your least favorite uncle's bloated drinking buddy. If that's a problem, stick to Snapchat. Facebook is almost exclusively full of your least favorite uncle's bloated drinking buddies, which brings us to:
Facebook Stories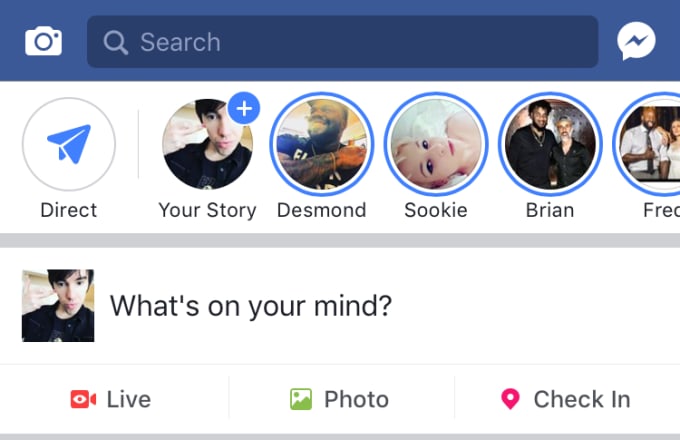 Launched: March 2017 (main app)
Trash:
Treasure:
Like Instagram, Stories is front and center when you open the app.
Easily gives you the biggest audience
Gets FB closer to becoming the one-stop social media shop it clearly wants to be
Sigh. Facebook's launch of Stories in the main app makes a ton of sense from a dollars and cents perspective, of course. People want Stories, at all times and on all apps, so Facebook is giving it to them. Smart. But Facebook, by some estimates, has previously borrowed heavily from the Snapchat playbook a whopping 15 times. Hell, they even tried to buy the whole damn company for a few billion dollars back in 2013. Facebook has since earned the reputation among tastemakers and various other Cool People© as being hella passé. Much like Snapchat, you'll definitely find the uncles and cousins and estranged classmates. But you know who might not be on Facebook storying it up anymore? Your actual friends. Bummer.
A0ajFqNzE6xeAph7fSi14HL77d84KIML
In my worth-very-little opinion, the winner here is clear: Instagram. Though far from original in its implementation of Stories, Instagram still manages to avoid the full-on lame vibes of Facebook while potentially reaching a wider audience than Snapchat.
Your move, Twitter. We'll expect you to also become Snapchat by the end of the year.