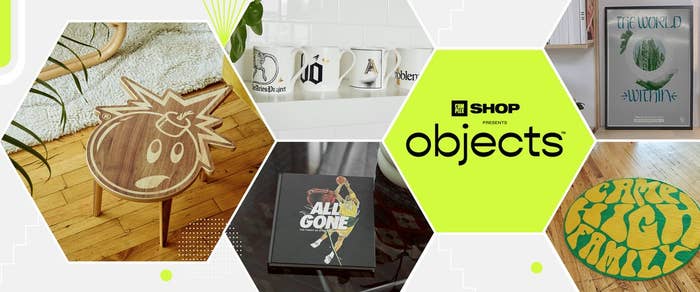 It's been over a year since the COVID-19 lockdown started and while many of us are ready to do literally anything that involves leaving our homes, we've also had plenty of time to realize just what our places were missing, and what we value as essential in our lives. For some, it's the perfect coffee table book to flip through when their eyes can't take another second of screen time. For others, it may be a unique side table that serves two purposes: looking good on Instagram and keeping your cold brew within arms reach. We, at Complex SHOP, were inspired by that and have teamed up with some of our favorite brands and designers for a special home goods program, "Objects," available exclusively at ComplexLand 2.0 (June 16-18).
"Objects" features the works of Aries,Camp High,The Hundreds,Total Luxury Spa, and All Gone. Each brand created special, limited edition pieces that interpret what's essential to them as a brand and their respective designers. The collection of furnishings will make you excited to come home for the first time in a while. We caught up with the brands to talk more about the limited edition items each has contributed to the event and why it's essential. ALL GONE The Finest of Street Culture Book with Limited Edition Cover by Eric Yahnker - $98
Visit COMPLEXLAND 2.0.
Michael Dupouy has been documenting streetwear culture and its most popular items in the form of a coffee table book, ALL GONE The Finest of Street Culture, since 2006. So even a pandemic couldn't stop him from releasing a 2020 hardcover. "It's easy to say that today, when vaccination is progressing everywhere and the situation has improved, but no, I never considered not producing this edition," he says. "In spite of everything that happened, our world continued to function as well as it could, and I remained convinced and confident that we would get through this together, and that as an individual, I would too, even though everything was going to be different and inevitably more complicated. I was mostly in Paris, stuck at home, when I wrote the book. It was a unique, never-before-seen time to be dealing with. It was necessary to remain resolutely optimistic, to believe in the capacity of humans to get out of all the crisis situations, in order to serenely approach the completion of this book." While many predicted there would be fewer products and drops for people like Dupouy to cover, the opposite turned out to be true. "The paradox of 2020 was so crazy that there were more beautiful subjects to deal with in this book than ever before, even though we had just lived through the saddest and most stressful year since ALL GONE existed."
The 2020 version of the book was originally released with two cover options by Eric Yahnker, limited to 1,000 copies each. One featured LeBron James and Yoda of Star Wars, both cultural phenoms who served as welcome distractions during the pandemic, while the other featured Michael Jordan soaring above demons just as his ten-part documentary, The Last Dance, soared in the ratings last spring. While both versions have long sold out, Dupouy has created an even more limited edition exclusively for ComplexLand 2.0, limited to just 500 copies. The special edition features a cover by Yahnker of the late NBA Hall of Famer Kobe Bryant on a black cover with a single red rose superimposed over him.
Despite having written 14 other ALL GONE The Finest of Street Culture books, this one holds a special place in Dupouy's heart. "The 2020 edition is essential because this year will be remembered by humanity for eternity, and not only because of the pandemic," he says. Pandemic or not, Dupouy considers himself lucky to have made it 15 years in the business with this project. "On a personal note, if someone had told me in 2005 when ALL GONE was first being considered that I was going to write, produce, and distribute this book and make it a successful saga for 15 years, I would have probably laughed and kindly replied that it would have been a miracle to last 5 years. That's why this edition is very important, because it has a very strong symbolic value for me, as an independent author and producer, but also and above all as a human being, who has always believed in his ability to move forward, no matter what challenges he faces."
"I consider ALL GONE as the major project of my career," Dupouy adds. "This series of books was conceived to last and to settle in time like a true encyclopedia of which one collects the new volume every year." Camp High Rug by Noreen Seabrook - $420
Visit COMPLEXLAND 2.0.
Founded in Santa Monica, California in 2018, Camp High's original focus was to produce locally sourced, high-quality soft clothing. "When you are comfortable, it takes out a major barrier to being happy and successful, whatever that means to you," Greg Dacyshyn, the brand's founder, says. For Complex SHOP's "Objects" project, Dacyshyn and co. have taken this ideology and expanded it from clothing to homegoods with the help of Brooklyn-based rug company Noreen Seabrook, who Dacyshyn calls "the masters of these new graphic-based rugs." Together, they've created a bright green/yellow rug with the phrase "Camp High Family." "I think rugs are a key to cozy living, as they really do warm up a room and can really bring it together. Even more than furniture or art," Dacyshyn says.
True to the spirit of Camp High, the inspiration for the rug's design comes from an old parking lot bootleg Grateful Dead T-shirt. "It was from Be Good Family, who were tour kids on the lot that did what they did to make it to the next venue. Truly living the life of 'one show at a time,'' says Dacyshyn. The green/yellow colorway, a suggestion from Marko Nichols-Marcy of Noreen Seabrook, which was founded by his father in Red Hook, New York in 1995, is based on the ice dyes that Camp High was working on at the time. "I feel the green and yellow combo feels super happy and healthy. Just the way we want our life to be," Dacyshyn adds. "A rug that makes you smile everytime you see it."
Like all Noreen Seabrook creations, the Camp High rug was hand-knotted in Nepal using 100 percent pure Tibetan wool. The brand only works with weavers and factories that are environmentally safe and respect workers rights and an equal amount of thought and consideration is put into the rugs themselves. The entire process of rug making, from yarn dyeing to shearing, is done with the utmost care. "I'm very much a traditionalist when it comes to technique and constructions," says Nichols-Marcy. "I don't use shortcuts or artificial fibers, but at the same time I try to offer a fresh approach when it comes to actual design."
"They not only look incredible, but the quality is truly next level." Dacyshyn adds. "The fact that they are completely made by hand is mind blowing. They are pieces of art meant to last many lifetimes." The Hundreds "Adam Bomb" Modernica® Side Table - $375
Visit COMPLEXLAND 2.0.
Even for those who aren't fully initiated, certain iconography comes to mind when you think of streetwear, and The Hundreds' Adam Bomb logo is among the most famous of all time. The Los Angeles brand has spent nearly two decades putting the Adam Bomb on every item it could and with the help of Modernica, it has made its way to a side table, which will be re-released exclusively through Complex SHOP's "Objects" project at ComplexLand 2.0. "We wanted to show our iconic logo Adam Bomb highlighted it in a different way other than apparel," The Hundreds special projects manager David Rivera says. "So we thought this Modernica side table would be perfect. We've never done wooden furniture before."
While the prospect of making a wooden table may seem daunting to most streetwear brands, the folks at The Hundreds weren't worried. "Modernica is family. We've done a few chairs in the past and we wanted to do another item that we can use," says Rivera. "They've been very easy to work with, showing us each step of development and the process of what it takes to design a custom side table." Most people typically go for rectangular or oval coffee tables, which leaves room for the side table to be less traditional. The "Adam Bomb" Modernica Side Table serves as both a piece of art and, obviously, a functional table, making this a great deal for those looking to bring some streetwear history into their living rooms. Total Luxury Spa Silkscreen Poster - $50
Visit COMPLEXLAND 2.0.
Total Luxury Spa is a Los Angeles based zine publisher turned streetwear brand by Daniel Desure and Hassan Rahim. While many brands publicly pontificate on ideas of community building, TLS serves its community of South Los Angeles directly, by sharing profits with the community and creating safe spaces for local youth. For "Objects," the brand created a limited edition poster, titled "The World Within." "It's a standalone item that can create its own inherent context rather than rely on a larger one," Daniel Desure says. "Its permanence serves as a mantra rather than a fleeting moment relegated to being worn, as a piece of clothing does." The World Within poster was designed in-house at the brand's Los Angeles HQ and features green, God-like hands around trees and spiraling white text. Whether the text translates to a mantra or a riddle is up to the beholder. "We've got a consistent and overarching ideology, which comments on the human condition, society at large, and suggests a means of harmonious living," Desure says. "The poster is an output of that thinking. Any object that comes from TLS carries our message, and that message is our essential means of communicating with our family, community, and planet. Aries Coffee Mugs - $35 each
Visit COMPLEXLAND 2.0.
Upon first glance, it's hard to believe these mugs came from a brand whose founders are best known for their work with streetwear brands Palace and Silas. However, that's just the type of confusion Aries founders Sofia Prantera and Fergus Purcell want to inspire. Since 2012, Aries has blended high fashion, streetwear, and unpretentious humor to create an aesthetic that is unique to the brand. For ComplexLand 2.0, Aries has created mugs that put that humor on display. "They work in the same way a tshirt does; an easy way to communicate your taste to your guests," Prantera says about the inspiration behind the pieces. "The mugs are covered in our original graphics, they are symbols of luxury, classicism, magic, decay. As humans we are perpetually in love with symbols; brand logos harness the same power. It's the idea of encapsulating a potentially complex thought in a very simple and direct image to convey your leanings, your beliefs, your intentions, the lines along which you conduct your business."
The mugs feature certain iconography, including McDonald's golden "M" with the brands' signature "No Problemo" phrase, a Nintendo Gameboy and nod to surviving Y2K, and a nipple with a capital A around it, things Aries fans have come to expect. Of course, the mugs themselves are of high quality. "Only bone china mugs, these are made by hand in the UK and they are actually quite delicate and precious, very good for drinking tea," says Prantera.
Visit COMPLEXLAND 2.0.