In the NBA, a league obsessed with size and potential, it seems impossible for a true seven footer with a 7'7" wingspan to sneak up on anyone. These are the players that are nurtured since adolescence, drafted first, paid the most, and given every chance to succeed.
However, since Hassan Whiteside joined the Heat this season, his meteoric rise from obscurity has been the most ridiculous story in NBA. He's got the athleticism of a modern-day center, with throwback '90s-center size. (Unlike these fake seven footers of today such as Dwight Howard and Joakim Noah, Whiteside is the real deal.)
For weeks, the biggest question in the NBA has been: How did nobody see this coming?
In just 22 minutes per game, Whiteside is putting up 11 points, 10 boards and 2.5 blocks per game. His PER of 27.15 is the fifth-best in the league behind only Anthony Davis, Russell Westbrook, Steph Curry, and Kevin Durant.
Whiteside's rebound rate (the percentage of possible rebounds a player grabs) is 27.2 percent. That is the second-best single-season mark in NBA history behind only Dennis Rodman's 29.7 percent in 1994-95.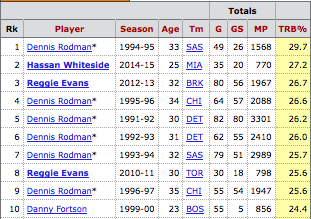 Whiteside's block rate (percentage of shots a player blocks) is 9.2 percent, the 15th-best single-season mark in NBA history (Manute Bol's 10.8 in 1986-87 is best).
Per 36 minutes, he is averaging 16 rebounds (best in the league), 3.9 blocks (best in the league) and 17.9 points.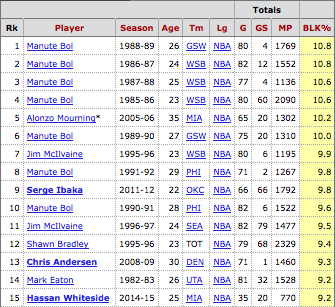 He has put together some of the most eye-popping box scores of the season. He's had four 20-plus rebound games, six 5-plus block games and a triple-double with 14 points, 13 rebounds and 12 blocks. The 12 blocks is a new Heat franchise record.
The catch? Through 35 games Whiteside has two ejections, seven technical fouls and $40,000 worth of fines. Over his last four games he's tackled Alex Len, swatted Marcin Gortat and cross-checked Kelly Olynyk. His latest flare up earned him a one game suspension.
Before this year, Whiteside was virtually unknown. Not just to fans or the media. Some people in the NBA barely knew who this guy was.
When asked what he knew about Hassan Whiteside prior to this year, Wizards head coach Randy Wittman responded: "Not a whole lot, I know he's kind of bounced around, I think he was in Sacramento or Golden State or somewhere out West."
While he was never in Golden State, he was drafted by Sacramento in 2010. A projected lottery pick by some, Whiteside ended up sliding into the second round. He was the 33rd pick.
Whiteside's tenure in Sacramento didn't last long.  A torn tendon in his left knee derailed his rookie season and he played just 110 minutes in his sophomore campaign. Playing behind Demarcus Cousins and Samuel Dalembert, there were concerns that Whiteside just wasn't ready to contribute.
I didn't really care about going to a big school like UConn, Kentucky or Memphis. I just wanted to play for coaches that believed.
"I feel like I could've played," says Whiteside. "I don't know if I would've played this well, but I would've played well. I just need the opportunity. Injuries and a lot of other things prevented that."
The Kings waived Whiteside one year later. It was a setback, but not a death sentence.
"I knew I could never doubt myself," he says. "I just looked at it day by day. When you look at it in the short term it doesn't seem as far away."
While Whiteside didn't doubt himself, there never has been a shortage of doubt surrounding him. Even coming out of high school Whiteside felt overlooked. Despite his NBA frame and athletic freakishness, Whiteside was ranked outside of the top-10 centers in his class, and barely cracked the top-100 players overall.
Whiteside got looks from major basketball powerhouses but never felt those coaches were really believers. Instead, Whiteside opted to attend Marshall, a small West Virginian Conference USA school.
"I really felt like the coaches believed. When you got coaches who believe in you that's where it all starts at," says Whiteside. "I didn't really care about going to a big school like UConn, Kentucky or Memphis. I just wanted to play for coaches that believed."
Whiteside shined at Marshall. He finished his freshman year averaging 13.6 points, 9.2 rebounds and a nation-leading 5.4 blocked shots in just 26 minutes per game.
Despite his success, questions began swirling about his character. During Marshall's CollegeInsider.com Tournament opener, Whiteside was 20 minutes late, got kicked out of practice, and was held out of the starting lineup. During the game, Whiteside was benched for the final 14 minutes of Marshall's comeback win because he was "lackadaisical and disinterested." 
Whiteside entered the NBA Draft after his freshmen season and despite having "lottery" talent and potential, he fell to the second round because of concerns about his maturity.
Whiteside's draft day slide was just more fuel to add to the fire.
"I came out and was projected lottery, and ended up going in the second round," he recalls. "Wound up going 33 in the draft and, I mean, I never really felt like I got a chance to really showcase what I can do."
It doesn't take much to see that Whiteside is fueled by this anger and unwillingness to be ignored.
"When he gets mad enough, he'll dunk it over everybody," Dwyane Wade told ESPN's Israel Gutierrez. "But with that, he's got to understand what's gonna come."
Like every dominant big man before him, Whiteside is now experiencing increased attention and harder fouls. The passion that has fueled him in success is now proving to be a double-edged sword. His recent instability is causing his once awestruck teammates to pause.
Dwyane Wade with strong words about Hassan Whiteside. Transcribed from his postgame interview. pic.twitter.com/5Cv0888CFt

— Chris Wittyngham (@1043Chris) March 10, 2015
To Whiteside, not much has changed from his college and early NBA days to his success in Miami today: "I just got older, man. Not too much changed. I learned a lot. I traveled the world. I've just seen different things in my life."
Whiteside's travels started after being dropped by Sacramento. The NBA well had dried-up and Whiteside had to go abroad to keep his hopes of a professional basketball career alive.
One of Whiteside's ventures took him to China, where he joined the Sichuan Blue Whales. With Sichuan, Whiteside won a championship, a Finals MVP, and a Defensive Player of the Year award. But Whiteside has mixed feelings about his time away from the States.
"There were fun times and there were tough times," he says. "It was fun winning a championship, winning MVP awards, and just setting a lot of records over there. But there were also tough times over there too."
The toughest times came during his time in the Middle East. Whiteside, who spent time in Lebanon with the Amchit Club and Al Mouttahed Tripoli, recalls witnessing car bombs, team officials with AK-47s, and brawls taking place in the arena. 
I feel like I've been underrated all my life.
Whiteside was eventually cut from Al Mouttahed Tripoli because he "did not perform as expected in the playoff games against Byblos." After his release, Whiteside returned to China for 17 more games before coming home and making another run at the NBA.
After a look from the Grizzlies and successful D-League stints with teams in Iowa and Sioux Falls, Whiteside has seemingly found a home in Miami. But even the organization that finally gave Whiteside his greatest chance had their doubts at first.
While speaking with Grantland's Kirk Goldsberry, head coach Erik Spolestra recalled his first meeting with Whiteside: "Man to man, eyeball to eyeball, after his first workout in November, my first words were, 'If you're really serious about it, we can be the spot for you. But, this might not be for you. Our culture, our program, our commitment to player development, and getting you in the best shape you've ever been in in your whole life…there's going to be times when you want to throw stuff at us and quit. And this might not be for you. But, if you want to commit to this, we think this is the right place for you.'"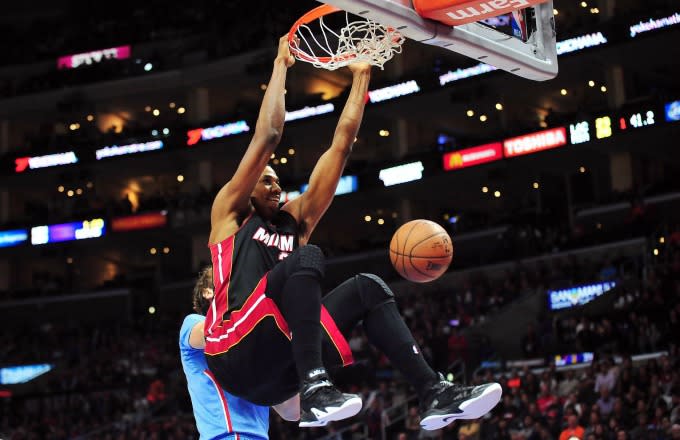 For the most part, Whiteside has bought into the program that has represented the Eastern Conference in the previous four NBA Finals. It's paying off. He is putting up historically good numbers and has given life to a Heat franchise that is coping with losing this generation's greatest player.
His staggering numbers indicate that he could be one of the best bigs in the game someday. The ever-confident Whiteside believes he's already there.
"I always feel like I'm one of the better centers out there," he says. The way he has played in games against the leagues top front-courts shows that he may be right.
But with Whiteside, Newton's third law holds true. For every point/rebound/block triple-double game there is an equal and opposite tackle-a-goofy-white-center game.
Those that are still wary have reason. There is a precedent for Whiteside meltdowns. But the doubt surrounding him won't shock the well-traveled big man. He's gotten used to it.
"I feel like I've been underrated all my life," says Whiteside. "It's always been, 'Where did this guy come from?' Even back in high school and when I put up the triple-doubles in college, it's been, 'Where did this guy come from?' And now it's just the same story. It's nothing new to me. Guys just need to look harder I guess."