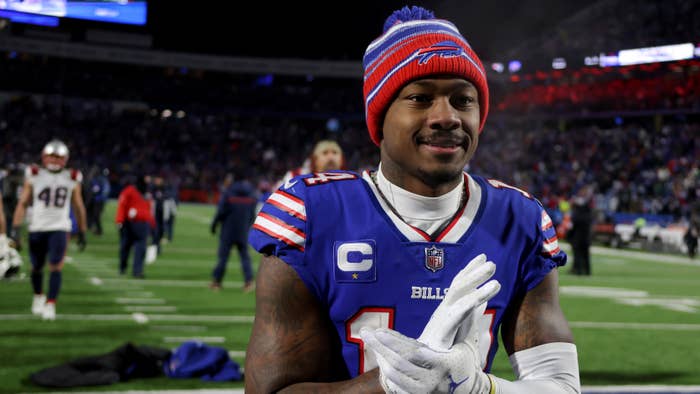 Life is good for Stefon Diggs. On the heels of his third 100-plus-catch season, Diggs signed a four-year, $96 million contract extension in April. He has helped his quarterback transform from polarizing project to MVP favorite. And his Buffalo Bills are the Super Bowl favorite.
Can you believe it?
It's amazing how quickly NFL fortunes can change. Not too long ago, Diggs was labeled a 'diva' in Minnesota. He wasn't on the same page as Kirk Cousins, and the blame fell on Diggs.
That worked out beautifully for Brandon Beane and the Bills, who traded for a 26-year-old wide receiver at the peak of his powers. The Bills had just made their first playoff appearance with Josh Allen, and following that game – an overtime loss against Deshaun Watson and the Texans – it was clear Allen was still a work in progress. No one, it seems, could have complemented his maturation as well as Diggs has. The QB-WR marriage has been blissful since the nuptials, and they're on a mission to bring Bills Mafia its first Super Bowl.
Every team, however, is undefeated in August. The Bills will face a gauntlet in the AFC, with foes including the defending league champ Bengals, the annual juggernaut Chiefs, and the reloaded Chargers (Khalil Mack!) and Broncos (Russell Wilson!). Still, Diggs believes this Bills squad – which has added some star power of its own (Von Miller!)  – has what it takes.
With the Bills hype reaching a crescendo, Complex caught up with Diggs on behalf of his new brand partner: SAXX Underwear. Diggs and his little brother, Cowboys corner Trevon, recently signed on as SAXX's Chief Ball Officers. We talked to the Pro Bowl receiver about the best wideout conversation, the Bills upcoming season, Odell Beckham Jr. rumors, and more. 
(This interview has been edited and condensed for clarity.)
Buffalo is my hometown, and I've never seen the city like this. What is it like for you right now seeing the enthusiasm around Western New York?
It's exciting. I've only been here for a couple of years so I've had a different experience from you, but I feel like it's been a long time coming for the things that have happened these past couple seasons. It's exciting and it's really a pivot from us being the underdog, you know what I'm saying? You've worked for it, and now that people actually expect a lot from you, you can gauge that your team is different, the mindset's different. It's like, not only are there outside expectations, but what do you expect of yourself, and what do you expect from those around you? So it's a really exciting time to be a Buffalo Bill.
That's something I wanted to ask you about – now that people are actually putting some respect on your name, what's the vibe in the locker room?
I feel like it's the same as when they weren't putting respect on our name. We didn't get here thriving off of what other people think of us – if anything, it fired us up to go out and prove ourselves. Now that people believe in us, it's more, I feel like, y'all didn't believe in us before – it was more so us believing in ourselves, believing in our peers, as far as the team we've built the past couple years. It's off the back of guys who work hard, keep the right mindset, never think it's enough, never satisfied, never get complacent. So this training camp has been a hard one, because we're grinding like damn near rookies, second-year players, like guys trying to make the team. There's so much depth at every position that I feel like it's so hard, I'm just happy I'm not a GM. I'm happy I'm just a player and can go out and play freely, but it's been a grind for everybody.
You may not be a GM, but you've still had a hand in helping to shape the roster. I flew out to Denver a few years ago and spent a day at Club 58 with Von Miller. He's one of my favorite NFL players I've been around. I know you had a hand in his recruitment. What is it like for you now having Von on the team?
I feel like he's a difference-maker. If you watch him in practice, it's clear he's one of the best players in the league, not just at his position. As far as being able to turn it on at any given moment, you see that in-game difference-making ability. He's definitely been a guy that we needed.
There's a lot of star power on the roster now, and there's also buzz about OBJ. I know you want him on the team even though bringing him on board would affect your targets. Why would you like to add Odell?
I feel like he's a great teammate. I don't live in the world of social media or anything like that, but I feel like he's hands-down one of the best players in the league, especially when he's been healthy. He's a great teammate, and it's not just that adding him would be helpful – he's a great player and great person. We have a lot of talent on this offense but as a team, you're always thinking about adding the right people, and he definitely fits that mold. If he does come, that would be great; but if he doesn't, it's OK, it won't be the end of the world.
You've made a huge difference for the Bills' offense since you arrived, and you were rewarded with a contract extension in April. We've seen other big-name receivers sign big contracts this offseason as well. I'm guessing you would pick yourself as the best wideout in the game, but who would you put at No. 2, and why?
Well, I would definitely put myself at No. 1, no matter how you dice it. But No. 2? It's clear – DaVante Adams. He's been successful year in and year out. He's had great runs, even in the playoffs. That's one of the players I respect. If you ask for No. 2, I'm giving you D.A. off the rip.
Obviously Davante has changed teams and we've seen a lot of big names moving this offseason. What's it been like for you watching all the movement around the league?
It's made me feel very fortunate that I'm here in Buffalo and I'm with a hell of a quarterback by the name of Josh Allen – a guy that leads our team, a guy that gets it, a guy that's a gamer. He's also a hell of a friend. So it's something I looked at from a fortunate scope, like, 'damn, I'm glad I got to stay where I get to build something and where I get to grow.' On the other hand, I was happy for those guys who went somewhere and got the bag – got a new start, got what they needed, and they believe in themselves. This game doesn't give you anything you don't go for, so I respect those men and their new journeys. I'm wishing them the best. There are going to be a lot of haters, but those are talented guys.
You alluded to your relationship with Josh, and you two have chemistry both on and off the field. Given how he has ascended in the past few years, we've learned a lot about Josh Allen at this point. What's something those of us who aren't behind the scenes with him don't know about Josh?
Shit, I don't know, that's a hell of a question – it caught me off guard. From my relationship with him, he's like a big-ass kid. He's fiery on the field but he's a blessing to be around. He's fun, always respectful. When we're trying to be serious, we're serious; but for the most part, he's a class clown. He's a guy I love being around. He always puts me in a good mood.
Speaking of kids, I'm also a father, so I'm curious: what is fatherhood teaching you these days?
It's teaching me a lot of patience. You've got to be patient with kids. I kind of, in a way, raised my little brothers, but I didn't have to be as patient with them because they were a little older. When it comes to my daughter, I'm not the aggressive guy – all that stuff comes off when I'm around my daughter. I'm very gentle, use a lot of soft voice. She's given me that soft voice that I never knew I had.
Aside from your brother, who would you say is your favorite DB to go against, and why?
It was J.C. Jackson, just because he was playing for the Patriots, and the Bills and the Patriots have a little bit of a rivalry, which you may know. I always knew going against him was going to be good because it's a rivalry, and I like that type of stuff.
You mentioned the fire on the team, and one thing that really stands out to me when I watch you play is your fire, your competitive spirit. Where does that hunger come from?
I don't know. It's hard to say, because the energy I bring to the game, I've always been that way. I don't know any other way but to have that infectious energy, that positive energy, to be a force, be a difference-maker. But as far as where it came from, I think it goes a long way back. Getting to play is a blessing. I love this game of football. You take the money away, take away everything that comes with it, and I'm still playing football. I still love football, truly, truly. I love the competition, rising to the occasion, the whistle blowing, the small things that people take for granted, the conversation you have with teammates – I love everything about it.
You say you love everything about the game, but I'm sure some of the media attention gets tiring. How do you deal with it when some of your personal life ends up on the internet?
I live in a space where with social media, you're as social as you want to be. I don't take things personally from people I don't know personally. This is everything that comes with it, especially in the professional era. I feel like I am an example when it comes to what I do for a living and what I do off the field, the example that I set. I do a lot of things in the community to try to make a difference at a high level, to try to make a difference for me and my people. I want people to remember me not just as a good football player, but as someone who did a lot for a lot of people.
You also are known as one of the best dressers in the league. Who are some of the other guys in the NFL you look to for style inspiration?
(Laughs.) Oh, I don't look to anybody. I'm the best dressed, so I don't have to look to anybody.
Who would you say is the second-best dressed?
Actually, you'd be surprised: Laremy Tunsil. He's a big guy, but he was on the best-dressed list a couple years ago. I don't really look at other people, though; I try to be the inspiration. I also think of one of my young guys, Elijah Moore. Travis Kelce, he dresses nice. Odell, too. But we live in a league where I don't think a lot of people can dress; that's my mind, at least.
You alluded to Travis Kelce. I know you have your eye on the ultimate prize, but is there any part of you that wants another shot at the Chiefs this year?
I mean, I feel like we're going to get a shot at the Chiefs year in and year out. I'm not going to say that it's a rivalry, but it's definitely something that we think about, especially when we see them on the schedule – it's like, 'all right, we've got a good one this week.' It's one of those games you always circle on the schedule.
Speaking of the Chiefs, one of my favorite moments from your playoff game was when you laid out that fan on the field. What was going through your mind in that moment?
Get the f*** off the field. (Laughs.)
Is that something you always wanted to do?
No, I actually wish I hadn't done it, now that I know what I know. I learned that you can bet that you can make it to the middle of the field – I guess that's a real bet. So I was like, 'damn, I messed up someone's money, dog.'
Lastly, you've had such success in the NFL that I'm sure you get a lot of opportunities to partner with companies. So, why did you and Trevon choose to partner with SAXX Underwear and become the brand's Chief Ball Officers?
It was the ball pouch. I'm big on style and comfort, so it was an easy thing, especially considering we both play the game of football, so we do handle balls, pause. It's something I feel like is good for me and my brother, it's something fun. So I hope to come up with some new ideas with SAXX, new products, and an interesting thing is that for every touchdown I score this year, you can unlock 10% at SAXX.com, so you can look forward to some success from me and a lot of comfortable private parts.