For many NBA players, fulfilling their dream of playing in the league isn't as direct as hearing their name called by the commissioner in late June. Toronto Raptors point guard Fred VanVleet wasn't selected in the 2016 draft but through hard work and dedication, he's become one of the best bench players in the game.  
After rejecting G League offers, the Wichita State product strove to secure a spot with an NBA team against all odds. VanVleet had to "bet on himself," a motto he has put into place and lived by throughout his climb to the top.
"'Bet on yourself' is just something that describes my life and my experiences," he tells us. "The way I've had to come up and being an undrafted free agent, having to work my way onto a team the hard way and the long way. I had to bet on myself."
During the 2017-2018 season, VanVleet was nominated for the Sixth Man of the Year Award. Although he didn't win, he was a finalist alongside Eric Gordon and the winner Lou Williams. And while VanVleet and Toronto's "Bench Mob"—widely considered among the best second units in the NBA—underwent some changes over the offseason, he has continued to be one of the game's best reserves, averaging 9.3 points, 4.3 assists, and 2.3 boards per game.
"Everyone got better this summer and we'll come with the same intensity as last year, and good things will happen for [us]," says VanVleet.
Recently, the former Shocker and native of Illinois linked up with Foot Locker Canada to appear on an episode of SOLE FOOD with restaurateur and sneakerhead Kai Bent-Lee. We had the chance to talk to VanVleet about the episode, Kawhi Leonard's addition to the Raptors, the "Bench Mob," and Drake's involvement with Toronto basketball.
(This interview has been edited and condensed for clarity.)
You were on Foot Locker Canada's SOLE FOOD with Kai Bent-Lee where you guys talked shoes, food, and Toronto Raptors ball. How does the food culture differ in Toronto vs. back home?
It's completely different here in Toronto, you know? There's a lot of diversity and different ethnic cuisines. The way people eat here is completely different from how I grew up. Today, we were at one of my favorite pizza spots in Toronto, Queen Margherita Pizza, even more of a kind of Neapolitan style pizza. Back home, close to Chicago, we do a lot of deep dish and different style pizzas. But today, we're having a different style and it's good, it's one of the spots I like to come to a lot in Toronto.
On the episode of SOLE FOOD, you talked about the Air Jordan Concord Pack with Kai, what do you like about them?
Obviously, the Concord XIs are just a classic shoe in general and this pack is adding to that. Today, I was able to wear the Jordan Is and you can't go wrong with any Jordan Is. I like the style they [have] going on with the Concord's colorway. It's super dope, a comfortable shoe, and it's a classic look, stylish.
What is the best part of having Drake so closely linked to with the Toronto Raptors franchise?
I think it just brings the city and the culture and ties it together with the team. Obviously, I think everybody in Toronto loves Drake and him being such an ambassador for the team is cool to have him in our corner. It's even doper on a level when you look at it, you have OVO sponsoring our jerseys. You think about a kid growing up here—you know, from Toronto, [who] made it big as an artist and is able to have such an influence on his city and an NBA team, which is one of the biggest businesses in the world. It's really dope and inspiring.
We've seen Drake's shot on social media. Have you played a pickup game with him, or played him 1-on-1?
No, I haven't. He works out in our gym a lot. He has access to the practice facility, so he's in there shooting a lot. But I don't really think he wants those problems with the pros. I think he can kinda stay in the lane with his guys and kind of beat up on them.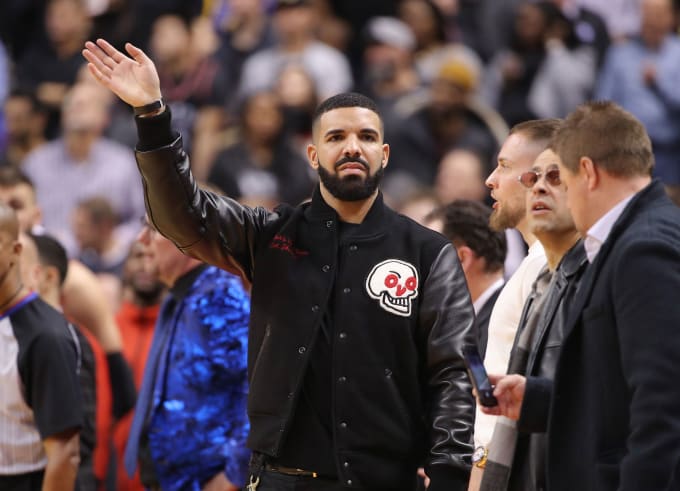 What has Kawhi Leonard brought to the team that was different or missing from last year?
Nothing different or missing. He just brings a different intensity. Just he's a different player. Obviously, we feel like he's one of the top players in the league and his strength—his defensive ability—he's really evolved into one of the top scorers in the league as well. So he's super good to us and any time you get a good player like that you just want to enjoy him while you can.
The internet totally ran with the clip of Kawhi's laugh. Has anyone given you a hard time about your laugh?
No, I think I have a pretty normal laugh. But I think there are people in the world with worse laughs than Kawhi, I'll tell you that much. He just happens to be a popular guy and people don't see him a lot, so they took that clip and ran with it.
Let's talk about the "Bench Mob." Last season you guys were one of the best, if not the best bench team in the league. Delon Wright, Jakob Poeltl, Pascal Siakam, C.J. Miles, and yourself were a part of that. But since Poeltl was involved in the trade for Kawhi Leonard, how do you think you guys can be as productive this year with new personnel?
It's just a different group. I think last year we had more of a five-man unit where it's five in, five out and you know we had a good chemistry. But you know this year, it's a different five so we're trying to figure it out. The chemistry is going to be a little bit different. It's gonna take some time to gel and click and we're gonna keep doing more. Everyone got better this summer and we'll come with the same intensity as last year, and good things will happen for [us].
You went from being undrafted to being a Sixth Man of the Year award candidate. What were the major inspirations that led you to continue a career in professional basketball after not being drafted?
I mean, as a kid, you grow up dreaming of wanting to be a professional, wanting to be in the NBA. Everybody watches TV, everybody aspires to be NBA players. So, you have that dream— however young I was, [from] as early as I can remember, I wanted to be an NBA player. And obviously, I put the work in to get to college and have a great college career. I wasn't going to stop there. I'm going to try to do the best to see if I have what it takes to be a professional and, you know, at the roadblocks and obstacles you just gotta keep pushing.
Is there any advice you'd give to 18-year-old Fred VanVleet with regards to any major basketball decisions you've made so far?
Not really. I think everything has kind of worked out in the long run. I could've taken shortcuts and taken the easy way, but you know, even when I get knocked down and things don't go my way, it works out in the long run. So, if I could go back in time there's really nothing I would do differently other than take away some injuries here and there. And you know, step into my shoes and do it all again.
During the offseason, you visited your alma mater, Wichita State, and held a couple of youth camps in the area. How important is it to you to give back and represent the Raptors in both the United States and in Canada?
It's super important. It's something that I do, something that I've always done, trying to give back to the community in any way possible. Obviously, I'm a basketball player, I grew up going to basketball camps, so any chance I have to go in and be present and be there for the kids, to see and talk to and play with and against, I do it. And I do it at home, back in Rockford [Illinois] and I had a chance to do it in Wichita this summer as well. It's just about giving back, you want to use your platform to do some good and that's one way that I try.