On Monday, the British streetwear label Corteiz posted a pair of Black Nike Air Max 95 sneakers with pink accents lying on top of a bodega counter with a simple call to action on Instagram: 
"BE @ WEST 34TH ST. & 7TH AVE. TOMORROW AT 12:05PM EST. LOCATION REVEALED HERE. FIRST COME FIRST SERVE. 1 PAIR PERSON. WE OUTSIDE. RTW."
By noon, all four corners of 34th Street and Seventh Avenue were filled with hundreds of people staring in anticipation at a digital Nike billboard perched on top of a building by the southwest corner of 34th Street. Once 12:05 p.m. hit, they stood focused in nearly dead silence with their eyes glued to the screen for 15 more minutes until a flash of text appeared. 
"40°43'20.2"N 73°58'48.6"W." 
That's all it took to send hundreds of people sprinting east toward the nearest subway station, hailing cabs, or jetting off on Citi Bikes to GPS coordinates that led to a corner bodega in Manhattan's Lower East Side with a sign that read "Corteiz Mart & Deli." Citi Bikes were haphazardly tossed aside on the sidewalk nearby as a hefty line began to wrap around the corner of East 4th Street that snaked down Avenue C and spilled into East 5th Street.
One security guard, who was mobbed while handing out wristbands that granted access to the bodega, pulled a knife on someone attempting to take them directly out of his pockets. They were snatched in seconds anyway: Resellers were quick to flip the free bands on the spot to desperate Corteiz heads willing to pay as much as $150—mere steps away from the brand's founder Clint419, who's been extremely vocal about how much he despises resellers. Police eventually showed up to close off all four intersections near the bodega and quell the crowd.
"At the end of the day, when you do stuff that's out of the box, it's what pushes the culture forward," Clint said the day after the release during an interview with Nike's SNKRS Live. "What's the worst thing that could happen? Maybe the police might arrest you or something." 
"I wouldn't say this is the craziest drop I've ever experienced, but it's the craziest I've seen post-COVID," shared Jesus Ortiz, the owner of the Lower East Side sneaker resale shop Vault 134 who managed to get several pairs of the shoes. "There hasn't been a pop-up like this in so long and this is exactly why."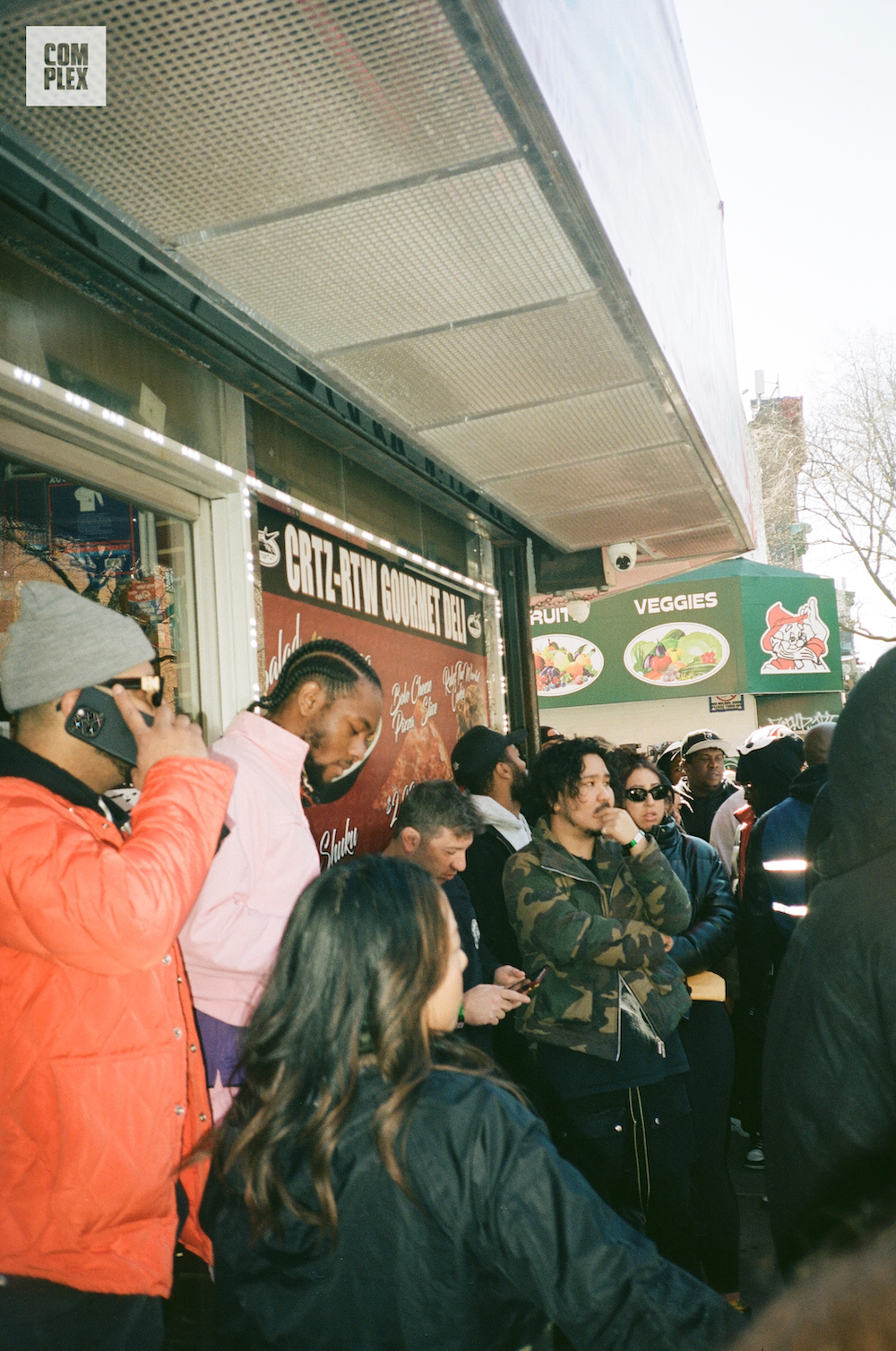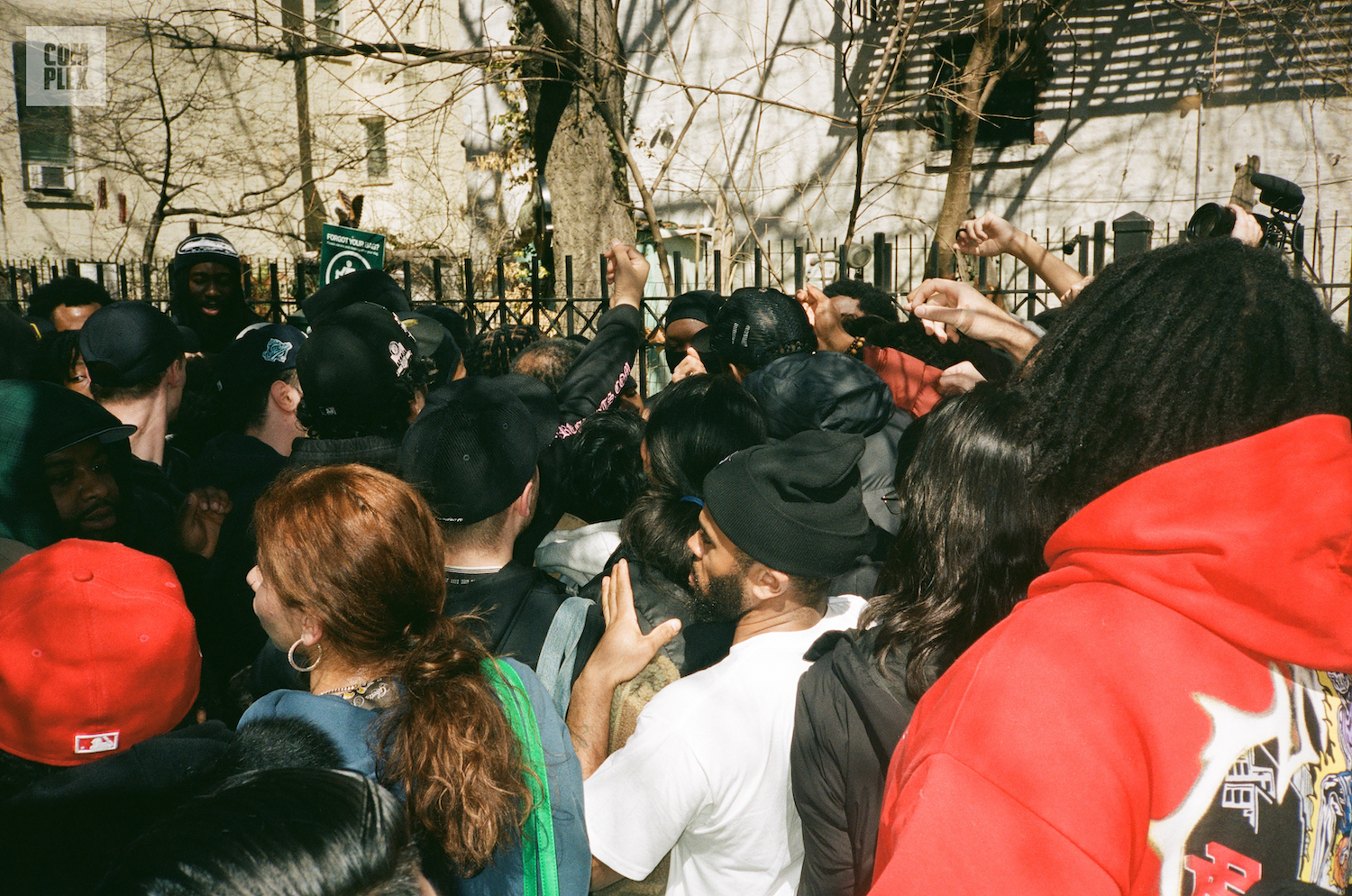 "This is a perfect example of marketing transcending transaction to become a cultural act," says Dr. Marcus Collins, a marketing professor at University of Michigan who's the author of an upcoming book on the intersection between culture and marketing titled For The Culture. "The messaging is cryptic, the drops are haphazard, the cues are opaque, and the only way to 'know' is to be in the know. People who engage in these drops do so to signify their cultural subscription, their participation in the subcultural practice of being a part of this community."
Like other in-person shock drops the brand has released in London, Lagos, Paris, and Sydney, Corteiz's release in New York City was the kind of well-orchestrated moment of streetwear hysteria that made sneaker releases like Jeff Staple's Pigeon SB a part of the culture's lore. The reaction in New York showed Corteiz's unique guerilla marketing tactics have established another die-hard cult fan base outside of its home in the United Kingdom.
"It's not that I didn't have faith in them, but I didn't foresee it becoming this global, internationally renowned brand and that's really cool to see," says Tito Adesanya, a 23-year-old Columbia University student from South London who hoped to attain his first Corteiz piece in New York on Tuesday. "We're in a city other than London, and people are showing out in crazy numbers. I think that really speaks to the international reach of this brand and how good their marketing is."