In 2017, it's public figures like Hillary Clinton, Beyoncé, and Ava DuVernaythathave become society's feminist icons. But before them,there was someone else woke women idolized: Wonder Woman. Over the course of almost 80 years, the classic comic book character has gone through several changes. She was initially depicted as a feminist and then as a damsel in distress and finally as a role model. Despite the various shifts in direction, the one constant has always been what Wonder Woman represents. She is a symbol for feminism, an example of strength in a crisis, and the embodiment of how powerful women truly are. But how did this Amazonian goddess come to be and why has it taken several decades for her to grace the silver screen? This is the long overdue story of Wonder Woman.  
First emerging in October 1941 in All Star Comics #8, Wonder Woman (aka Princess Diana and Diana Prince) exuded feminine power. She was conceived as a stand-in for society to cope with the trauma and tragedy of World War II. For many, she was the female version of Superman, from the patriotic attire to the unwavering compassion for others. But to compare the demigoddess to a man—super or otherwise—not only diminishes her contributions to pop culture, but misses the point entirely. As a founding member of the Justice League, Wonder Woman isn't some sidekick playing second fiddle to a bunch of men in tights. She's the main attraction and in a superhero class all her own.  
"Superman just showed up as a baby; he had no choice [to be a superhero], and [with] Batman—Bruce Wayne's parents were murdered when he was a kid," explains comic writer and TV critic Sean T. Collins. "Wonder Woman made a decision as an adult woman to do what she's doing and defy her mother and come to man's world and be a superhero."
Made of clay by Queen Hippolyta and Aphrodite, Princess Diana is born with superhuman abilities. She was raised on the magical island of Themyscira, which is populated strictly by women who fled ancient Greece from slavery; meaning no men were permitted on the Amazonian paradise. Of course, that all changes when a plane crash brings Steve Trevor (a Man!) ashore and Diana contemplates exploring the outside world—as well as her attraction to Trevor. She was taught by her mother Hippolyta to believe that men are the root of all evil, but begins to question those beliefs after learning of Trevor's fight against the Nazis, which makes her realize that there must be more good men in the world.
Ironically, but not surprisingly, Wonder Woman was created by a man, psychologist and polygraph inventor Dr. William Moulton Marston. In 1940, after seeing a piece about the promise of comic books by Marston's lover Olive Byrne in Family Circle, publisher Max Gaines approached Marston about working with him as an educational consultant. He agreed and presented Gaines with the idea of Wonder Woman. The concept is said to have been co-conceived by Marston's wife Elizabeth Holloway and his mistress Byrne, with whom he shared a polyamorous relationship,  but neither were credited for collaborating with Marston on the character.
The idea for Princess Diana was inspired in part by the suffragettes, feminism, and Margaret Sanger, Byrne's aunt and Planned Parenthood founder. Marston used these early movements to ground the character—something author Jill Lepore details in The Secret History of Wonder Woman. In Marston's mind, Wonder Woman was a fitting example of the kind of heroine who could lead the world, fight for justice, and be a role model for women everywhere. She was a tool for fighting "blood-curdling masculinity".
Marston believed that women were the superior sex and he tried to convey that idea through Wonder Woman's armor. Part of what makes the character so memorable is her costume—a star-spangled ensemble that embodies power and patriotism. Today, it stands as one of the most iconic superhero (and Halloween) outfits. But depending on the era and artist, Princess Diana's statement piece has gotten a makeover from its origin as an emblem of strength tied to her Grecian roots.
Thanks to artist H.G. Peter, Wonder Woman began with a modest look. In the 1940s it started with a knee-length skirt and boots with a bustier, before transitioning into culottes as time went on. It wasn't until 1962 that the outfit Wonder Woman fans the world over now know and love—the bodysuit coupled with tiara, bulletproof bracelets, and her lasso of truth—came to be. By the late 1960s, comic book artists ditched the disguise for a domesticated version of Wonder Woman: a civilian sans powers following the death of her boyfriend Trevor. "It's a white middle-aged guy's take on mod fashion," Wonder Woman expert Tim Hanley explained to Tech Times. The departure from the magical, warrior-like aspect of Wonder Woman's fashion didn't sell with fans, as she returned to her Amazon roots and recognizable bodysuit by 1972.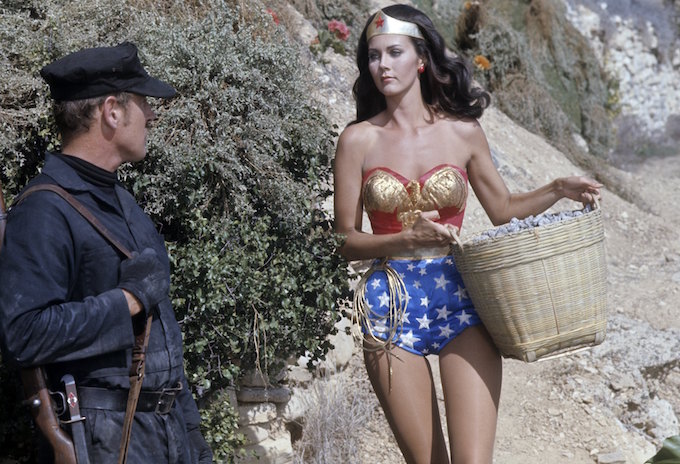 In the mid-70s, actress Lynda Carter took on the role of Wonder Woman in the eponymous TV series. Carter's portrayal helped solidify the classic one-piece as the only costume that mattered. Although the Wonder Woman series only lasted four seasons (1975-1979), the popular outfit continued to appear on the illustrated pages of the comics throughout the 70s and 80s. In 2010, we saw the emergence of Wonder Woman's most current look—a tank-top, black pants, and bomber jacket—which debuted in issue #600.  
Fast forward to 2016's Batman v Superman: Dawn of Justice, Wonder Woman—portrayed by Gal Gadot—flaunts a darker image and a costume that isn't too revealing, yet representative of her Amazonian origins. In the recently released solo film Wonder Woman, Gadot models a tasteful bustier dress that pays homage to the comic book heroine's beginning.
"There's been a lot of criticism throughout the years about Wonder Woman's body, and I wish that we could all just stop talking about and criticizing women's bodies in general," notes DC Comics author Shea Fontana. "But I think that this new, warrior version of Wonder Woman is really awesome, and the way that she's portrayed in the movie and her costume there is very cool and really inspiring."  
Although Wonder Woman exists as a commanding, strong superhero, she hasn't been able to avoid being oversexualized—something that began in part because of creator Marston's liking for the kinkier things in life. "While Marston sincerely believed that women should be treated as equals, or even as better than men, there was kind of a fetishistic element to that... that complicates it," says critic Collins. "It's not just that he was for equality, it's like he kind of got off on it."
"There's been a lot of criticism throughout the years about Wonder Woman's body, and I wish that we could all just stop talking about and criticizing women's bodies in general."
Over the years Wonder Woman's look oscillated from flaunting strength and feminism to appearing like a sex doll. But the character owning her sexuality and feminism was much different than her becoming a submissive, fetishized figure. Although those themes did end up coming through in various storylines with the flurry of comic book artists and writers tackling her story arch over the past 70+ years. The changes were often subjective—dependent on the tastes of particular artist at the time—or in an effort to increase circulation.
Marston and Peter didn't shy away from making Wonder Woman a sexual being in their initial version of the comic; during the 1940s, bondage, foot fetishes, and spanking were weaved through their work. Marston's view on the power of women was shown through Wonder Woman's ability to love and also control, as exemplified through the use of her handy lasso. In Marston and Peter's version of Wonder Woman, the heroine is aware she's sexualized but she's not an object. She'll wink at the reader, knowing that she's controlling the narrative.
Unfortunately, Wonder Woman's brand of feminism isn't always consistent. In 1941's All-Star Comics #8 Wonder Woman became an "honorary member" of the Justice Society of America, serving as its secretary. She's minimized in that role for several years, which in turn isolated female readers. The limp story arch took a giant step back from the feminist narrative that launched her. A decade later, when the series finally became more progressive, Wonder Woman brought another woman into the fold, but it was an instance of better late than never as All-Star Comics was coming to an end of its publishing run by that time. Another blemish in Wonder Woman's journey came in the 1950s, when her skirt shortened and she became much more irritated by her superhero responsibilities and instead sought to get married. Thankfully that storyline didn't last.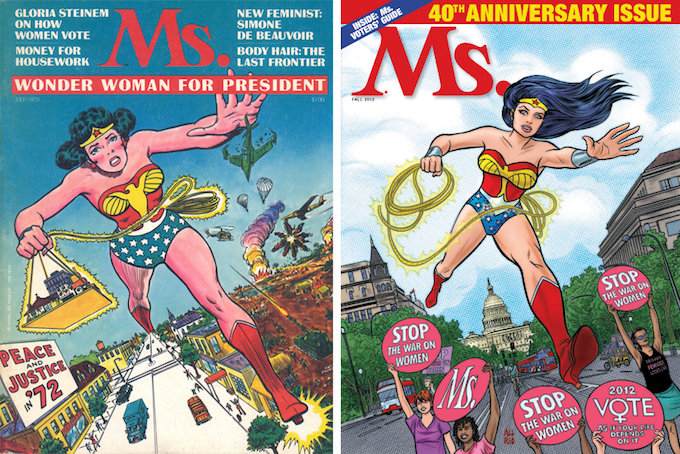 In the 1990s, Brazilian artist Mike Deodato, Jr. and writer William Messner-Loebs were responsible for one of Wonder Woman's racier periods. "I wanted her to be the strongest, sexiest superheroine ever,"​ Deodato explained."I am Brazilian. Sexy here is normal. [In Brazil], we had recently come from a dictatorship where there was a lot of censorship in media. It was like we were compensating for that." The eroticism of Wonder Woman during this period was also a sign of the times. According to Deodato, "sales tripled" after he started working on the Wonder Woman franchise.
The varying looks of Wonder Woman would lead to creative differences within the comic book community. Like any woman or human for that matter, Wonder Woman's sexuality is a natural part of her—it's something meant to be explored. But that doesn't mean it's something to be taken advantage of. "I agree with [writer] Mark Waid, who lamented that by stripping the sex from Wonder Woman," says DC Comics writer and artist Phil Jimenez. "You've stripped something really essential from her character, and really, the most interesting thing about her."  
Taking a different approach, Fontana has written about the character through a female lens for a five-story arc in the main Wonder Woman comic series. "I think many of the male writers previously have done a great job of bringing her femininity through, but I think I had a chance to bring some very specific female issues to the forefront as I was doing the [Wonder Woman] comic," she explains. "I think she's always really retained this femininity, and she really is from the beginning a feminist, breaking ground for women everywhere."
A great example of the character's cultural impact and mass appeal was back in 1972 when feminist activist Gloria Steinem put Wonder Woman on the first cover of Ms. Magazine as a representation of women's strength. It was a defining moment for Steinem, and something that the public would remember as she would feature the superheroine once more for the magazine's 40th anniversary in 2012. 
Similar to her comic book iterations, Wonder Woman's time on television has been a mixed bag. Following Carter's reign as Wonder Woman in 1979, TV shows surrounding the superheroine encountered a lot of false starts. In 2011, it looked like the world was going to get a reboot of the iconic series. Written by Ally McBeal creator David E. Kelley and directed by Jeffrey Reiner, the proposed series featured Adrianne Palicki starring as the leading lady. But none of the five major networks at the time opted to pick the show up, and as a result, it was scrapped.
According to Gawker, it was beyond bad, with Friday Night Lights' Adrianne Palicki uttering awkward lines like, "I never said to merchandise my tits!" While the actress blamed "politics" for the reason why Wonder Woman never took off, critics claimed that Kelley's script was essentially to blame for the show's failure to launch. TV writer Alan Sepinwall wrote in Uproxx, "It's that Kelley can't write women, at all. He's the man whose Ally McBeal inspired an infamous TIME magazine cover asking if feminism was dead—and even that show's early fans couldn't defend its depiction of women as neurotic messes by the time it wrapped."
There was a brief glimmer of hope for another Wonder Woman series. The CW—which is owned by Warner Bros. and has created several hit series based on DC Comics characters like Smallville, Arrow, and The Flash—was primed to launch a Wonder Woman prequel called Amazon back in 2012. Developed by Grey's Anatomy's Allan Heinberg, the show would have explored Princess Diana's beginnings in Themyscira. However, by 2014 the series was no longer being developed. Within the world of the small screen, writers and creators never seemed to be able to get the script and plot right, even if they had a solid cast. Now it's up to Warner Bros.'s big screen adaptation to make Wonder Woman into the superheroine we've been waiting for.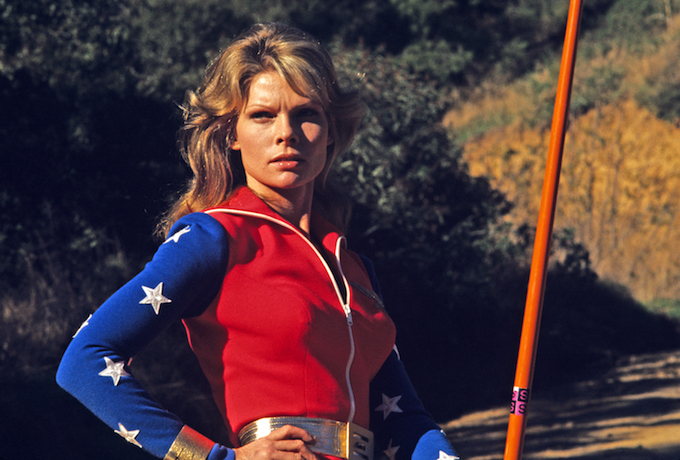 Like the reboot of the Wonder Woman TV series, a feature-length live-action revival centered around the icon has taken many years to get off the ground. Comic book fans first got a taste of a Wonder Woman movie in 1974 starring Cathy Lee Crosby. Instead of a bustier or bodysuit, this version of Wonder Woman wore a patriotic Jetsons-like jacket with riding pants. The movie was intended to be a pilot for a TV series if it performed well, but it didn't, and Marston went back to his original concept for the 1975 series starring Carter.
It wasn't until over 30 years later that Wonder Woman would be considered for another shot at the big screen. In 2005, Buffy The Vampire Slayer creator Joss Whedon was spearheading the future film with actresses like Angelina Jolie and Sandra Bullock being considered for the titular role. Later that year, Whedon began the screenplay, which would center on the origins of Princess Diana and how Steve Trevor's airplane crash on Paradise Island shaped her future. But two years passed without a completed script. Whedon explained to Empire: "I had a take on the film that, well, nobody liked… We just saw different movies, and at the price range this kind of movie hangs in, that's never gonna work."
In 2015, Whedon went on to say sexism was responsible for the lack of superheroines headlining their own films. And he doesn't seem to be wrong; it's been over 10 years since the world has seen a female superhero starring in a feature-length comic book adaptation, with 2004's Catwoman and 2005's Elektra being the most recent examples.
Things finally started coming together in 2016 with Gadot's scene-stealing turn as Wonder Woman in Batman v. Superman: Dawn of Justice. While the film was critically panned, it still set the stage for the Israeli actress to lace up Wonder Woman's trademark boots in her own solo outing (in theatres now). Gadot's version of Wonder Woman calls back to the feminist archetype upon which the character was founded. "I think everything she promotes and everything that she stands for is timeless," Gadot tells Complex. "She's all about love, justice, truth, compassion and equality— she stands for so many amazing values that are always relevant."
Like many of the Wonder Woman screen adaptations, the current film was not without its fair share of behind-the-scenes drama. While Monster's Patty Jenkins eventually became the director, that position was originally given to Breaking Bad director Michelle MacLaren. Insiders say that "creative differences" were responsible for her disappearance from the project, but many sources claim that her action-heavy vision for the film was vastly different than the studio's character-centered concept.
Regardless of the reasons for the shift, having a talented director like Jenkins leading the charge on a superhero film starring a female protagonist made for a perfect marriage that shows in the final product. Reviews leading up to the film's release were mostly positive, which is a major win for Warner Bros. which is banking on Wonder Woman's success to help expand their budding DC Comics cinematic universe. Beyond the blockbuster expectations, Jenkins was more focused on doing the character justice.
"I think that for whatever reason there had been some female superhero films that people questioned the success of and then put [Wonder Woman] into question," she says. "To me, I always thought: Wonder Woman's got this massive fan base—how could [a film] even be passed up financially? But it's fascinating that it was."
With the underlying hate, inequality, oppression and injustice in 2017, Wonder Woman's presence is welcomed and needed more now than ever. Over time, she has been a symbol of love, courage, empowerment, and sexuality, and like the world, she's evolved and transformed along the way. With politics becoming personal, the release of this film is a beacon of hope for the outsiders, the underrepresented, and the future.
Perhaps as we look for more strength within ourselves during our current political climate, we're looking for a superhero that can guide us along. As women and marginalized groups struggle with the loss of rights in a Trump administration, Wonder Woman provides a glimmer of hope similar to how she did during World War II. "There's just such a rich history of feminists attaching to Wonder Woman,  seeing themselves in the character and bringing this woman to life through their work," Fontana explains.
The success of Wonder Woman isn't only dependent upon its sizeable budget, but there remains a bigger possibility for more superheroines (and actresses) to take centerstage as role models in the movies and in real life. For society, Wonder Woman's legacy is really what lives on. "I think that the kind of stories that really show Wonder Woman in her full power and her full truth always resonated with me as a young girl, and it resonates with me now as a woman and as a mother," Deibert explains. "I think of her as a role model for my daughter."
 "I think Wonder Woman's managed to represent what the world is at [a particular] time, and she's done that—from origin through now," adds DC Comics artist Cat Staggs. "The Wonder Woman we're getting now is the Wonder Woman we need."