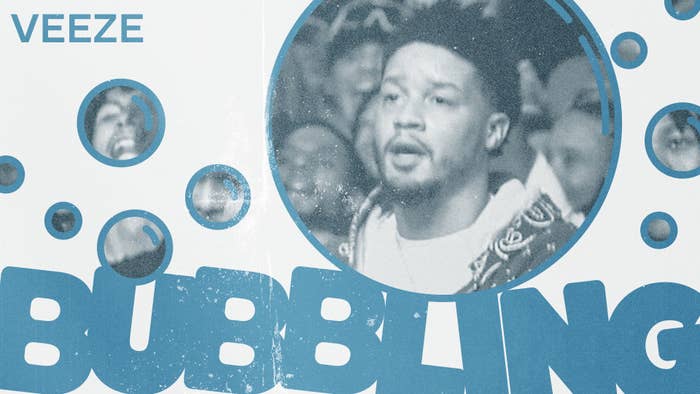 Bubbling is a monthly series highlighting emerging artists on the cusp of major breakthrough.

Veeze walks through the door of a chaotic second-floor soju pub in Manhattan's Koreatown as the lights begin flashing and generic techno cuts through a slow Monday night dinner service. The elusive rapper has an open contempt for conventional time signatures but shows up respectably close to on time. Veeze appears disoriented by the scratch-bombed and corrugated tin-lined interior of the restaurant, and the spectacle playing out in front of him. Under a ceiling lined with fishnet and ornamented with soju caps and Christmas lights, a strawberry cake studded with sparkling candles is ferried to a nearby table as the entirety of the dining room begins clapping and loudly cheering for a reluctant birthday girl.
"What made you choose this place for an interview?" his befuddled manager (who is also Boston Celtics' Jaylen Brown's uncle) Snake Hawkins asks me. I respond, "It's the strangest, funniest restaurant I could think of." With a spark of recognition, Snake laughs and says, "Ah, Veeze. Got it." We agree it's the ideal, personified setting for a date with his artist, the Detroit native who's enjoying one of the most unpredictable career years in recent memory.
Veeze is in town for the first stop on his first national headlining tour—running from October through Thanksgiving—and has just released the deluxe edition of Ganger, his sophomore effort and possible rap album of the year contender. Veeze accurately describes the project as "his second debut," coming four years after his cult mixtape, Navy Wavy, which made him a person of interest in underground regional rap nerd Internet circles. The 21-track album has been the catalyst for his recent groundswell of support. It's an album that displays the four years between projects weren't wasted. Veeze is on surer footing, still with an exceptional ear for beats, but more importantly, with his drunken boxer style, able to reclaim and crush production other rappers wouldn't be able to find pockets in. His humor has found its audience, with several of his gargled, inebriated logic punchlines serving as bar of the year candidates, if there was an actual award for that. It's an album that launched out of shadow, from cult fetish to star.
His potential and success thus far is responsible for a newly inked contract with Warner Records. That deal goes beyond the parameters of a standard up-and-coming artist signing to a major. It's a label partnership for his new imprint, Navy Wavy, setting Veeze up as a rapper and a brand with real autonomy. This is a type of industry coronation historically reserved for seasoned veterans, capitalizing on years of proven success and momentum. But Veeze is still in the process of establishing himself, which is a clear indication from Warner Records that they want to be in the Veeze business for the foreseeable future.
"I want to be a part of artists that have a ton of ambition and are willing to put the work in," Miles Gersh, a Warner Records A&R instrumental in making the deal happen, tells Complex. "The ceiling for Veeze is limitless."
Miles' interpretation of Veeze and his career prospects might surprise even his own fans. Nothing about Veeze's trajectory has been standard, from his sporadic and sparse release schedule to the non-commercial rap he produces. But Ganger was received with critical acclaim and a score of fawning profiles in every major prestige music pub left. The result has been that the 29-year-old now boasts a number of gaudy stats his team can rattle off like they're printed on the back of his baseball card (i.e., his viral 2020 hit "Law n Order" has over 20 million streams, and Ganger cracked Billboard's Top 200, and debuted at #1 on both the Heatseekers and Independent album charts.) Plus, he has amassed an Instagram following of a half million fans and is now embarking on the aforementioned tour. But how, and why, did this precise moment make him bubble into the mainstream?
"The ceiling for Veeze is limitless."
For generations, square critics have accused rappers of mumbling. If those critics ever listened to Veeze, they'd finally have a worthy target. On the mic, the rapper is a low talker with a rarely energized nasal voice and a Midwest drawl. He makes the deliberate choice to either rush or drag his understated bars, and never entirely opens or closes his mouth. Part of the fun for Veeze fans isn't just deciphering what he means in his wordplay, but what the fuck he's actually saying. They do this because his bars are consistently worth that effort.
His songs aren't conceptual or topical; they're unstructured, rambling ciphers that *might* *kind of* feature a hook—mostly opportunities to talk shit and get jokes off, like a comic working through new material onstage. When he's asked to name some formative comedic works, he cites Superbad, which makes sense, as his lean-soaked punchline sensibility can be Apatowian, living in surprising and hyper-specific pop culture references, with anyone from Kim Kardashian to Clint Capela serving as cannon fodder for dumb/brilliant puns, analogies, and turns of phrase, placing several convoluted degrees of separation between the setup and punchline. It's reminiscent of the mixtape era when one of his many heroes and mentors, Gucci Mane—who once tried to sign Veeze—released a wave of dense, brilliant, goofy, generation-defining projects. The joy of his music is like solving a crossword puzzle over great production.
In other words, he doesn't make commercial shit that you'll likely ever hear in a club or on the radio. But in an age of an atomized rap body politic, filled with diverse and specialized demos for every flavor of rap, Veeze had built up a niche following. His initial "problem" was that in addition to making unusual and somewhat inaccessible music, he didn't make much of it. Ganger was the culmination of a four-year lull, practically an eon in a lightspeed rap hype cycle. The mainstream can move on from the likes of Kendrick Lamar over a period of a few years, let alone an obscure, blunted stylist from Michigan. It led to Veeze's own fans questioning his motor and how much making music actually means to him. What we learned in the process of speaking to Veeze, and the people closest to him, is that his pause in output doesn't make his sudden success confusing—it explains it.
At dinner, Veeze is dressed down: faded mint Angel of Death sweatpants, black Flea Market 1s, a white tee, a hoodie, and an iced-out Jesus piece. Veeze approaches the menu like Sally Albright, eyeing it skeptically before ordering chicken wings well done, with the sweet and spicy sauce they're dressed in on the side, from a polite but confused server. When they land at the table, he sends them back for another bath in the deep fryer. When they come back again, he dissects one wing with a knife, puts it down, and never touches the plate again. The entirety of the hour and a half we talk, his nearly battery-drained phone will receive an unbroken stream of constant callbacks from the same unsaved number, which he'll never acknowledge.
Most artists would've rushed a project out immediately on the heels of a hit like "Law n Order," but he didn't feel the time was right, both for him and his music, to push a second project any sooner than it came. Veeze says, "I could have dropped the album, capitalized on any viral moment. I just wanted to get better at it. People be like, 'Move, move, move,' and, 'Go, go, go.' But I needed time, way more with the fame than with music. As artists, everything we put out is risky. I had to be comfortable. It's kind of like research. Getting distracted, finding out you don't really know any of these things, it's all part of it… At the end of the day, I just do what I wanna do. I don't care what's happening. I don't care what other people might do." He dropped the project he wanted to, when he felt it was time and he was ready, and he was right.
"I could have dropped the album, capitalized on any viral moment. I just wanted to get better at it."
Sam Hadelman, who led the Ganger album rollout for Dark Matter Media, says, "He's extremely comfortable doing his own thing. A lot of rappers see what other big rappers are doing and say, 'Oh, I need to do that too.' Veeze has never extended that sentiment. He's totally cool being his own person, and it translates to all aspects of his career, from the music to the strategy to the business."
Needless to say, Veeze is supremely confident. When the project began to shape up, he reached out to Snake after a chance meeting, and with no label backing, he bet on himself, and so did Snake. The two went half on a miniature promo run with a budget of $5,000 to launch Ganger and got free promotional backing from Spotify and Apple, as well as a friendly deal with Dark Matter Media, who were responsible for the wave of crucial, laudatory press. Snake and Veeze made the rounds looking for a deal, and were unsatisfied with the offers, so they went the independent route. Snake says, "We told them, 'We got this project called Ganger. Veeze fans been wanting on it for like, two, three years now. We're going to do a tour; we're going to do this; we're going to do that.' And I really feel like it went over their heads, so we said, 'Fuck it.'"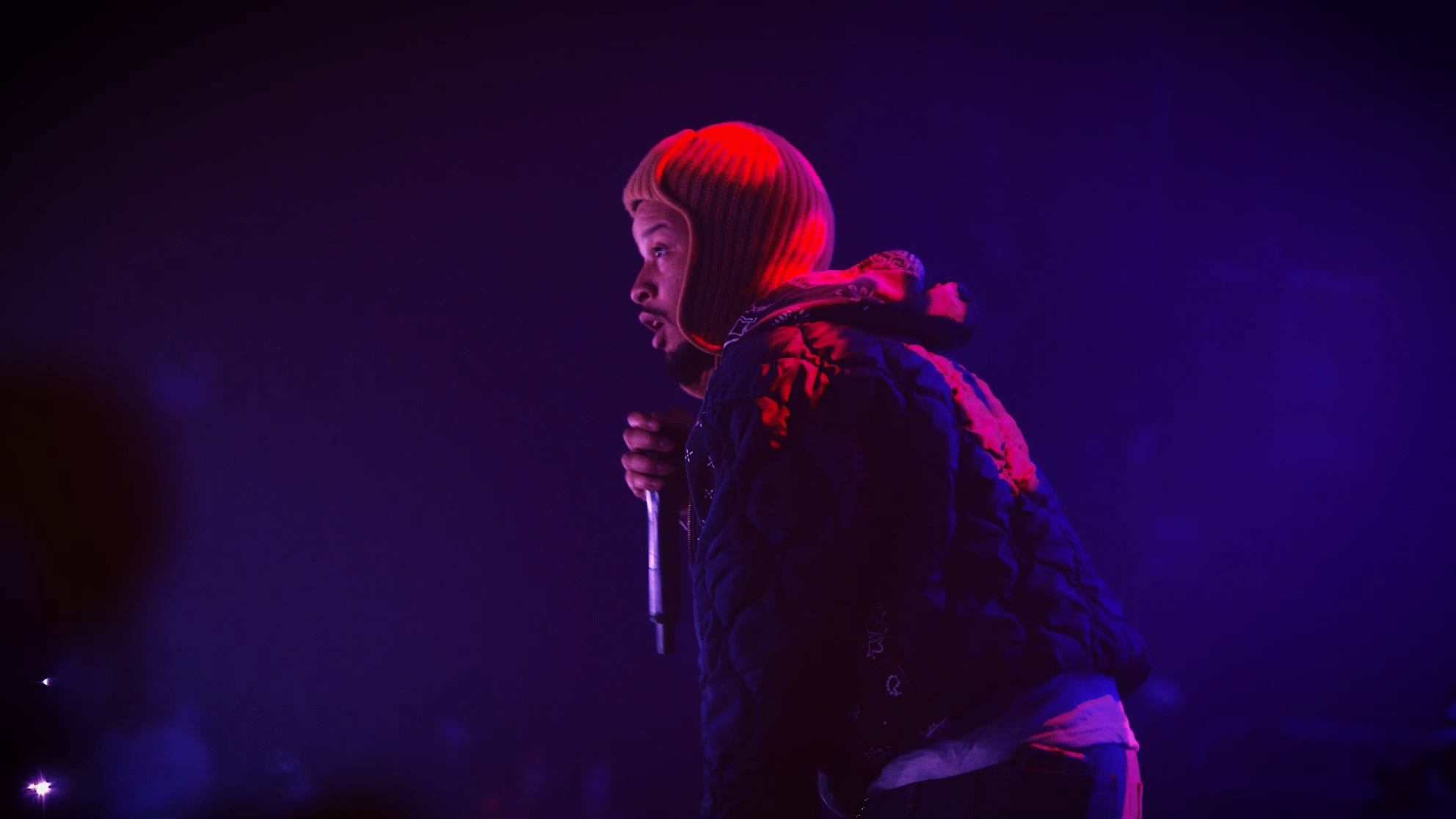 A big part of Veeze's success is that he's extremely coachable if the game being kicked is coming from the right source. "I had great advice from people who were in my corner, they helped me navigate, understand where to go left and go right, good deals and bad deals. 'Don't do what I did' type of shit,'" he says of the decision to ultimately sign with a label after years of offers. "These are dudes that have already been through the game, that have started labels, that had artists [signed to them]."
Veeze's low-key energy and oddball humor have allowed for him to be in rooms that any up-and-coming artist would kill to be in—alongside the likes of close friend, collaborator, and fellow Detroiter Babyface Ray obviously, but 42 Dugg, Chief Keef, G Herbo, Lil Baby, Future, Lil Yachty, James Harden, and…Johnny Knoxville— that he takes in stride. Veeze has one of the most impressive Rolodexes of any burgeoning rapper of his class, and it has made a tremendous impact on how he moves, how he's perceived, and what he's worth.
He says, "It's genuine relationships. I'm not just friends with rappers. I'm close with the people you might not know that's the closest people to them. It's not no celebrity shit—it's about the brotherhood." In explaining one of the many reasons Warner Records partnered with Veeze, Miles says, "We went to the USC football game a couple weeks ago, and just the way he's able to move around and deal with people who he's never met before, people from different worlds, he's clearly the star. There are NBA players and NFL players on the sideline, but instantly everyone is drawn to Veeze. That made it obvious to me. He's a gravitational force. People want to be around him, and it's unique. It's very difficult for a label to be like, 'Let's figure out how to make somebody cool.' With Veeze, that's obviously not an issue." Snake puts it succinctly, "Veeze is a hustler. He's like a mold. He just be around. He's in the darndest places."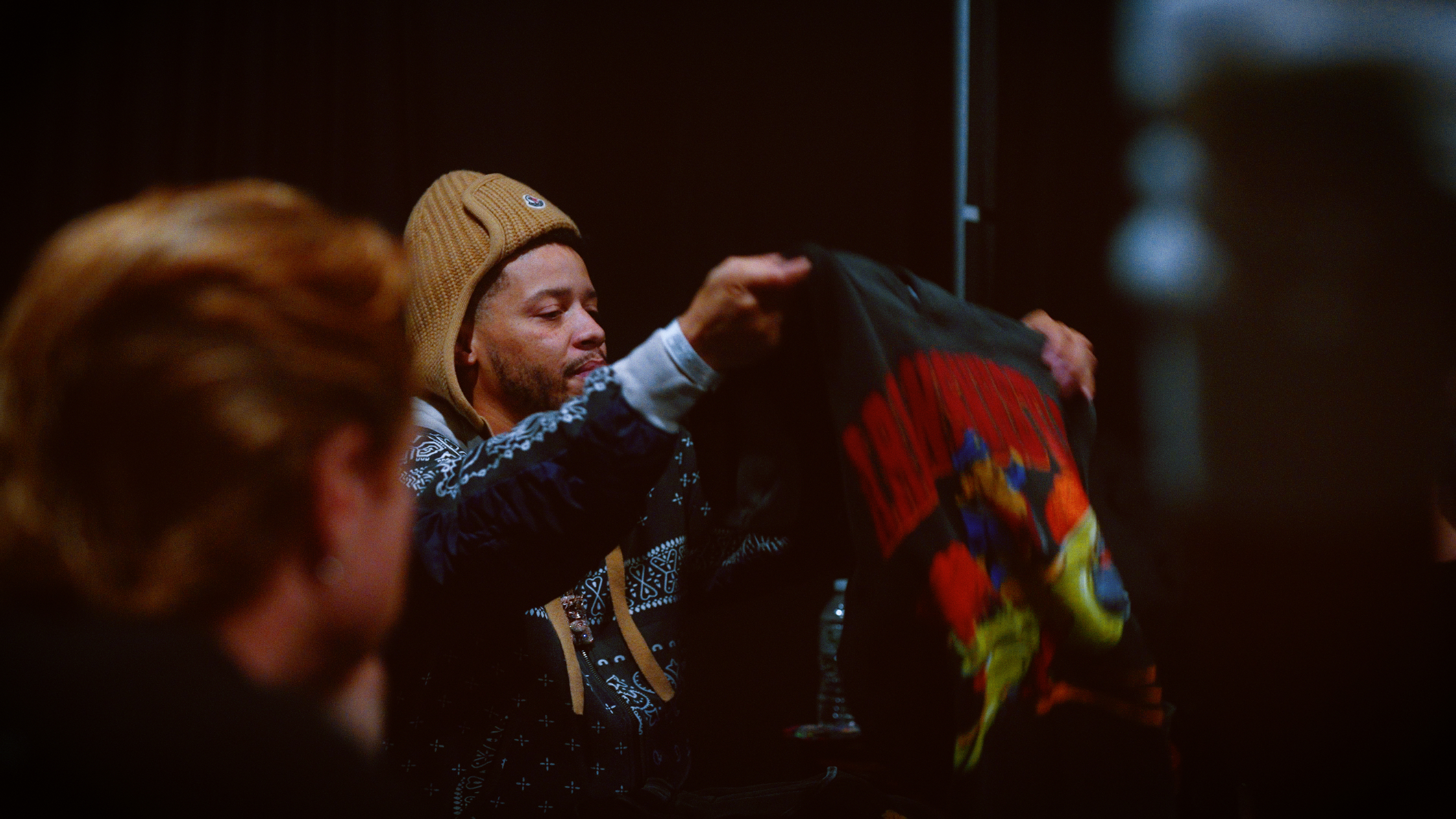 Our conversation feels thoughtful and sober, literally because Veeze never touches the cored watermelon filled with soju I ordered for the table and tells me he doesn't drink. He's a rapper who has an obvious sense of how he wants to present himself publicly. There are long pauses between questions and polished answers, but he doesn't take himself too seriously—cracking jokes every chance he gets, including some grotesque and potentially controversial ones. When asked about the role of substances in his creative process, Veeze condemns drug use and claims most of Ganger was made sober. He doesn't want to be reliant on anything to make art, saying, with the chuckle of an off-color comedian, "Look at what R. Kelly was addicted to. That's worse than anything."
Veeze is aware history is littered with grand opening/grand closing vanity imprints. When asked what his hopes, dreams, and expectations are for what he'll bring to building his label will be, he says, "I haven't started really thinking about it. I'm still working on new material. I could still discover new artists and put new artists on without signing them. I'd love to see, five years from now, 10 years from now, what other people say about [Navy Wavy]. I just want to have a core fan base, for my label to have a certain sound, and really more than anything, I want to have fun and help others. I don't want the label to be an extension of me, with other artists part of my story; I want to help them start their own stories." Like the last five years of his career, it sounds like his lodestar will be a blend of circumstance and gut.
As a final note, he tells me, "I'm coming. I still got a long way to go. Future, Lil Wayne, Drake, Kendrick, Travis Scott, I want my name up there. I take it seriously. Life isn't going to happen again. I feel like by the time I'm 40, my story and my journey will be a real one." After dinner we take some pics and say our goodbyes on the street, then Veeze gets in a tinted-out luxury SUV, which allegedly ferries him off to a session at the nearby legendary studio Jungle, with Lil Uzi Vert.
"I still got a long way to go. Future, Lil Wayne, Drake, Kendrick, Travis Scott, I want my name up there."
The next night, only a few blocks from Koreatown, Veeze takes the stage at Gramercy Theater on East 23rd for a sold-out show. Because he's been so elusive both on and off wax over the past few years, in an age of complete and total access and transparency, Veeze is one of the few artists who have managed to successfully cultivate a folkloric, reclusive mystique with his public. Here, at his first headlining New York show, his fans will finally get an entire set from him, in the flesh, and you can feel the both spiritual and literal buzz in a young, energetic, fucked-up crowd. Jim Jones comes through and chills backstage, not to grab a mic or link, but because his kid is a fan. At this point it's a cliche to mention weed is in the air at a show, but this show might take the crown for most I've ever seen/inhaled over many years. It's a hotbox, cementing Veeze's stoner brand.
I'd wondered how an artist who raps like Veeze would play in a room, and the short answer is it doesn't really matter. The event is more of a listening party than a performance, a belated, culminating celebration of Ganger, with a few months to digest and memorize the album in the lead-up. The backing vocals are three to four times louder than the volume of the mic, and the communal rapping of the crowd, stuffed into the venue, who know the words to every song verbatim, are three to four times louder than the backing vocals. It's the full Veeze experience, characteristically unbothered by the moment, bouncing around stage in a knit hat with ear flaps and shorts, looking and acting like the mandatory pothead in a late '90s teen comedy. He's in a goofy mood backstage, and it spills into his performance. It feels like both a watershed moment in his career and another random-ass Tuesday night. It only underscores my impression that it's impossible to say where the rapper goes from here, but you can be certain wherever that is, it will be exactly where he wants to be, and he'll get there on his own terms.