Though he's only 30 years old, the California-born producer known as Hit-Boy has helmed records for a litany of your favorite artists. A quick walk through his estate in a remote corner of Beverly Hills takes you past plaques for hits from acts as disparate as Jay Z, Fergie, Kelly Rowland, and Kanye West. That's not to say he's resting on his laurels. The tennis courts are empty and there's nobody in the pool; Hit-Boy is tucked away upstairs—recently programmed drums pounding out of a speaker system—trying to figure out whatever comes next. It's part of a compulsive work ethic that dates back decades. "This was Plan A," he says. "This was the only plan for me."
Born Chauncey Hollis, Jr. in the spring of 1987, Hit-Boy grew up in Fontana, about fifty miles East of downtown Los Angeles. While music was always around him as a child––Chauncey's uncle, Rodney Benford, was a member of the R&B group Troop––it was in nearby San Bernardino that he first ventured into making tracks on his own. After searching out a friend who was also interested in hip-hop, he started out with intentions of being a rapper, but soon realized that his interests weren't skewed toward the lyrics. "I took a liking to the sonic aspect," says Hit-Boy. "Instead of super-focusing on the lyrics all the time, I found myself more excited by that. And when I think about myself as a kid, I never really heard lyrics on songs. I only heard the music. After a while I would start to understand the lyrics, but it was always the music that hit me first. So I feel like me developing and learning the sonics helped me make that transition into [producing] my own songs."
He headed to a Guitar Center in San Bernardino, where he met another aspiring producer with a keen mixing ear. "I bought my computer and went to her house and she gave me a CD with hella sound on it: loops, drums," Hit-Boy recalls. "She hooked me up with sounds and that was the first part of me exploring technology and music."
At first, Hit-Boy's experiences with music on the internet came as a fan. While Southern California has rich musical traditions of its own, file-sharing sites like Kazaa and Limewire opened him up to styles and sounds that were nowhere to be found on the West Coast. He began downloading songs that he liked and chopping them up to practice production techniques: some drums here, a guitar line there. He honed his skills from there by studying greats like Dr. Dre and Battlecat.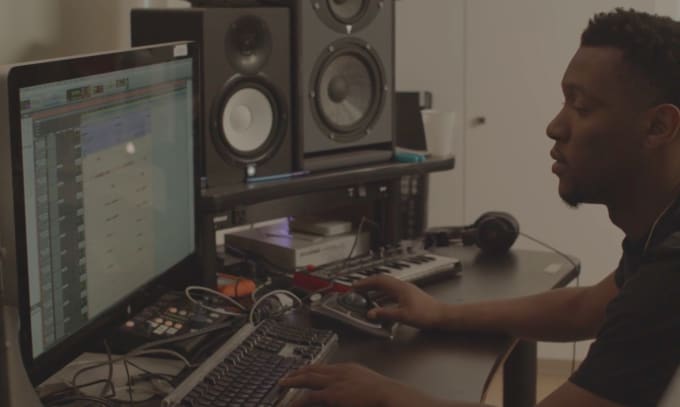 Before long, Hit-Boy was crafting impressive beats of his own, and there was only one place to get the word out around the country––the internet. He set up a MySpace account and started doing swift business. "I was already hustling, already making my small money," he says. "Getting beats off to whoever I could." One day, producer Polow da Don, who was then near the top of the music industry, reached out and invited Hit-Boy to the studio. "I had like 60 beats on me and played all of them," Hit-Boy recounts. "He sat there and listened to all of them. That was kinda how I got discovered."
Since then, Hit-Boy has amassed an almost impossibly stacked resume. That was him on Jay Z and Kanye West's massive "N***as in Paris," from Watch the Throne; it was also Hit-Boy who crafted "Backseat Freestyle" for Kendrick Lamar, "XO" for Beyonce, "Trophies" for Drake, and an endless string of songs for others including Rihanna, John Legend, Diddy, and Justin Bieber. Along the way, he's picked up invaluable advice, like when Jay told him, "Once you put music out, you just accept it as it comes and keep pushing: don't stop and try to blame anybody for mishaps or whatever the case may be. Whatever it is. Stay focused on the music and things will come to you."
Beyond his role as a producer and artist in his own right, Hit-Boy runs his own label, Hits Since '87. When you combine his administrative duties to the sensitive nature of his communication with A-list artists, little could be more important than safety, security, and reliability in an internet browser. "I'm online all day," he says, "from emails at 7 am with my lawyer, to sending beats off to major artists, so privacy is a huge thing. For Firefox to take that into consideration––that's important."
In an effort to stay ahead of the curve in a rapidly changing industry, Hit-Boy is constantly scanning record shops––and online, of course––for new material to sample and new masters to study. "I focus on quality," he says, "no matter what the genre is, no matter what the tempo is. As long as it feels creative and authentic and fresh, I go with it." This means a rigid commitment to improvement, and a willingness to constantly expand one's sound. Hit-Boy attributes his broad array of techniques to the time he spent as a teenager trying to mimic the sounds of the producers he admired.
While Hit-Boy would be the first to tell you he's been very fortunate so far in his career, his success hasn't come without its challenges. One thing he hopes younger artists have an easier time with––and something he aims to help them understand––is the non-musical side of the industry. "There are a lot of nuances," he says. "You get in the game and you're excited––you just wanna make music. Then, once you get to a certain level, the business aspect starts to become super relevant. I feel like if I would have known that part I would have been more prepared."
But he's not one to complain. Throughout our interview, I can see that he's itching to climb back upstairs to the studio and get back to work. "You go through certain things for certain reasons," he says. "I feel like I'm at a great place right now, musically, mentally, all that." And with that, it's back to business as usual.