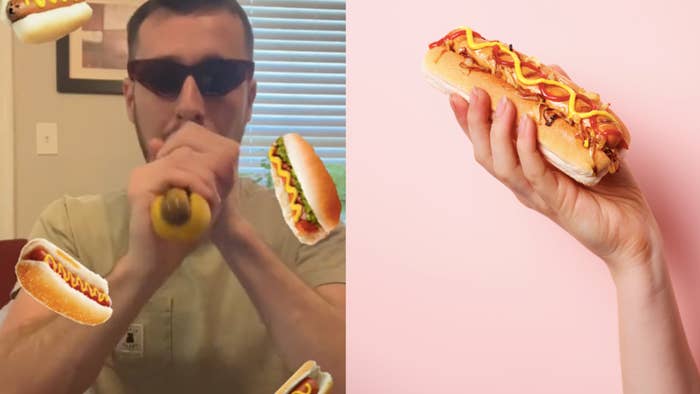 The glizzBot is celebrating a job well done—hundreds of jobs well done in fact, if not thousands.
For those unfamiliar, glizzBot is the chosen name of prolific TikTok NPC streamer @jason.reborn, whose unparalleled wiener-gobbling skills have taken him to increasingly viral levels of visibility in recent days. In short, those watching glizzBot do his thing are encouraged to gift him with virtual hot dogs (glizzies), the receipt of which is met with oft-impassioned performances of simulated ingestion.
In one clip, for example, glizzBot celebrates his receipt of 100 glizzies by entering "glizzy overdrive" mode. Viewers are then met with RoboCop noises from glizzBot as he pulls on a pair of vaguely futuristic sunglasses and absolutely goes to town.
"Increasing grip by seven percent," the streamer says at one point. "We are locked in. Thank you for over 160 glizzies. Entering glizzy overdrive."
Elsewhere, glizzBot rolls out his "gluck gluck mode," thus ensuring a more even distribution of condiments when enjoying a frankfurter. Also in the bot's arsenal is the multitasking-enabled "double barrel mode," which should prove particularly useful for those whose appetite may at times require a more involved approach when it comes to satiation.
While another clip sees the streamer simply pondering aloud the chances of getting temporarily banned and how to avoid it, notably before letting out a mid-glizzy burp, a recent timeline upload confirms that this has happened and will likely continue.
"Hi, glizzBot here," the streamer said in a video shared this week. "My lives make some people very triggered and angry. Tough. It ain't that serious, y'all. If my live ever randomly goes down, it's because I got mass-reported and received a 10-minute kick. It is only ever 10 minutes and we will always come back because fuck the haters. Stay mad, y'all. I'm getting my bag regardless. Stay mad. GlizzBot out."
Another glizzBot moment worth mentioning, especially as we wind down this riveting reading experience, is one in which he's seen tragically breaking character. After tingling some mysterious back part of the simulated hot dog with his fingers (perhaps some dangling relish or loose peppers?), he's forced to move out of frame to enjoy some audible laughter.
To that end, I will—after over 360 words—allow myself to more or less do the same by closing out with a fun reveal that's sure to inspire countless others to also pursue their dreams:
I got paid to write this.