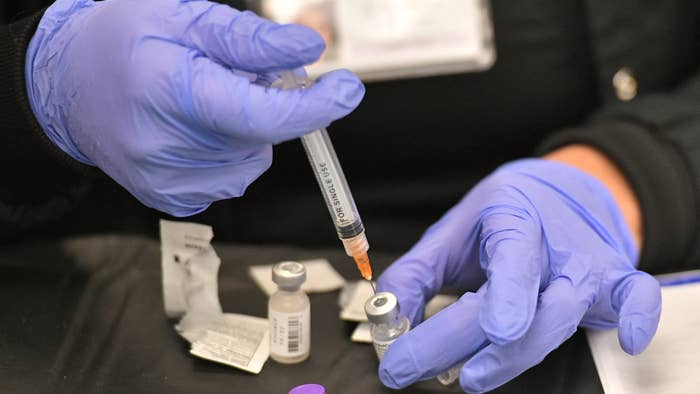 Protection following the second dose of the two-shot Pfizer-BioNTech vaccine lasts at least six months, per an updated analysis of observations made in a phase 3 study.
Pfizer announced these latest findings in a news release on Thursday, noting that the new stats on its COVID-19 vaccine will soon be shared with global regulatory agencies.
"These data confirm the favorable efficacy and safety profile of our vaccine and position us to submit a Biologics License Application to the U.S. FDA," Albert Bourla, Pfizer's Chairman and Chief Executive Officer, said on Thursday. "The high vaccine efficacy observed through up to six months following a second dose and against the variant prevalent in South Africa provides further confidence in our vaccine's overall effectiveness."
The updated topline results show that the Pfizer vaccine is 91.3 percent effective against COVID-19, seven days through up to six months after the second dose. The vaccine has also been found to be 100 percent effective against severe diseases, as defined by the CDC, and 95.3 percent effective against severe cases of COVID-19 as defined by the fDA. 
"It is an important step to further confirm the strong efficacy and good safety data we have seen so far, especially in a longer-term follow-up," Ugur Sahin, CEO and co-founder at BioNTech, added. "These data also provide the first clinical results that a vaccine can effectively protect against currently circulating variants, a critical factor to reach herd immunity and end this pandemic for the global population."
For the South Africa portion of the phase 3 study, nine cases of COVID-19 were reported among the placebo group only, which indicates 100 percent efficacy and adds a positive note to talks of the future impact of variants.
The latest vaccine update from Pfizer arrives just one day after the pharmaceutical company said its vaccine had demonstrated itself to be highly effective in people as young as 12 years old. More specifically, for study participants between the ages of 12 and 15, the vaccine was shown to have 100 percent efficacy as well as "robust antibody responses." Currently, the vaccine is approved for use in those 16 years of age and older.