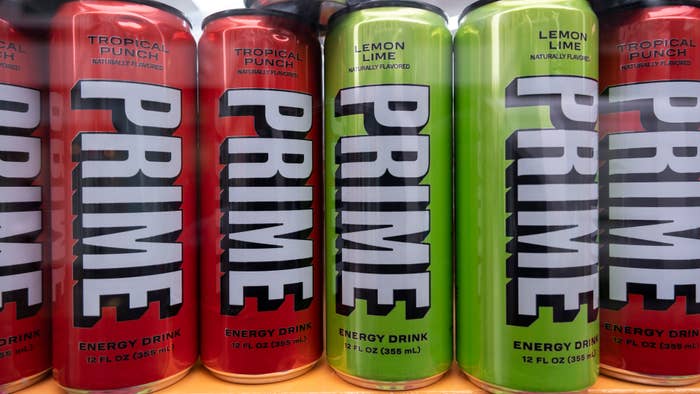 UPDATED 7/11/23, 7:12 a.m. ET: The FDA has now responded to the push for an investigation into PRIME Energy.
In a statement shared with Complex, an FDA official confirmed its receipt of Sen. Schumer's letter, noting that it would respond "directly" to his office. The official encouraged those concerned to be diligent about reading product labels, especially when it comes to children.
"While there's wide variation in both how sensitive people are to the effects of caffeine and how fast they metabolize it, healthy adults generally may consume up to 400 milligrams a day without dangerous, negative health effects," the official said. "There is no set level of caffeine for children, however the American Academy of Pediatrics discourages the consumption of caffeine and other stimulants by children and adolescents."
In a separate statement, a PRIME rep pointed out that there are currently two drinks from the brand available, including (as touched on in our prior reporting) the caffeine-free PRIME Hydration product.
"PRIME Energy, sold in a can, dropped in 2023 and contains a comparable amount of caffeine to other top selling energy drinks, all falling within the legal limit of the countries it's sold in," a PRIME rep told Complex. "It complied with all FDA guidelines before hitting the market and states clearly on packaging, as well as in marketing materials, that it is an energy drink and is not made for anyone under the age of 18."
Per the rep, the PRIME team welcomes "discussions with the FDA or any other organization."
See original story below.
An energy drink launched by Logan Paul and KSI is at the center of a push for an FDA investigation.
Senate Majority Leader Chuck Schumer, as seen in the clip below, has called on the FDA to step in to investigate what he described as concerns over the caffeine content and targeted marketing of PRIME Energy.
"One of the summer's hottest status symbols for kids is not an outfit, it's not a toy—it's a beverage," Schumer said at a recent press conference. "But buyer and parents beware because it's a serious health concern for the kids it so feverishly targets. And the problem here is that the product has so much caffeine in it that it puts Red Bull to shame. But unlike Red Bull, it is specifically targeted—the advertising campaign is targeted—at kids under 18."
Schumer says he's asking the FDA "to investigate PRIME" in connection with its claims, its marketing, and its "eye-popping caffeine content."
To be clear, PRIME Energy is far from the only drink to contain such high levels of caffeine (200mg), though the main issue raised here appears to be its approach to marketing. Similar energy drinks include brands such as Bang, Reign, Celsius, and more.
As stated in the official brand site's FAQ section, PRIME Energy contains 200mg of caffeine per 12 oz. can. The drink "is not recommended for children under the age of 18, women who are pregnant or nursing, or individuals who are sensitive to caffeine." Unlike its Energy line, the brand's previously launched PRIME Hydration products are caffeine-free.
"We launched PRIME with one product line exactly one year ago and we've already grown to surpass some of the biggest players in the industry," Paul, a PRIME co-founder alongside KSI, said when announcing the PRIME Energy lineup in January. "It's been surreal to see our growth and now that we're taking on the energy space, I'm excited to see where we can go."
In May, a child in Wales reportedly suffered a "cardiac episode" after consuming PRIME Energy. Following its UK debut, experts suggested that the caffeine content be made more visible on the can and the packaging between the caffeinated and non-caffeinated beverages should be made clearer so consumers are aware of what they purchase.
Complex has reached out to reps for PRIME and the FDA for comment. This story may be updated.