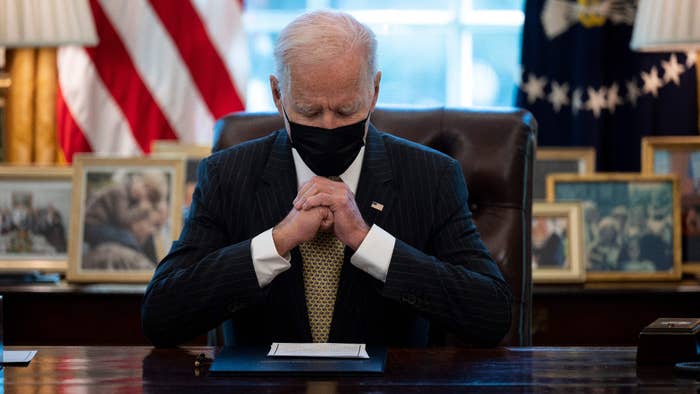 Back in March, President Biden announced that he had directed states and regions in the U.S. to make all adults vaccine-eligible by the beginning of May. Now, that pivotal date is being moved up nearly two weeks.
On Tuesday, the Associated Press cited an anonymous White House official as having confirmed that Biden would soon announce that every adult in the U.S. will be eligible to receive a COVID-19 vaccine by April 19. 
For some, as mentioned in Tuesday's report, the formal announcement of moving the date up to April 19 will be more or less symbolic in nature given that many areas in the U.S. have already taken it upon themselves to institute an open-wide approach to vaccine appointments. For those in areas where the vaccine rollout has been slower, however, the new April 19 directive should bring a sigh of relief as the Biden-Harris administration continues toward its goal of 200 million shots by the end of April.
During recent Easter-themed comments he delivered from the Blue Rom Balcony at the White House, Biden expressed optimism about what's ahead in the pandemic era, notably looking forward to a return to normalcy when it comes to future holidays.
"As we celebrate the renewal of this season, we know that longed-for dawn is almost here," Biden, with a masked bunny mascot by his side, said on Monday. "We will rebuild our nation. We will reengage and re-imagine what we can be. We'll remember that with faith, hope, and love, anything is possible. And we look forward to next year when the White House will ring with joy the season once again and there'll be an Easter Egg Roll, God willing."
Last month, the Biden-Harris administration announced a $500,000 Mask Innovation Challenge. The contest sees inventors being invited to contribute their own ideas for effective everyday masks as part of a larger effort to continue improving designs, comfortability, wearability, and safety.
"With this mask challenge, we want to get people across the country involved in developing new masks that are both effective and comfortable," Nikki Bratcher-Bowman, HHS acting Assistant Secretary for Preparedness and Response, said in a press release when detailing the multi-phase contest. 'This will help us control COVID-19 and be better prepared for future public health emergencies."